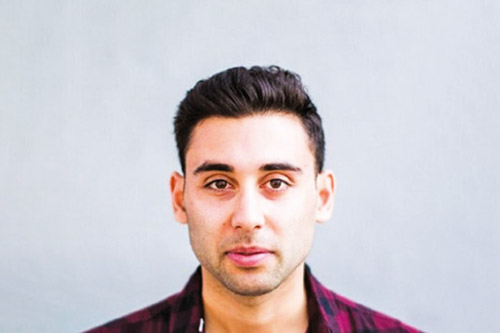 OpenDor Media has been providing Jewish-related educational media to a global audience since 2009, shaking up the social media landscape with Jewish Unpacked, an "edutainment" brand which posts a range of thought-provoking content to multiple platforms on a daily basis, among other innovative and exciting projects. In the latest development from OpenDor, "The Big Ten" series explores the Ten Commandments in a spiritually meaningful way, examining each commandment closely and addressing their cultural, societal and personal implications.
"The Big Ten," hosted by Maccabeat and MBA student Noey Jacobson, is co-produced with Project Aseret, an educational initiative focused on establishing the Ten Commandments as a central element of Jewish identity.
"OpenDor's mission is to strengthen the connection and understanding of young Jews to Israel, Judaism and the Jewish people, and help them navigate through the challenges that come with that," Andrew Savage, CEO of OpenDor Media, shared with the Jewish Link. He noted that this is principally done through both media, with their various social media channels, video projects, podcasts and the website, and in the classroom through their resource "Unpacked for Educators."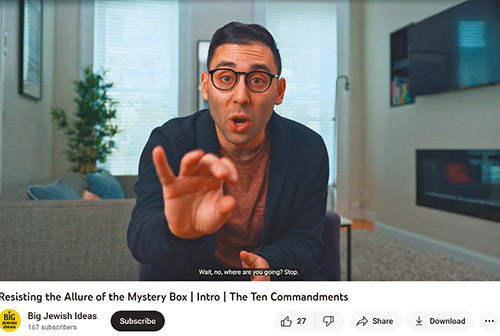 "It's always been a part of our mission to address big Jewish ideas," Savage continued. "But in the last year or so, we've made more of a concerted effort to come up with ways to make a more intentional investment in these ideas."
The first step was choosing a big Jewish idea to explore — and the Ten Commandments are a natural choice as the central tenets of Jewish faith. The idea was spearheaded by Rabbi Nitzan Bergman, Aseret Project director, and developed with OpenDor to generate a series which would be both authentic and approachable. The second was choosing a medium for these big Jewish ideas, and the OpenDor team ultimately settled on YouTube, launching a dedicated channel aptly named "Big Jewish Ideas."
"We've learned a lot of lessons over the last five years of being on YouTube," Savage explained. "The formula to success in media is threefold: know your audience, know your subject and know your platform. This series aims to be informative and meet people where they are in their exploration of [Judaism] and speak in a language they can relate to. YouTube is a platform that people turn to when their curiosity is piqued, and it lends itself to meaningful content that can actually teach people something," he added.
Creating an authentic relationship with viewers is a big part of the equation, and there was no doubt that Jacobson would be able to execute this. Jacobson explained that in addition to his personal involvement with the development of "The Big Ten" series, he also felt a connection to the subject matter and wanted to relay his exploration to OpenDor's audiences.
"I fancy myself as someone who tries to be self-aware and seek meaning in my life," Jacobson shared. "I'm passionate about finding ways to connect what's meaningful with the tradition and rituals of the Torah. [This project] resonates with me as a person."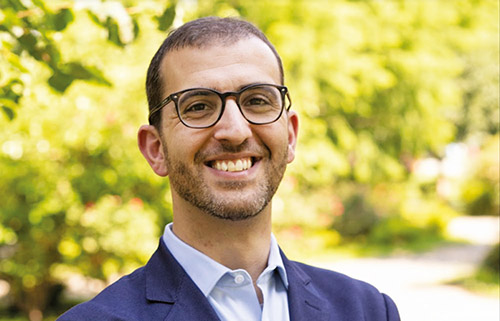 Jacobson continued that while the Ten Commandments contain a "baseline moral good" that people can get behind, it was important to him to utilize the lessons to create meaning in day-to-day experiences. He provided several examples (many of which will be released in future episodes of "The Big Ten") of how the audience can extract relevant understandings of the commandments by going beyond their basic explanations. "When you reframe these things and bring meaning to them, it makes it more special. It increases your quality of life."
He agreed with Savage that YouTube is the ideal platform for disseminating this inspiration to young Jewish consumers, specifically for its style. "It's implicitly saying that this will be relevant to you and speak your language, and that the person in the video will not just talk at you, but talk with you," Jacobson explained. "Part of that was deciding on a host … I'm not a rabbi, nor do I pretend to be. I'm just a 'regular guy' in terms of my place in the Jewish community. This is the voice of someone who is asking the same questions as anyone else."
Savage elaborated that "it's not just about what we're going to teach; it's about thinking deeply about our audience and finding a sweet spot where our message aligns with the message that piques their curiosity and interest." He continued that the only way to accomplish this is to step out of the role of educators and into the role of consumers — "as people who are grappling with life's larger issues."
He added, "Ultimately, we are all dealing with the same issues and anxieties and questions. The authenticity of that is the key to any success. We came to the realization that in order for this to be real, the person who has these ideas should be the one to give expression to them. And in this series, Noey shares his own struggles and questions, which gives a richness of meaning to these videos which will resonate with people."
Jacobson noted that he hopes those who watch "The Big Ten" will realize that the sense of purpose they crave has been in the Torah all along. "There is so much content out there, especially if your goal is to be inspired," he explained. "As a Jewish person in the 21st century, not all of it is out there … a lot of that meaning and inspiration you've been looking for has been right under your nose. It's right there, in the Jewish tradition. The goal of the series is to give people a taste of that."
"The Big Ten" is releasing episodes every other week and to date has four videos on YouTube with more to come over the next several months. Watch the series at www.youtube.com/@BigJewishIdeas and maybe you'll walk away with just a little more meaning in your life.
---
Channa Fischer is digital editor of the Jewish Link and is the resident 20-something in the office. She resides in Washington Heights.