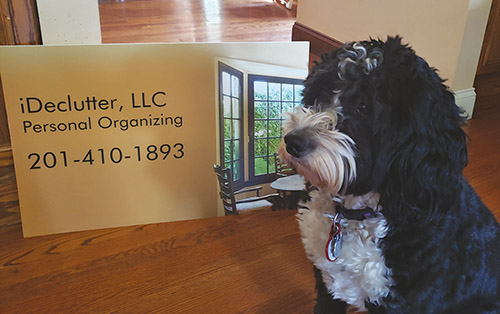 Can a professional organizer be a First Responder?
Can a professional organizer successfully diffuse a difficult situation?
Consider the following scenarios:
Scenario #1: A while back I received a phone call from a woman in the process of moving out of her home.
"Hi. I need advice. Maybe I should have called you a few weeks ago. I am moving in one week and I tried to find a guy to buy all the furniture I don't want. The one I found canceled on me. I looked unsuccessfully for a place that would pick up the furniture for donation. Oh, you say the donation organizations stopped offering that service years ago? If I had known! I figured I could make a little pocket money, so I posted the furniture on Facebook Marketplace. Crickets! I offered the furniture for free on my community chats. I told the man who answered my ad to bring plenty of help to move the heavy furniture. He brought his wife and his 11-year-old son. Oy! If I hadn't said the furniture was heavy, would he have brought his toddler?! They did not know what they were doing and scratched my wood floor and nicked my freshly painted wall. I have to get this repaired by next week's closing. What should I do?"
This woman needed a "first responder." She needed a professional organizer to handle finding the best way to dispose of the furniture and coordinate the process.
Scenario 2: A realtor recommended me to her client, a widow who has been living in her home for 40 years, to help prepare the cluttered house for resale. The widow said cleaning out the home herself would be a daunting job because "every room, every closet, the basement and the attic are filled with STUFF." (Note: "stuff," when used in conjunction with an overcrowded house, is pronounced in a hateful tone of voice.) I assured the woman that many of my clients hire me to prepare their house for a move and I could help her. We could clear the house by mid-spring if we plan our time carefully, meet frequently and start immediately. Rather than starting now, the woman asked me to call her in March. When I contacted her in March, she wasn't ready to commit. "You can introduce a person to a professional organizer, but you can't force them to declutter." The other day that realtor told me the house went on the market "as is" with a considerably lower asking price. Is there a role for a professional organizer after a house goes off the market?
Once the house is sold, there will likely be only a few weeks to empty the house and the organizing work will begin. Someone who finds themselves in this situation should be prepared for stress, family arguments and possibly health complications. To rescue this homeowner would require a team of organizers. Teams can be energetic and industrious and work together to accomplish a huge amount. The great benefit of having several organizers on one project is all their expertise and problem-solving abilities are available to the client throughout the move.
Scenario #3: A couple making aliyah was recommended to use a professional organizer and my name came up in conversation. Since this is my column and I can write myself as a "fly on the wall," I know the couple responded, "We don't need a professional organizer. We can do it ourselves. Moving is over-dramatized. We have a plan. We can pack boxes ourselves using the newspaper that has been sitting in the garage waiting for our big move. We will gather boxes from the local liquor store or grocery store. One of us can find places to discard the furniture and chachkas. One of us will interview the movers. Our kids will come from near and far to choose what they want to bring to their homes. Slowly but surely, we will empty our home and put it on the market."
A few months later I received a call."Hello. Is this I clutter? Sorry, iDeclutter. I heard you help people to downsize, purge and empty their homes. We are making aliyah. We were planning to move this August, but things got a little harried and we had to push it off. You asked why we moved our date? Well, we had to take care of the insect infestation that came from the empty boxes I gathered from the liquor store and supermarket parking lots. I started packing our dishes in newspaper and I got distracted for about a month. So, when I went back to it, I saw the newspaper had left a grimy film on the plates. We had to unwrap everything and wash them in very hot water. Then we started interviewing moving companies and learned unless the movers do the packing, our goods are not insurable.
Also, we are still waiting for our kids and grandkids to come to tell us what furniture, art and memorabilia they want. Our kids are so busy, they have trouble finding the time to come see our stuff. A couple of them said they don't want any of our "brown furniture" because it's not their "style." I don't understand. What is wrong with brown? What is "out" about wood? It breaks our hearts to think our items will be thrown out or go to strangers. Another thing is we need to find what to do with our dining room set. Pity, but our gorgeous breakfront is too big to fit in an Israeli apartment. Also, I am not sleeping well and when I do sleep, I have nightmares that the movers brought our lift to the wrong dock and we lose everything. Is there anything a professional organizer can do this late in the game?"
Yes, although in this case, it would have been better if the professional organizer had been called in at the beginning of the purging and packing process. This was a case of a couple that wanted the full services an organizer can offer. Although they hired me deep into the process, I was able to help get things back on track by creating "to do" lists, set up schedules, and contact my many resources to either find a new home for their furniture or the most reputable and budget-conscious junk collectors, as well as helping with other matters.
Everyone has their own amazing talents. No one can be the best at everything. Therefore, not everyone can handle moving and downsizing by themselves. By allowing those who have this talent to help, you will be able to focus on other crucial matters, alleviate stress and avoid family arguments.
I am prepared to help. Please give me a call for a free 30-minute phone consultation.
---
Ellen Smith is Central Jersey's Kosher Organizer and tzniut wardrobe stylist. For over 14 years, Ellen has helped people restore order and create calm in their homes and souls. See Ellen's work on Instagram @ideclutterbyEllen. Contact Ellen for a complimentary phone consultation at [email protected].