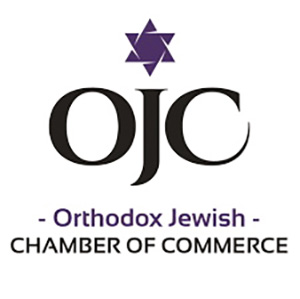 (Courtesy of OJCC) Ahead of its much-anticipated Jersey Shore Business Expo, set to take place in Toms River on June 6, the Orthodox Jewish Chamber of Commerce has released its lineup of featured presenters and awardees.
The expo is designed to bring together businesses from Ocean County and local townships to empower each other, give them an opportunity to exhibit, network and build bridges that will lead to fruitful partnerships and collaboration. For local businesses, it is a unique opportunity for B2B networking, and to meet businesses from across the region.
As part of its goal of providing aspiring businessmen and entrepreneurs with the tools they need to succeed, the event will feature high level presentations and workshops where attendees can learn—straight from the experts who know the ins-and-outs of the field first hand—how to
navigate the intricacies of today's economy and unlock the full power of government programs to boost their businesses.
The Expo will include an award ceremony with the Chamber presenting awards to three community activists who have been pillars of the New Jersey Jewish community's success throughout the years. The awards ceremony allows the Orthodox Jewish Chamber of Commerce and local businesses to express their appreciation to these community leaders who have been instrumental in the communities' economic success.
Ocean County Sheriff Michael Mastronardy will receive the Community Service Award – Helping Keep our Businesses Safe. The sheriff is dedicated to combating antisemitism and works closely with the Orthodox Jewish Chamber of Commerce to keep Jewish businesses safe in times of hate.
Senator Robert Singer will receive the Community Service and Business Development Award. In his over four decades serving first the Lakewood community and then the rest of New Jersey's 30th Legislative District, Senator Singer has worked tirelessly to create an environment where business can flourish. In 2019, he was instrumental in bringing the Orthodox Jewish Chamber of Commerce's proposal for a New Jersey Economic Development Day to fruition.
Ocean County Commissioner Director Joseph H. Vicari will receive the Ocean County Business Development Award. Heading into retirement after an illustrious five decades in public office, Commissioner Vicari has been an active participant in the Orthodox Jewish Chamber of Commerce's activities over the years, serving on expo and chamber committees and working closely with them to help with business development throughout Ocean County.
"It is a true honor for the Jewish community to have such close and productive relationships with political leaders at the highest levels," said Duvi Honig, founder and CEO of the Orthodox Jewish Chamber of Commerce. "It's a privilege to give back and recognize them on behalf of the community and business world."
The lineup of high-level presenters at the Jersey Shore Expo are renowned experts in their fields and will be available to interact one-on-one with attendees to answer pressing questions and provide guidance:
Christina Fuentes is vice president of Community and Business Development within the New Jersey Economic Development Authority's (NJEDA) Community Development division. In her role at the NJEDA, Christina provides strategic direction and leads the implementation of all small business services and targeted community development activities. In her presentation, Helping Business on all Levels, she will share her expertise on overcoming challenges in the business world and utilizing government programs and services aimed at community development.
Don Newman is the manager of Small Business Advocacy within the New Jersey Department of State, Business Action Center. As manager, he provides services to businesses of all sizes and at all stages of development, from startups through maturity. In addition, Don manages the New Jersey Business Helpline, 1-800 JERSEY-7, and a new live chat. Don's presentation on Business Empowerment Services and Programs is an opportunity to engage directly with the head of Small Business Advocacy to learn how to obtain what your business needs to grow.
Tricia McLain has 14+ years as a senior international trade specialist for the export promotion arm of the U.S. federal government, the U.S. Commercial Service. The services she helps manage include export counseling, business matchmaking, due diligence, market research and trade event support. Her presentation on Import Export/International Trade promises to be an informative guide to taking advantage of federal assistance on trade.
David Koegel is a middle-market lender with 33 years of direct involvement with business owners. He is credit trained and worked as a credit analyst for Middle Market Business and recently joined CRS Capital Funding as its managing director. His presentation, Understand Your Business Financial Components to Help Expand Cash Flow and Grow Your Business Effectively, provides the tools for effectively managing your cash flow. With a deeper understanding of your company's liquid assets, you will know how to find that extra money when you need it and how to increase or tighten your cash flow according to your business's needs.
Kelly McCullough, RDN, LDN is a clinical dietitian, nutritionist and certified coach specializing in health concerns related to weight control and medical issues. As a sought-after instructional and motivational speaker in nutrition and business topics, she has conducted presentations for business teams, health professionals and community and school programs, empowering them in healthy living and team-building strategies. Her presentation on Women's Entrepreneurship will focus on women's empowerment in the business world.
Heshy Friedman is the president of Azurite Marketing Group, a branding, website and marketing agency. He is also the founder of the RBBN, the Rockland Business to Business Networking group, and facilitates monthly networking events for professionals in the Rockland area.
His presentation, Best Practices for Business Growth Using LinkedIn, will provide his vital insights and experience on this subject.