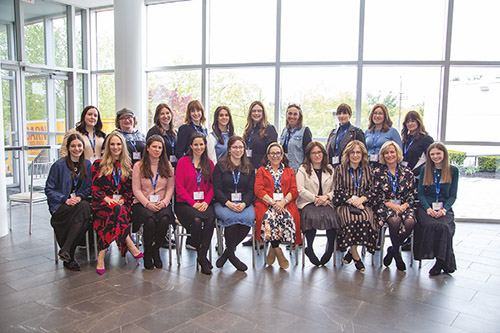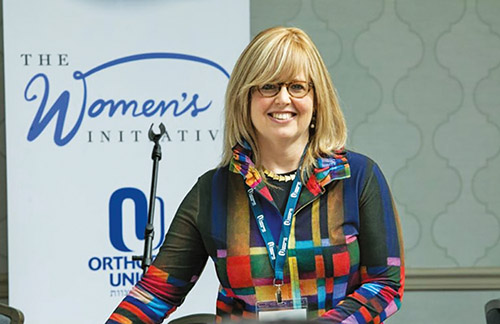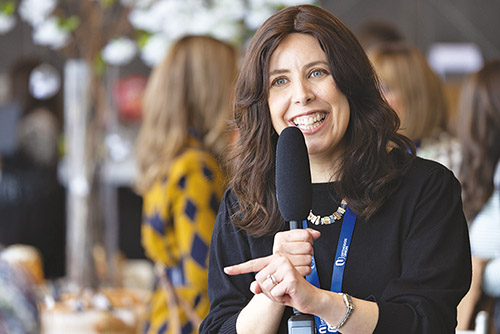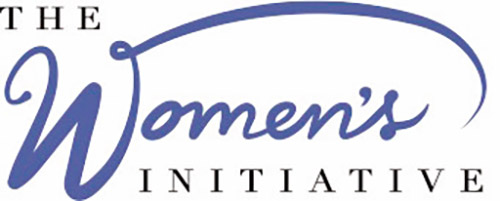 The jobs of Orthodox female nonprofit executives and lay leaders got a supercharged boost of inspiration last week, as 150 women, including more than 20 from New Jersey's Jewish communities, joined to invest in time together learning, sharing and growing. The Orthodox Union Women's Initiative third leadership summit was held in Eatontown, New Jersey, and according to all reports, the event spread nothing but positivity and knowledge, and resonated considerably over its last two successful conferences.
The conference was where "experienced and aspiring lay leaders could spend two days immersed in a supportive, collaborative, growth-minded environment where we were all able to learn from professionals and from each other how to be successful leaders in our communities," said first-time summit attendee and Teaneck lay leader Shira Isenberg, an officer of the board of directors of Rosenbaum Yeshiva of North Jersey as well as Torah Academy of Bergen County and served formerly on the board of Ma'ayanot Yeshiva High School for Girls.
Hillside's Keshet Starr, CEO of the Organization for the Resolution of Agunot (ORA) shared that from her perspective, the event was "a unique opportunity to connect and recharge, both professionally and personally. From the informative sessions with industry leaders to the shiurim, fitness and art offerings, and delicious food, it was a wonderful chance to get out of the day-to-day and focus on the big picture work that matters. Being in a ballroom full of other women who commit their lives to transforming our communities for the better was inspiring and invigorating," she said.
Nomi Rotblat, president of the Teaneck Mikvah and a member of the board of governors of Rosenbaum Yeshiva of North Jersey, was among the participants. She highlighted the opportunity to "learn from experts in the fields of fundraising, organizational development, messaging, general 'klal' work and also to connect with and gain chizuk (inspiration) from women who are doing great things, supporting our communities in the U.S. and beyond." Rotblat also holds lay leadership roles at Torah Academy of Bergen County and the Orthodox Union, where she is commission co-chair of the OU Women's Initiative.
The inaugural OU Women's Initiative Leadership Summit was held in 2019, shortly after the establishment of the OU's Department of Women's Initiatives in 2017 and the hiring of its director, Rebbetzin Dr. Adina Shmidman, PhD. That initial national event, held in Woodcliff Lake, New Jersey, was widely hailed as the beginning of a new era for investment in women's professional leadership at the OU. The second event, held in 2021, was held virtually due to pandemic restrictions, but still drew on the powerful ideas that had established the initial event.
The OU Women's Initiative has also launched a number of communal learning, education, fellowship and grant programs since its inception, including a high-level daily nach yomi (a page of Tanach a day) learning initiative, the Alit Summer Intensive Beit Midrash program, a fellowship program called Foundations for Community Mental Health Support, a "challenge grant" for innovative women's programming for shuls and community organizations, as well as inspirational and wellness initiatives and special lectures, often tied to the Jewish calendar.
OU Women's Initiative leadership summits are held every other year, to make way for an alternating conference that draws from a slightly different cohort of women serving in other types of leadership roles. The 2022 Inaugural Women's Initiative "Understanding Our Communities" conference drew female leaders working as rebbetzins, kallah teachers, chinuch (education) or kiruv (outreach) professionals. It focused on the unique aspects of leadership in those roles and the specific challenges these women face in assisting communities dealing with an array of issues such as mental health challenges, substance abuse, financial problems and marital or domestic abuse issues. While there is a small degree of carryover between the two groups, the leadership summit is largely attended by nonprofit directors, CEOs and lay leaders.
The leadership summit sessions focused on innovative ways that nonprofit boards can increase their impact, hone their missions, build trust with their donors and communities and discover different paths to reaching their goals. Several sessions involved nuts-and-bolts talks on how to build or rebuild an ideal annual budget, how to share stories through social media while staying true to the organization's mission, and best practices on crowdfunding versus traditional fundraising, as well as how to cultivate a community of philanthropists.
"It was a wonderful opportunity to learn with and from a group of dedicated, motivated and impressive women. I particularly appreciated the sessions on cultivating trust within a group and guidance on developing an impactful social media presence," said Sara Diament, director of school services for the nonprofit Hidden Sparks, who is a board member for Bergenfield's Congregation Beth Abraham and Naaleh High School. She is also the volunteer coordinator for Bikur Cholim of Bergen County.
A fascinating session was offered once again by OU's General Counsel Rachel Sims, Esq., a repeat presenter in multiple women's initiative conferences, whose session in this summit, "Questions You Didn't Know You Needed to Ask," provided a wide-ranging discussion of the impact of new digital privacy laws on nonprofits, how to protect varying types of organizations from damaging small print in contracts, copyright issues and personal data sharing concerns. At this point, the OU's women leaders seem to know that any topic Sims sees fit to present is relevant and worth hearing; conversations before and after her presentation indicated her deep mastery of the subject matter and relatable expertise, and the group's fascination with her topics and her ability to communicate key information.
In comments from the majority of the New Jersey participants, it became clear that it was not only the content of the conference sessions that was impactful, but just as powerful (if not more so) was the opportunity for many women leaders to be in the presence of others with shared vision and goals. The hallways buzzed with women speaking to one another and collaborating between sessions. Miriam Greenspan, past president of the Teaneck Mikvah Association, who also serves as commission co-chair, with Rotblat, of the OU Women's Initiative, said that while she found every aspect of the conference to be impressive, "what stuck out for me was the camaraderie. After each session, after each meal, people just lingered. They wanted to speak to the presenters more and they wanted to speak with the other participants more. At the closing session, one of the participants jokingly asked if we could stay another day. But honestly, I think that everyone felt that there was so much more knowledge to gain and so many more people they still wanted to meet."
Rebbetzin Dr. Shmidman, speaking on a Jewish Link podcast following the conference, said that as a result of previous feedback (which she calls 'feed-forward'), ease of communication among professionals was built into this conference. "We encouraged people to 'cut a class' if they felt they should. We set up a room for networking and encouraged women to use it," she explained.
Marla Rottenstreich, from Highland Park/Edison, a communal leader in her home community through organizations such as Tomchei Shabbos and who also works professionally in marketing for Chai Lifeline, said the experience of being in the same rooms with "like-minded do-ers" was a strong validation of her work, and gave her a much-needed recharge. Rottenstreich saw the event as people coming together "with a growth mindset to learn to improve to enhance their skills and their service to the Jewish community.
"It gave me more fuel and fire to remember why I am doing this and even to kick it up a notch because there are so many women doing so much more that I can build upon, and help me stay relevant," Rottenstreich added. "It was a beautiful opportunity to remain teachable. I feel so indebted to the OU and the Women's Initiative for giving me such an opportunity."
Tsipi Gurell, who was attending the conference for the first time, is co-chair of Bikur Cholim of Bergen County. She found the conference and its participants inspirational. "We were all there with the same goal of how we can make our community better," she said. "It was fascinating to explore with others in the Jewish nonprofit world how professionalism and chesed intersect and strategies for managing the two side-by-side. The brainstorming sessions were very valuable with a lot of exchanging of ideas and strategies. I hope to bring back much that I learned to the whole Bikur Cholim team."
Rotblat, of the Teaneck Mikvah, added that she is grateful to the Women's Initiative team and the Orthodox Union not only for the conference but for providing so many resources all year round for women in professional and lay leadership roles, encouraging women to contribute to and better their communities. "The Women's Initiative is not only the address for constant and consistent Torah learning and programming for women, but it is also taking the lead in the investment in and development of our female communal leaders and their communities and constituents," she added.
Joy Sklar, who is director of the Bergen County Chanukah Toy Drive as well as a board member of Shearit HaPlate and multiple other organizations, spoke to others at the summit about the work she is doing collaboratively with The Jewish Link to share information and reduce duplicate efforts among various Bergen County chesed organizations. "The opportunity to network with Jewish women from all over the country and Israel was unparalleled. To be in a room with 150 like-minded women whose goal is to improve klal Yisrael was truly inspirational.
"I was so proud of our Teaneck community," added Sklar. "On many occasions, participants referenced us as a model community, representing unity and cooperation. The connections I made, and the information I learned through the sessions, further motivated me to spread the word about our communities."
By Elizabeth Kratz