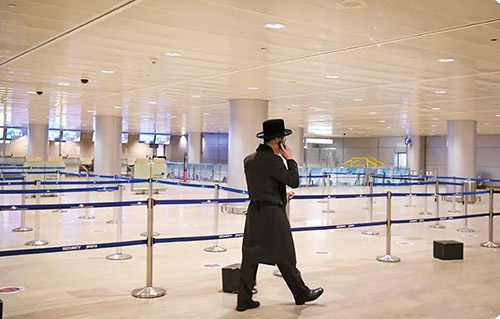 Imagine this scenario — You are on vacation in Israel for Pesach. Over Chol Hamoed, you hear a close relative has passed away in the U.S. and you need to get back home for the levaya. Who can you contact to get a ride to Ben Gurion airport — to get an immediate service with no extra reservation charge? The answer is Platinum VIP airport services.
In fact, this happened this past Shavuot in Israel, as Adi Benatar, the CEO of Platinum services, told the Jewish Link: "Mr. B from New Jersey was on vacation in Israel and heard that his father had passed away — he had to get to the airport immediately. He contacted us at Platinum and within ten minutes he was picked up by one of our drivers and taken to Ben Gurion."
Imagine never having to wait in line when you arrive at or leave Ben Gurion, and at no extra cost. Well, thanks to Platinum, that can be your reality.
Platinum, established over 25 years ago by Benatar, is the only airport service that runs 24/7 both in Israel and at leading destinations throughout the world. On Shabbat and over Yom Tov their drivers are not Jewish. With Platinum, you get a heimish service that respects Jewish law and traditions.
Platinum, which works with over 50 travel tour agencies around the world. has an international reputation for providing a now-to-now service, where a reservation can be made within just 10 or 20 minutes — not 24 or 48 hours — like most other airport service companies, with no extra fee.
Furthermore, the service is very direct and personal. You are in contact with your service provider and driver on WhatsApp and the phone; not email or a cold computer system. This is crucial for travelers for several reasons:
1. The service is cheaper as you are working directly with the client and not through an agent who charges a separate fee.
2. You get an immediate response and your queries and questions are dealt with immediately.
For instance, when an individual uses a travel agent to book their ride to or from the airport, he may be asleep or not working, or it may be the chagim so there might not be an immediate response. With Platinum, however, customers work directly with their driver who is available 24/7. There is no delay time and customers will be informed or responded to immediately.
Platinum provides a service throughout the chagim and Chol Hamoed with no extra charge. "The usual response from airport travel services over the chagim is that they are fully booked, and if they aren't, the price will go up from $300 to $1,500. With Platinum this isn't the case. Over Chol Hamoed, if you need to book a ride to or from the airport, you will get a non-to-now service with no extra charge — in fact you may get a discount," Benatar told the Jewish Link.
Benatar said: "When you book a ride to or from the airport, you need to make sure the person driving you is the handler, the person who is actually providing you with the service, and not just the agent who is dealing with your request at let's say Newark Airport, who doesn't know who you are and where you are traveling to or from."
"When you book through a travel agent, you are buying on paper, but when you book with Platinum you are dealing with a real person who will give you a service from the airport to your destination and back."
Platinum uses the most comfortable, luxurious cars ranging from a four seater to 55 seats, from a modern, 5-door sedan to a stunning limousine. Customers can trust Platinum to provide them with a world-class, VIP service.
Platinum partners with Laufer Aviation-GHI, the leading and most experienced provider of aircraft ground handling and VIP Services in Israel, in handling flight and airport services.
Platinum takes the hassle out of airport travel, providing you with a stress-free experience that will leave you feeling like a VIP. They provide three levels of VIP services: Fast Track, Arbel Lounge and Fattal Lounge:
Fast Track – This reservation process, coupled with Platinum's team of dedicated professionals, ensures that customers receive personalized and attentive service from the moment they arrive until they board their flight.
Arbel Lounge – Features include a private security check, passport control and baggage handover to ensure a seamless journey. There is a luxurious waiting room with complimentary high-speed Wi-Fi and refreshments, where customers can be driven to duty-free hall or gate by private car.
Fattal Lounge – The first of its kind in Israel. This private terminal is tailored to meet clients' unique needs, whether they are arriving or departing from Israel on a private or commercial flight, or are a member of an aircrew from anywhere in the world.
The 24/7 airport service Platinum provides is not just in Israel, but around the globe. They work in Europe, the U.S. and the Far East including Paris, London, Spain, Budapest, Greece, Germany and Amsterdam, the U.S., Japan, Dubai, South Korea and Turkey. They provide the same all-inclusive service equally at Ben Gurion and JFK.
Benatar told the Jewish Link that a crucial benefit Platinum provides is that they provide security and armed drivers both in and outside of Israel. "All Israeli drivers are armed and trained — authorized by the Israeli government. No one else can provide that service. Outside of Israel, we can provide security guards to accompany our clients in their cars."
Benatar continued, "I am a shooting and krav maga (self-defense) instructor. With terrorism unfortunately on the rise in Israel and antisemitic attacks increasing abroad, this additional service gives Israelis and Jews abroad an extra benefit that only Platinum can provide and explains why we are so popular."
The Platinum personal protection teams consist of elite professionals, including former members of IDF special forces, Shin Bet (Israel's secret service), and other security agencies such as elite police units. They have years of experience providing exceptional security solutions for high-profile individuals, celebrities, business people, and anyone in need of personal protection.
Benatar said, "Platinum provides an all-encompassing, door-to-door service. The worldwide service we provide, no one else can in the world. An immediate, 'now-to-now' 24/7 service, with no extra booking fee for an immediate reservation. In fact, we may give you a discount. When I'm the sole handler of the client, I can do whatever I want, all for the good of the customer."
"The service you get with Platinum is immediate. Just recently, a well-established agent called us up as their biggest client had been let down by their regular driver. We provided a service to the airport even before the phone call was finished," concluded Benatar.
For more information and to reserve their service, visit Platinum's website, platinumairportvip.com or email them directly at [email protected].
---
Benjy Singer is a Jewish Link contributor based in Israel.