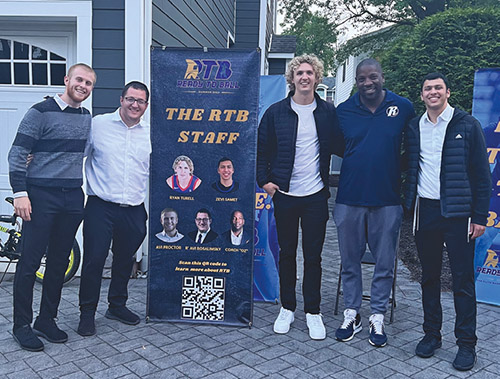 (Courtesy of RTB) Last Sunday night, Avi Proctor and Rabbi Avi Rosalimsky, directors of the Ready To Ball (RTB) end of summer sports camp, hosted an exciting event. Both kids and parents got to hear from basketball stars Ryan Turell, currently playing in the G League for the Motor City Cruise, and Zevi Samet, current star for the YU Maccabees. Both Ryan and Zevi will be the head trainers at RTB this summer, an elite once-in-a-lifetime basketball training camp that will be taking place in TABC from August 21 to August 25, for incoming sixth through 12th graders. RTB will provide its campers with the opportunity to learn skills and drills that will improve their basketball game for life, all while having a blast and focusing on being a mensch. In addition to the tremendous focus on developing basketball skills, the program will also include daily learning where the boys will focus on learning a daily midah (character trait) that is applicable to both Judaism and basketball and apply it throughout the day.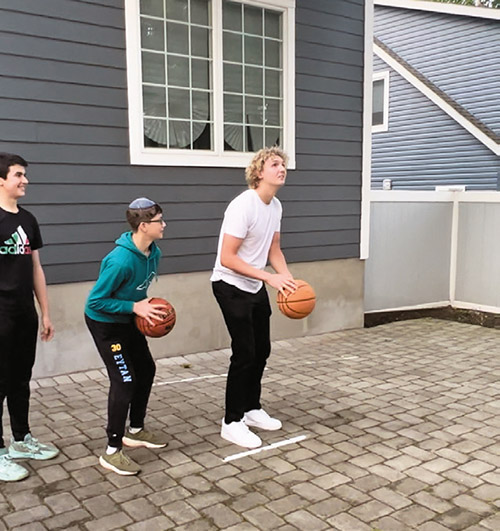 At this event, the kids got a chance to schmooze with Ryan and Zevi, get some autographs and play some basketball with them (including a big game of lineup in which RTB camper Gavi Engel got Ryan Turell out and won the game). The highlight of the event was undoubtedly the panel discussion and Q&A session with Ryan and Zevi, moderated by Rabbi Rosalimsky. Of the many `topics discussed, the panel was a unique opportunity for all attendees to hear about some of the players' secrets to basketball success, why they are both so proud of their Judaism, how they deal with challenges/adversity in life, what the kids/teens will gain from joining RTB this summer and so much more.
In order to register for RTB please visit readytb.com or email [email protected].