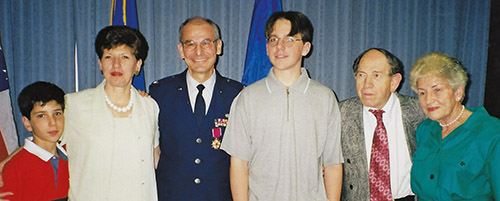 Twenty-five years ago this week, a three-decades-long affiliation with the U.S. Air Force came to an end for Col. Peter Berkowsky of Livingston. Here is an excerpt from the address he delivered at his Pentagon retirement ceremony on May 26, 1998:
I want to thank my family and friends who traveled here today from out of town.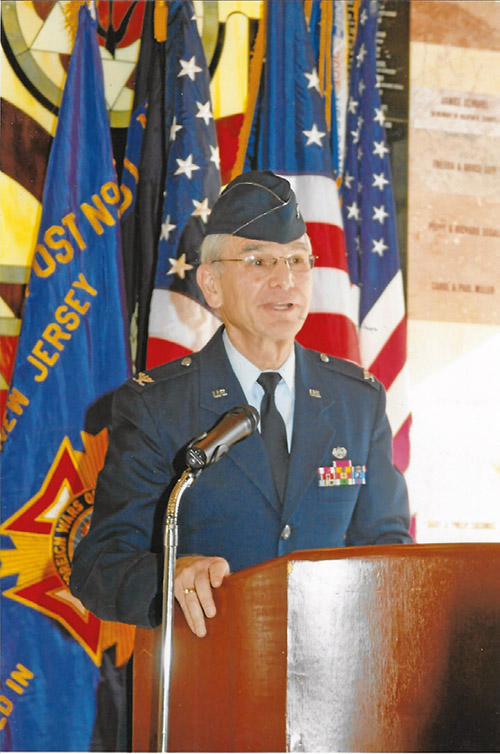 And I want to introduce two very special people—my wife's parents, Helen and Alex Finder. I mentioned before about the veterans in my family. Helen and Alex are also veterans, possibly with more intensive wartime experience than everyone in this room – combined – and that's not counting the time they spent in hospitals and DP camps after the War. In some respects, their ordeal still has not ended, a half century later. Uprooted in 1939 from their homes in Poland and torn from their families, they would endure six years of hell, until liberated by American forces shortly before V-E Day – Alex, near starvation, at a concentration camp in Austria; Helen, having just escaped from a death march in Czechoslovakia. But they were among the lucky ones – they were alive!
Lt. Gen. James Gavin, whose 82nd Airborne troops liberated the transit camp at Wöbbelin and witnessed the atrocities committed there, lamented that the American public never fully comprehended the evil we were fighting in World War II. American GIs of that generation can point with pride to their campaign ribbons for such storied battlefields as Anzio Beach, Normandy and Bastogne; Guadalcanal, Iwo Jima and Okinawa. For Helen and Alex – civilians, mind you – their battlegrounds had names like Cracow Ghetto, Plaszow Labor Camp, and Auschwitz; Gusen, Gunskirchen Lager, and Mauthausen.
You should meet these folks; they are real war heroes. Yet they have no medals on their chests to show for it. Their only decorations – their victory laurels – are the son and daughter and five grandchildren you see in this auditorium today.
When people ask why we serve voluntarily in the military, in peacetime or in war, our most common response is [that] it's to protect our values and keep America free. I'd like to put it another way: It's to keep this land the beacon of hope that continues to draw people like Helen and Alex, from all over the world. May it ever be so.
---
Peter Berkowsky is also a retired civil service attorney, and co-founder/director of the International Minyan for NYC Marathoners. In 1991, he devoted his Air War College thesis to the Allied failure to interdict the transport of Holocaust victims to the Nazi death camps.