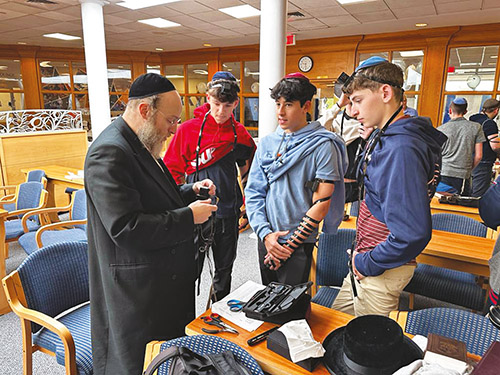 As part of an ongoing, concentrated effort to strengthen students' connection to Torah and Mitzvot throughout the days of Sefirat HaOmer in a program known affectionately as the Kushner Climb, students have been focusing on a different mitzvah each week including tzedaka, Shabbat, and this past week, low key mitzvot, mitzvot shonot. Freshmen and sophomores heard from Rabbi Rosenbloom of Living Legacy who spoke about the importance of safrus, ritual writing, and how it works in our everyday lives.
RKYHS and JKHA also had a special opportunity to participate in the Tefillin Awareness Project. The Tefillin Awareness Project has traveled throughout the U.S. helping people make sure that they are fulfilling the mitzvah properly. Students got to meet with sofrim, scribes, who checked that the retzuot, straps, kesharim, knots and batim, tefillin themselves, were all in good shape and were set up properly. They explained the halachot of tefillin and made adjustments when needed. Students learned about the importance of this mitzvah and how to best care for their tefillin to make sure they stay in proper condition.
The Kushner Climb is taking place at RKYHS in these weeks before Shavuot. Each week they are focusing on a specific mitzvah to help them continue to climb to new heights in their mitzvot.