Rutgers University President Dr. Jonathan Holloway was honored at the annual Rutgers Hillel Gala for his support of Jewish student life at a time when antisemitism is rising at higher-education institutions across the nation.
That "tremendous support" earned Holloway the Visionary in Partnership Award at the May 1 event that drew about 200 to the Arie and Eva Halpern Hillel House on the university's main campus in New Brunswick.
Holloway frequently attends Hillel's weekly Shabbat dinners to interact with students and has strongly supported Hillel International's Campus Climate Initiative, which collaborates with university and college administrators to raise awareness and take action to ensure a positive campus climate for Jewish students free of harassment or marginalization. Rutgers is one of 40 higher-education institutions that have participated in the initiative.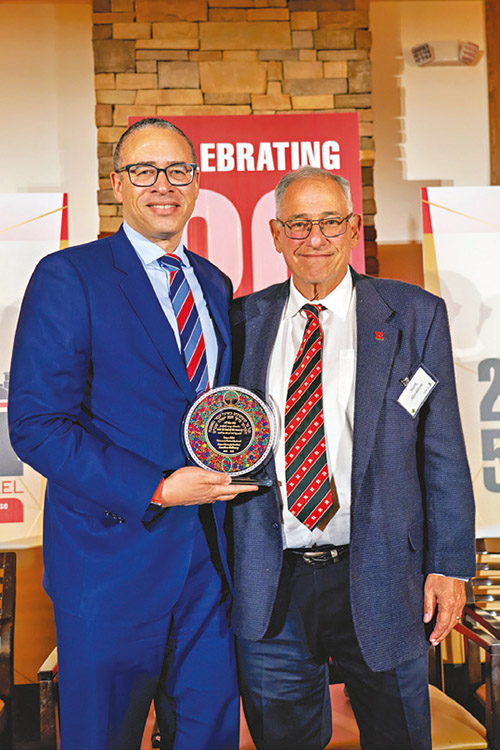 In presenting him with the award, Mark Hershhorn, an emeritus member of the university's board of trustees, called Holloway "a friend and partner" with Hillel in supporting Jewish students and said his backing of the climate initiative had created "multiple avenues to support Jewish life" at the university.
In accepting the award, Holloway quipped he was honored to have the word visionary included in his title, and his partnership with Hillel is "something I am proud to claim." Getting to know Jewish students and issues has proven meaningful to him.
As part of the gala he engaged onstage in a roundtable discussion with the five graduating students honored as the gala's rising stars.
"It is really important to create a sense of connection and Rutgers Hillel is a place my wife and I take part in Shabbat dinners and we see the effect it has on them," said Holloway. "My wife and I adore sitting with students and seeing the university from their perspective and learning about the Jewish community from their perspective."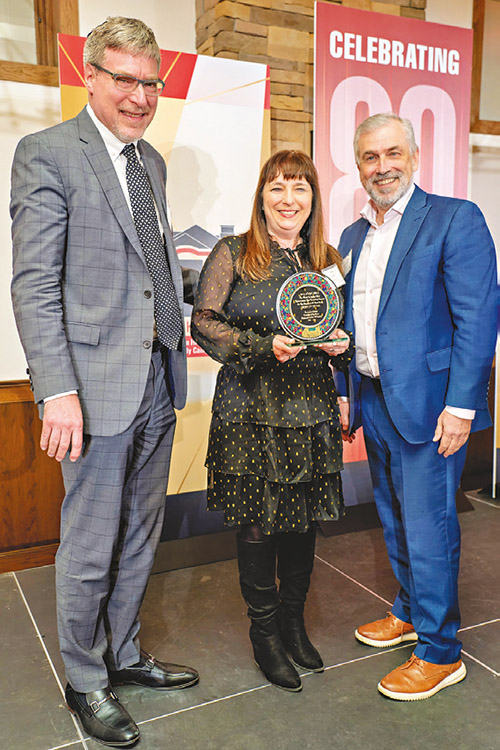 He said he wanted all Rutgers students to understand how antisemitism manifests itself and encourage an atmosphere of mutual respect and, borrowing Hillel's catchphrase, for Rutgers to continue to be "a great place to be Jewish."
Other honorees were Daniel and Samara Moritz of Highland Park, the Young Alumni Award; Barnet and Marcia Eskin of West Orange, the Rabbi Julius Funk Alumni Award; and Bryna and Joshua Landes of Riverdale, New York, Andrew Getraer Exemplars of Excellence Award.
Graduating rising stars honored were Arielle Cohen of Marlboro, Kayla Einhorn of Kinnelon, Sam Lurie of Livingston, Sophia Borowsky of Cherry Hill and Talia Rosen of Teaneck.
Barbara Cohen, capital campaign coordinator for almost 20 years before retiring earlier this year, received a surprise award for her dedication.
Among those attending the gala to mark Rutgers Hillel's 80th year on campus were Skip Vichness and Adam Lehman, chair of the board of governors and president and CEO of Hillel International, respectively.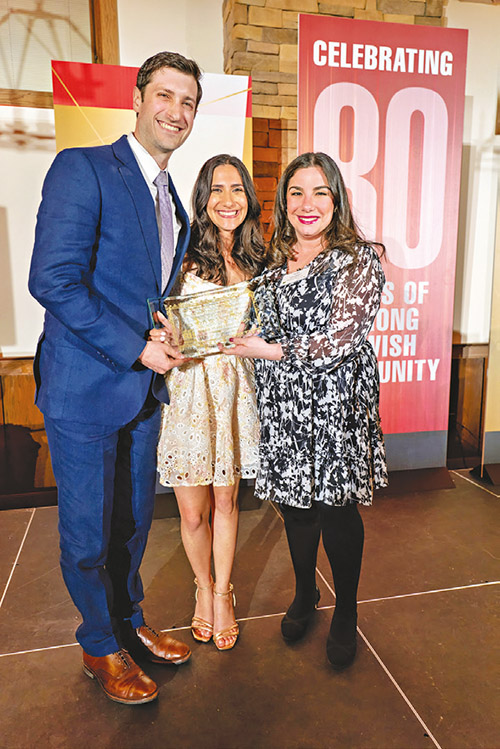 "May this Hillel go from strength to strength," said Lehman.
Getraer, Hillel's director for 20 years, said he was "thrilled" to present an award named after himself. Joshua Landes received a bachelor's degree in economics in 1984 from the university and is a co-managing member of the investment partnership Wynnefield Partners Small Cap Value L.P. The former Bryna Shuchat is co-founder of Kosher Casas, Inc., providing high-end international kosher travel opportunities. Both are the children of rabbis, she in Montreal and he in suburban Philadelphia.
Marcia Solkoff Eskin graduated from Douglass College in 1970, majoring in mathematics and minoring in education. She was on Hillel's student board and sang in its choir. Mutual Rutgers friends introduced her to Barnet and they were married by Hillel's longtime executive director Rabbi Julius Funk. She has remained active with Hillel as an alumna.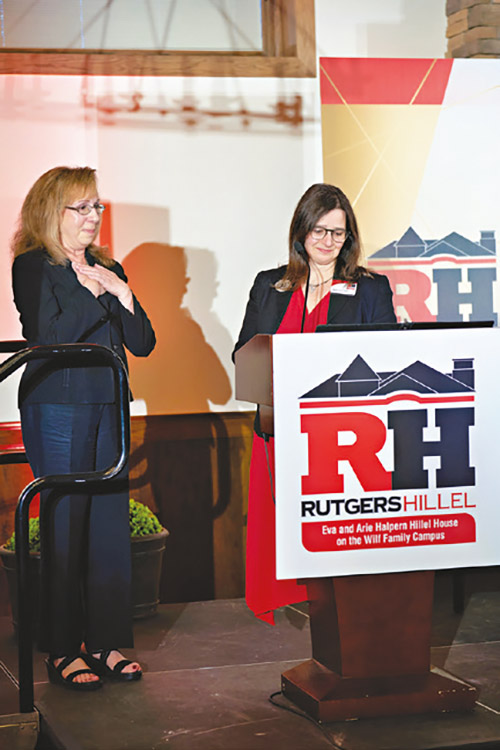 Samara Rosner Moritz earned a university degree in 2015 in nutritional sciences and Daniel earned his in 2014 in biomedical engineering. Samara was active in Hillel, was a First-Year Interest Group (FIGS) instructor helping freshman achieve academic success, participated in Dance Marathon and was active in her sorority. Daniel served as president of Kol Halaya, Hillel's a cappella singing group, was an Aresty Research Fellow in the School of Engineering, a founding member of Sigma Pi fraternity and active in Hillel.
Rising star Arielle Cohen is majoring in statistics and public health. At Hillel, she served on the Koach/Conservative Community board and on the Hillel board as social and holiday co-chair and as treasurer. She is moving to Israel in the fall to pursue a master's degree. She has been a Ralph W. Voorhees Public Service Fellow, a Sephardi House Fellow and a professional development intern with the honors college.
Kayla Einhorn is majoring in psychology and linguistics and has served on the Hillel board for two years and has been a Weidhorn Fellow and an instructor for RU-FIT, which assists international students in adjusting to student life at the university. She is vice president of SHEM, a theater company for all religious students on campus.
Sam Lurie is a history and Jewish studies major who at Hillel has served as the Center for Israel Engagement Birthright Fellow, Koach/Conservative Community co-chair and executive vice president of the Hillel student board. He is a research assistant in the department of Jewish studies.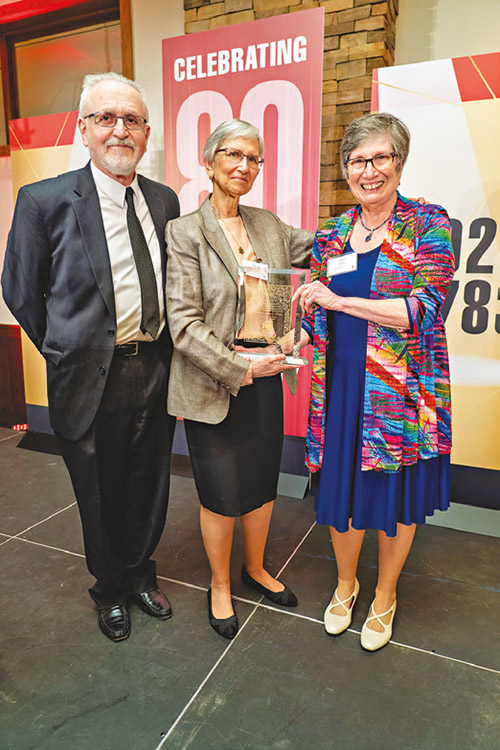 Sophia Borowsky is majoring in psychology and minoring in environmental policy, institutions and behavior. Motivated by instances of antisemitism on campus and Rutgers Crime Alerts, two years ago she started the Krav Maga Club to teach self-defense. She has also been a Weidhorn Fellow, a program designed to make Hillel a thriving community.
Talia Rosen is a nursing major who served as Shabbat and social action co-chair on the Hillel board and has been on the Rutgers Chabad board. As president of JAQs, she transformed Hillel into a more open space for LGBTQ+ students. She is a fellow for the Jewish National Fund, distributed goods to the local homeless community and has advocated for sexual assault victims.