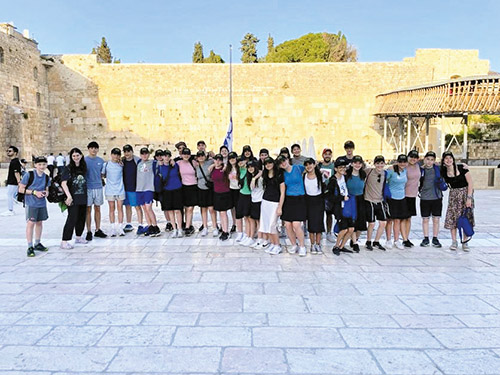 (Courtesy of Schechter Bergen) Each year the eighth grade class from Solomon Schechter Day School of Bergen County travels together on a memorable two week Israel Encounter. This incredible journey affords our students a unique kehillah-bonding experience prior to high school, during which they deepen their appreciation and gratitude for our Jewish homeland and continue to explore their connection to Judaism and the Jewish people. Together the students experience the land, people and history that they have been learning about throughout their years of study at Schechter Bergen. In their own words, two of our students share reflections from their travels:
Noam Bar-Chama
My classmates and I, the current eighth grade class at Schechter Bergen, returned this past week from an unforgettable two-week adventure of a lifetime. In Israel, we toured historical locations, religious sites, nature, and the most modern of cities ranging from all the way up north at Rosh Ha'Nikra through the middle of the Negev and everything in between. I strengthened my connection to, and engagement with, Judaism and was given an opportunity to learn about the history of our State and its people. In addition, our grade had a unique chance to reinforce and deepen friendships amongst ourselves in unimaginable ways. Many of us have been going to school with each other every day for the past nine years, but spending 24 hours a day with one another and climbing up Masada has a way of bringing people together.
As my classmates and I traveled from place to place, a few experiences particularly stuck out to me. An example of this was our visit to the Israeli-based organization, Save A Child's Heart, which provides medical support to children with cardiac diseases no matter their financial situation, religious background or political view. We toured the facility, then went outside to play with the children who were awaiting or had already undergone surgery and were still recovering. Save a Child's Heart made me realize how fortunate I am to live in an area where I have access to help for any of my medical needs, and to have a community around me that I can go to for assistance and support.
Another meaningful day that impacted me and my classmates was our visit to Yad Vashem. Yad Vashem was the most physically and mentally demanding activity of the trip. The building itself has a unique architectural design: It is built to resemble a triangle that goes through a mountain, symbolizing an arrow being shot through the hearts of the Jewish nation. Exhibits and artifacts there are arranged in a way that makes one feel present at that time, and made the experiences and pain of the Shoah more real to me. The museum displays actual train tracks and lampposts from the Warsaw ghetto that you can touch, and a pile of "inmates'" shoes that illustrates the scale of the tragedy. I was exposed to photos that I had never seen before, despite studying the Holocaust in school for so many years. The entire experience was eye-opening, leaving me prouder than ever to be Jewish and to continue to thrive, despite the long history of hatred and adversity that the Jewish people have had to face.
Along with Yad Vashem, Har Herzl was another difficult yet meaningful experience. As our group walked around the graves of politicians and soldiers who died for the sake of Israel's existence, I was left feeling inadequate. Although I have family members actively serving in the IDF and others who served in the past, I did not have a personal connection to anyone who died in combat, making my experience at Har Herzl extremely different than it is for the many Israelis who have loved ones buried there. The pain and grief that they endure daily is incomparable to the solidarity and respect that I felt at the gravesites. Yet walking through the cemetery, looking at each grave, representing each individual life that was ended while protecting our country, I felt connected and proud to be in Israel. I felt a connection to each Jewish soldier even though I do not know them personally. They fought and fell so that my friends and I could travel to and stand in our homeland, the existence of which was only a dream to so many generations before me. I am and will be forever grateful to everyone who contributed to making this trip happen and allowing me to have this once-in-a-lifetime experience.
Mika Afriat
I have been waiting for my eighth grade Israel trip my entire Schechter Bergen life! Even though I have been to Israel a number of times before, as my family is Israeli, I knew this time was going to be different.
The first day of the Israel trip was incredibly exciting. I didn't know what to expect, but I was looking forward to every moment. Not only would we be deepening our connection to Judaism in the land of the Jewish people, but we were going during the time of three major days of commemoration: Yom HaShoah, Yom HaZikaron and Yom Ha'atzmaut. The first night of our trip was Erev Yom HaShoah, which made me start to think about why this was the time of year chosen for our Israel Encounter. Though we commemorate days like these in the United States, we mark them in very different ways. Spending our first day in Israel during Yom HaShoah was very meaningful to our grade, and hearing the siren was also a very significant experience. It was incredible to see the way cars and people stopped on the roads during the siren, and how shops closed down.
As the week went on and we continued to explore all that Israel has to offer, it came time to commemorate Yom HaZikaron. We did so by standing and listening to the sirens, learning more about Michael Levin, a lone soldier who lost his life in battle, and going to a military ceremony. Once Yom HaZikaron ended there was a quick transition to Yom Ha'atzmaut. We participated in many activities during the day but the ultimate celebration happened at night. We went to a Netta Barzilai concert in Ra'anana, where we enjoyed the rest of our Yom Ha'atzmaut experience.
Our itinerary was filled with important and exciting adventures. Many eighth grade favorites include visiting Masada, the Dead Sea, our time at the Kotel, and Save A Child's Heart. These experiences were all meaningful for different reasons but one reason that especially stood out to me was that the people around me made the experience so much better. Whether it was my eighth grade class, our amazing counselors, or kids from different schools who we met along the way, I constantly felt supported and as if I was part of a community.
Although all of our activities were fantastic, my time at the Bedouin tents had to be my personal favorite. We arrived at the tents and learned about ways to help the environment, rode camels, learned about Bedouin culture, and hung out with our friends. It was intriguing to see the way the Bedouins live and have the opportunity to learn the traditions that come along with being a Bedouin. We ended our time at the tents by singing songs around a campfire and roasting marshmallows, further deepening the bonds among me and my classmates.
During the final days of the trip, which happened to be Shabbat, we spent the day relaxing at the park, playing sports, going to shul and making Havdalah together at night. It was the perfect end to our experience. Spending two weeks in Israel, particularly commemorating these three significant days, was an unforgettable experience. The Israel Encounter gave me a better understanding of Israel and helped me further my love of Judaism.
"These are just some of the moments our students experience as part of their Eighth Grade Israel Encounter. It is difficult to numerically measure the value that this trip has for our students.
They are able to connect with Israel and their Jewish identity by seeing, touching, tasting, smelling, listening and interacting, and then forming their own opinions. It is these experiences that our students will take with them to their high schools, college campuses and into adulthood. Given today's realities, it is imperative that we continue to meaningfully connect generations of American youth to Israel and we are so honored to be able to do this at Schechter Bergen," said Steve Freedman, Schechter Bergen head of school.