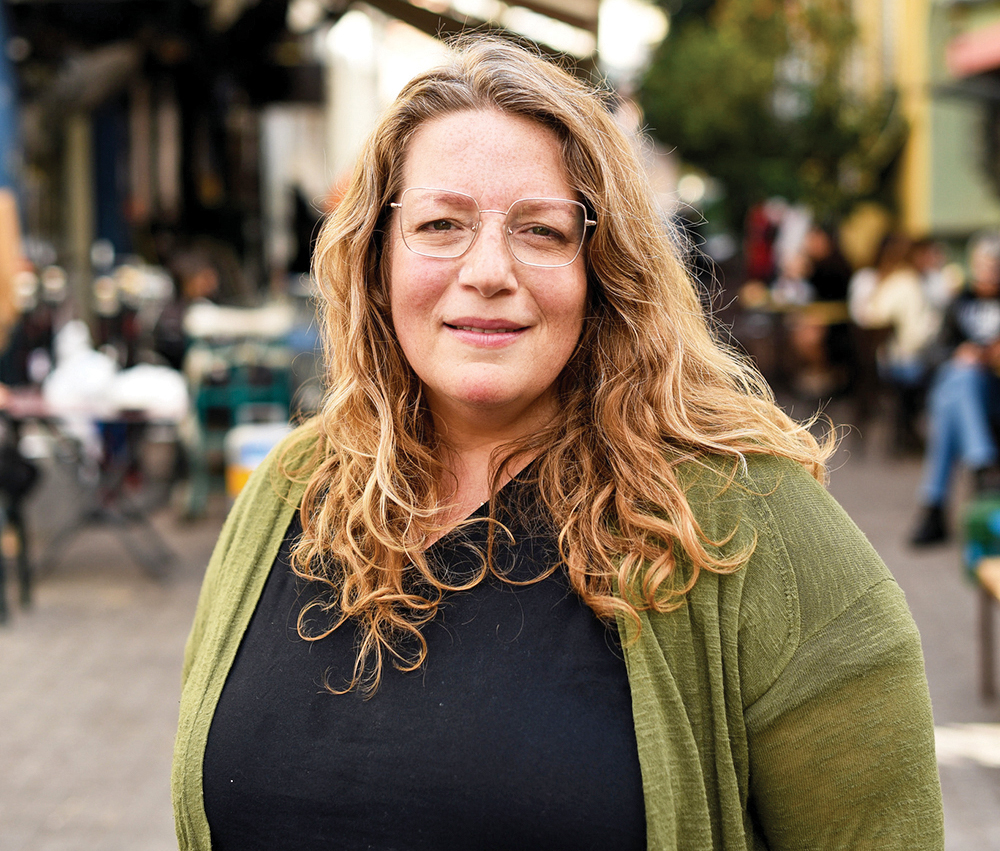 Reviewing: "Shabbat" by Adeena Sussman. Penguin Random House 2023. ISBN 9780593327777.
"Don't it always seem to go that you don't know what you've got 'til it's gone," wrote singer Joni Mitchell in 1970. I was reminded of those lyrics when I read the introduction to "Shabbat," a cookbook by Adeena Sussman, about how she gave up the Shabbat of her childhood but then reclaimed it, in her own way, when she realized what she was missing.
Sussman wrote that she came to New York as a young adult to further her career and found that weekend nights spent at bars and restaurants got tiresome after a while. "What I thought would feel like freedom instead often left me unmoored, empty and exhausted … That's when I realized that staying home, hosting loved ones, and cooking food had imbued the beginning of the weekend, and in fact my life, with a deeper sense of meaning."
The book contains fabulous recipes that build on the traditional Ashkenazi fare of her youth and showcase innovative combinations that use the spices and flavors she has learned to love in Israel, where she has lived for a decade. She includes colorful visual and narrative portraits of cooks from all parts of Israeli society and captures what Shabbat means to them. Writing this review now, after the Oct. 7 Hamas attack while Israel is at war, the book seems almost dreamlike in its description of peaceful life in Israel.
I spent about two weeks making recipes from the book for weekday meals and for Shabbat. My first group for dinner had three winners: Lime Grilled Chicken with Melon and Cucumber Salad; Roasted Green Beans and Peppers with Smoky, Nutty Bread Crumbs; and Charred Potato Salad with Mustard and Horseradish Dressing.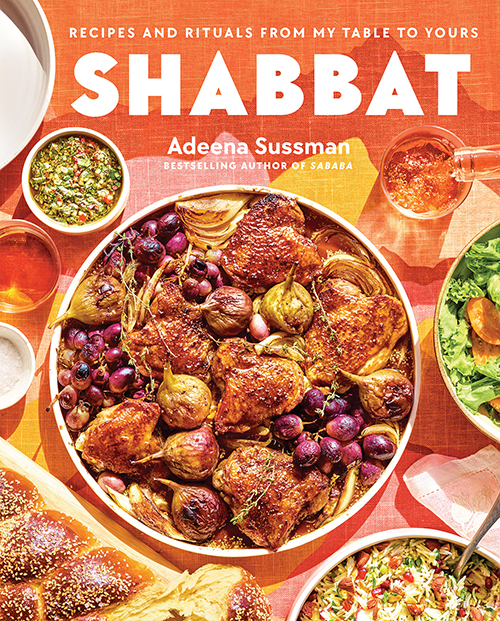 As Sussman wrote, the chicken with this marinade is juicy and not dry at all. I made two batches on the grill and burned the first as I had the temperature too high. Keep the grill to a moderate flame and be rewarded with flavorful, moist cutlets. If I served them for Shabbat lunch, I might just bring them to room temperature and add a little saved marinade. The melon and cucumber salad pairing seemed a little strange but worked nicely with its savory dressing and sweet melon. I loved the roasted string beans with the slightly sweet onion chunks and peppers and nutty bread crumbs. I served this dish for a Chol Hamoed Sukkot dinner and both women guests later asked for the recipe. The charred potato salad solves a culinary dilemma: what to serve when I'm tired of either mayo-based potato salad or ordinary roast potatoes. You could serve this at room temperature or heat the potatoes and then drizzle on the reserved dressing.
I made Sussman's Sumac Dusted Sea Bass and Asparagus with Garlicky Mayo but I used halibut and frozen broccoli florets. Sumac is a lemony, paprika-like spice that is prevalent in Israeli dishes. The combination was great but the best part was the freshly made garlicky mayo. I had never made fresh mayo before and it is fantastic—smooth, rich and tasty. It's hard going back to mayo in the jar but more convenient. I served the fish with Sussman's Sweet and Nutty Shabbat rice, a combination of several flavors and textures including cashew nuts, scallions and dried apricots. For a Shabbat lunch I would reserve some chopped apricots and scallions and add them in before serving.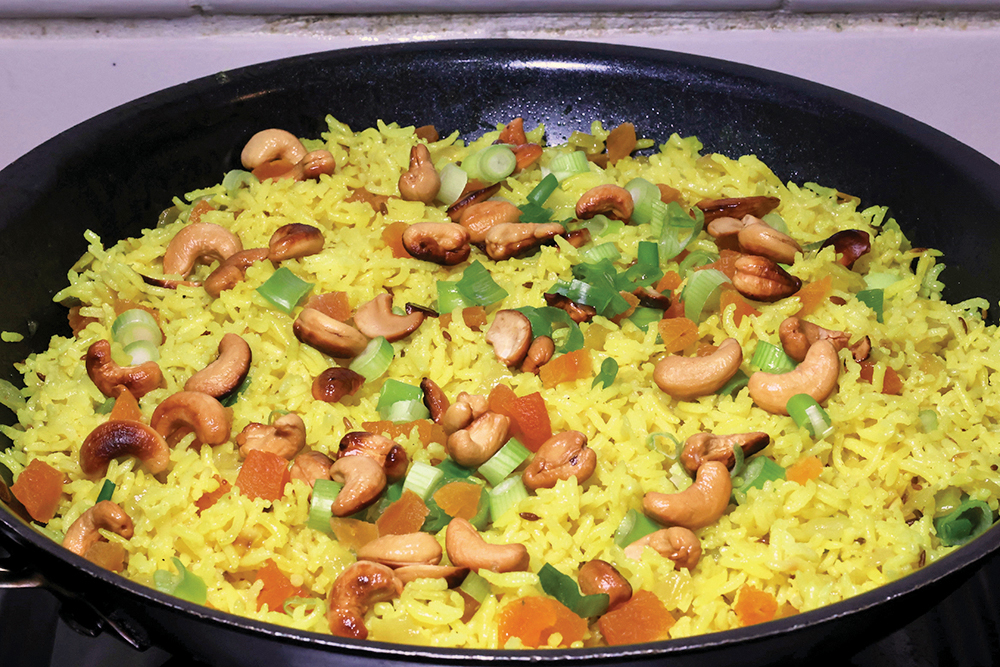 I thought Meatballs in Dried Fruit Sauce would be a nice change from either Italian style marinara sauce, or the sweet and sour sauce I use for stuffed cabbage. I found myself not totally happy with the result that was somewhere in between the two, and decided to sweeten it a little more. That worked! I made the Seared Broccoli with Caper Vinaigrette as a side dish and it was the best broccoli I have ever tasted. I usually roast broccoli and the florets sometimes taste a little burned. Here the stalks are the star of the show. When the broccoli is peeled and sliced vertically, the flat part gets a good char, and the other side needs just a little cooking. The broccoli is tender and smoky while the vinaigrette adds a pungent note. Broccoli is a problematic vegetable due to the difficulty in checking the florets for bugs. I follow the method on the OU website and after cleaning, boil for a minute and then check. The stems, however, do not need to be checked at all. If you don't usually use fresh broccoli florets, buy a bunch for the stems and throw out or give away the florets—the charred stems are that good.
I shopped for the Cider-Braised Apple and Jerusalem Artichoke Chicken but could not find the Jerusalem artichokes. I subbed with white potatoes, as Sussman recommended. But then I remembered I had some sweet potato cubes so I threw them in as well. It might have changed the flavor profile a little but what a great combination! I'm thinking of adapting the recipe for Thanksgiving turkey.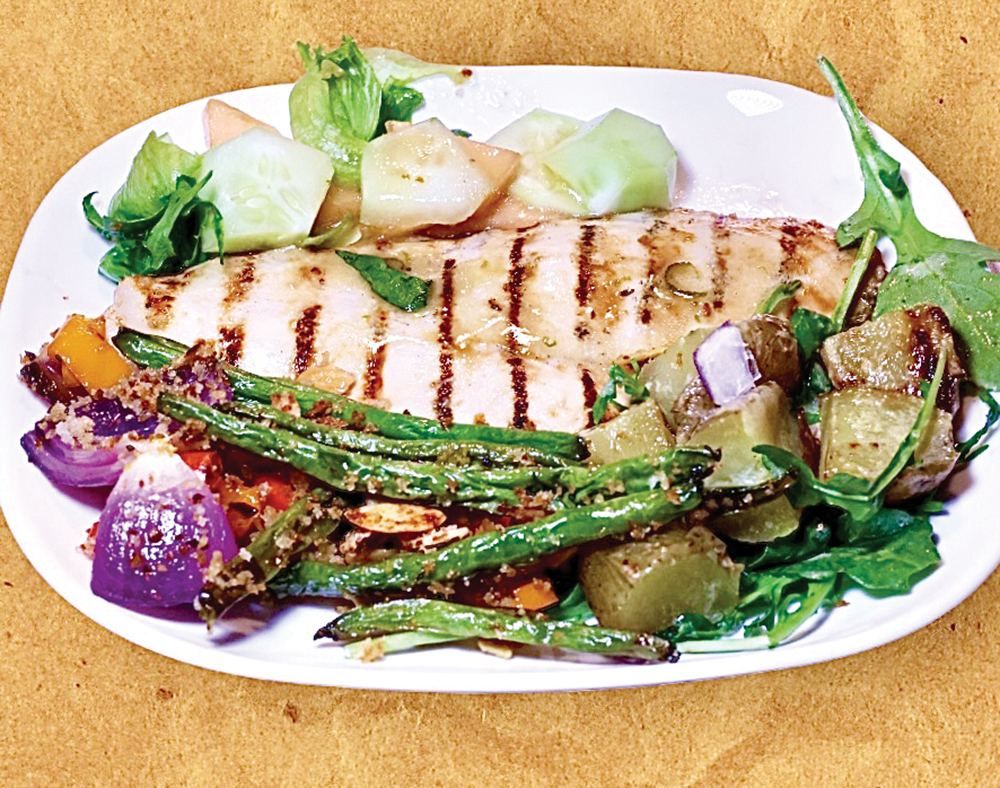 For my actual Shabbat, I made the Fig and Pomegranate Brisket for dinner and the Spicy Schnitzel Salad with Cracked Pepper Dressing for lunch. The brisket is another new favorite, with its sweet spicy, perfectly balanced sauce. I served it with fresh figs, per the recipe, which are pretty but not necessary. The schnitzel is spicy due to coating the cutlets with a harissa-based paste, to which the crumbs adhere. The harissa adds a new layer of flavor but I would tone it down or leave it out for kids. I served the accompanying salad separately and the dressing was good on both. For dessert I made the Lemon Black-Sesame Bundt Cake. If you like lemon and sesame, this cake is for you. It's moist and rich. The sesame is a nice change from the more common poppy seed. Be forewarned that the recipe calls for juicing eight lemons. My wrist was sore after that workout.
I liked the Skirt Steak and Stone Fruit salad, which I made for another Chol Hamoed Sukkot dinner, but I didn't like them together. The skirt steak is made with a pomegranate marinade which I thought clashed with the more acidic vinaigrette on the salad. I think they would be happier on different sections of a plate.
"Shabbat" is a panorama of cultures and cuisines in Israel. Shabbat, the celebration, is the common denominator we can all share.
Seared Broccoli With Caper Vinaigrette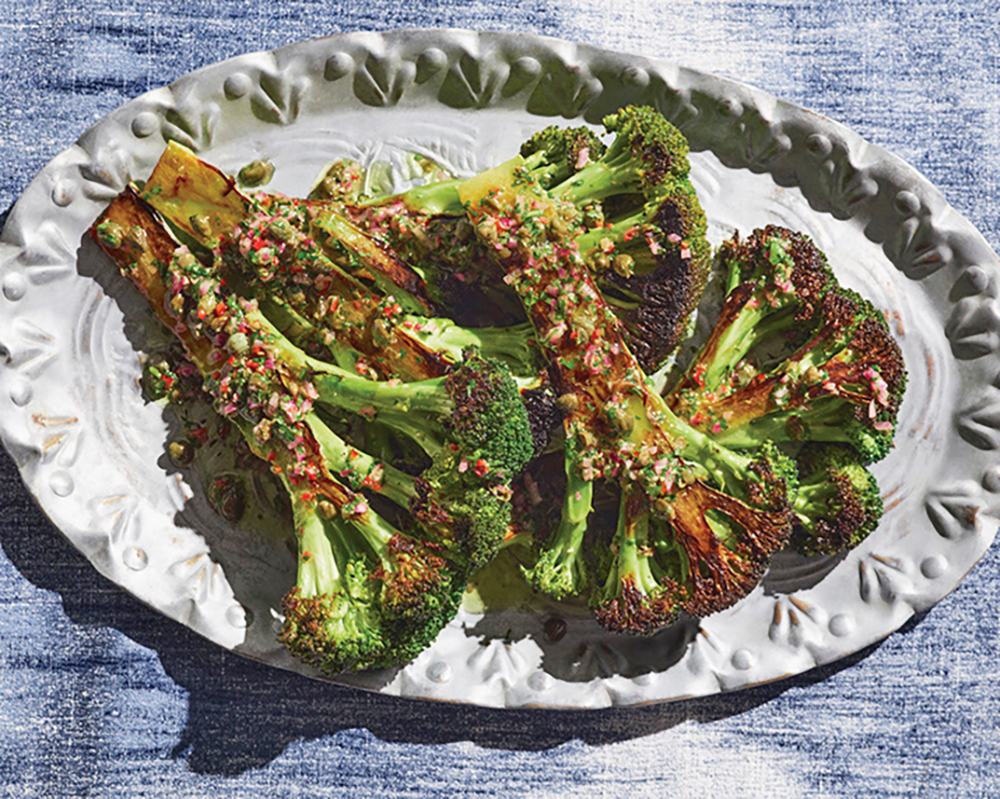 7 tablespoons olive oil
2 tablespoons freshly squeezed lemon juice
2 tablespoons jarred capers (2 1/2 tablespoons if salt packed), drained, lightly rinsed, and coarsely chopped
2 tablespoons chopped fresh parsley
1 tablespoon finely minced shallots
1/2 teaspoon finely minced hot chili pepper (seeds optional)
1/4 teaspoon kosher salt, plus more for seasoning
1/8 teaspoon freshly ground black pepper
1 large head broccoli (1 1/2 to 1 3/4 pounds)
6 tablespoons vegetable broth, chicken broth, or water
In a medium bowl, combine 4 tablespoons of the olive oil with the lemon juice, capers, parsley, shallots, chili, salt, and black pepper.
Use a sharp vegetable peeler to peel the tough outer layer of the broccoli stem to reveal the paler green interior. Cut broccoli through the stem into four 1-inch "steaks," some larger than others. You'll have some stray florets; use them, too.
Heat a 9- or 10-inch skillet over medium high heat. Just before adding the broccoli, add 1 1/2 tablespoons oil to the skillet. Add 2 steaks, season with salt, and sear until the underside is charred on the edges, 3 minutes. Flip, add 3 tablespoons of the broth, cover, and continue cooking until the underside is charred and the broccoli is bright green, 3 to 5 minutes. Remove to a plate; cover with foil to keep warm. Repeat with the remaining oil, steaks, and broth. Transfer to a serving platter and spoon the vinaigrette on top.
Fig & Pomegranate Brisket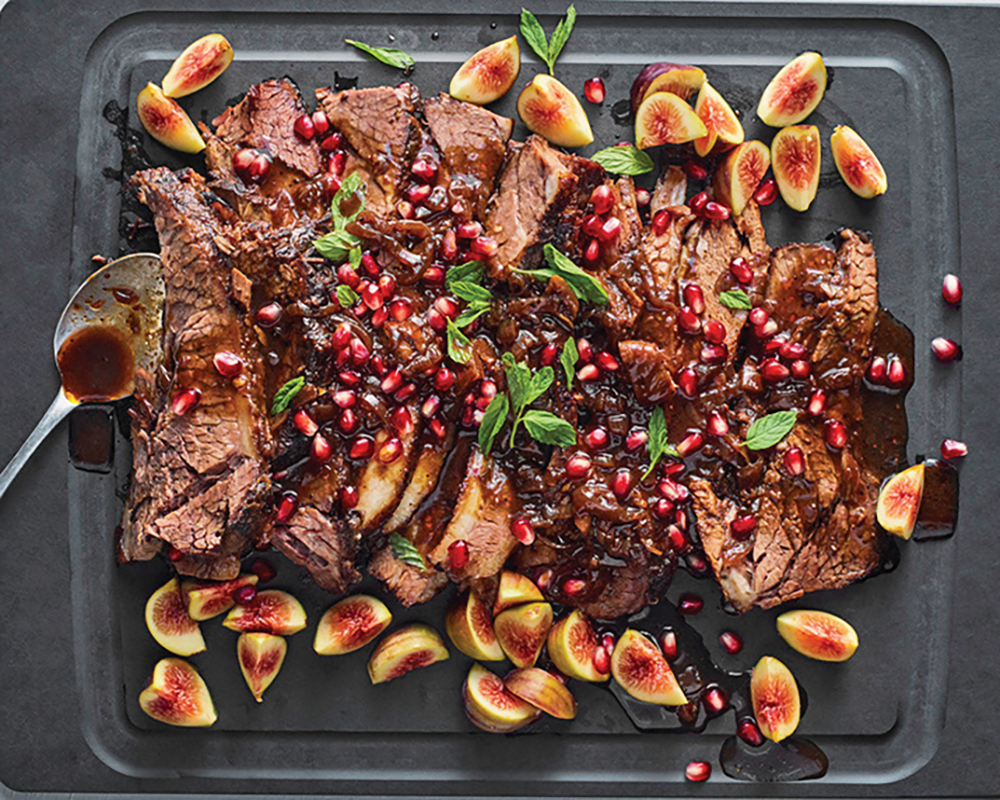 Brisket is always better served the next day; if you have time, cool the whole cut in its braising liquid, then slice it against the grain and re-warm gently in the sauce.
One 5-pound brisket with a good amount of fat
1 tablespoon plus 1 teaspoon kosher salt, plus more for seasoning
1 1/2 teaspoons freshly ground black pepper, plus more for seasoning
1/4 cup vegetable oil
3 large onions, thinly sliced (6 cups)
2 tablespoons all-purpose or gluten-free flour
10 garlic cloves, peeled and left whole
2 tablespoons tomato paste
2 cups dry white wine
1 1/2 cups beef or chicken broth
1/3 cup pomegranate molasses
4 dried figs, chopped
1/4 cup honey
1 1/2 teaspoons red wine vinegar
1 tablespoon ground cumin
1 teaspoon dried red pepper flakes
6 fresh figs* quartered
1/2 cup pomegranate seeds
Mint leaves, for garnish
Preheat the oven to 300°F.
Arrange the brisket on a large plate and season it generously on all sides with 1 tablespoon of the salt and 1 teaspoon of the pepper. In a large, heavy Dutch oven, heat the oil over medium-high heat until very hot but not smoking. Add the brisket (fattier side down, if there is one) and sear until deeply browned and crisped in parts, 6 to 7 minutes. Carefully flip the brisket and sear for another 6 minutes; then, if they're thick enough, sear each of the narrow sides, standing up the brisket, if possible, 3 minutes per side. Remove to a plate, leaving any fat and juices in the pan.
Add the onions and flour and cook, stirring occasionally, until the flour is absorbed, 1 minute, then add the garlic and tomato paste and cook, stirring occasionally, until the onions begin to soften, 5 minutes. Add the wine, raise the heat to high, bring to a boil, then turn down the heat and simmer until the wine reduces by half, 4 to 5 minutes. Add the broth, pomegranate molasses, dried figs, honey, vinegar, cumin, red pepper flakes, and the remaining 1 teaspoon salt and 1/2 teaspoon black pepper.
Bring to a boil over high heat, then reduce the heat to a simmer and gently lower the brisket back into the roasting pan, spooning some of the sauce and onions over the brisket. Cover the brisket with a piece of parchment paper (this will prevent the acid in the sauce from interacting with the foil), seal the roasting pan tightly with foil, and cook in the oven until the brisket is tender, 4 hours to 4 hours, 30 minutes. Remove from oven, unseal slightly, then let the brisket come to room temperature, about 1 hour.
If you have time, refrigerate the brisket overnight, then uncover it and remove and discard the congealed fat. Remove the brisket from the sauce and slice it against the grain into 1/4-inch-thick slices. Heat the sauce in the roasting pan or another pot over medium-high heat, until boiling. Lower the heat and simmer until the sauce thickens to your liking, 10 to 15 minutes.
Nestle the sliced brisket back in the sauce, cover with foil, and warm gently in a 200°F oven until everything is heated through, 45 minutes to 1 hour.
To serve, transfer the brisket and sauce to a platter, season with salt and pepper, and garnish with fresh figs, pomegranate seeds, and mint leaves.
*If you can't find fresh figs, garnish with more pomegranate seed.
From "Shabbat" by Adeena Sussman, published by Avery, an imprint of Penguin Publishing Group, a division of Penguin Random House, LLC. Copyright @ 2023 by Adeena Sussman.
---
Bracha Schwartz is special sections editor at The Jewish Link.