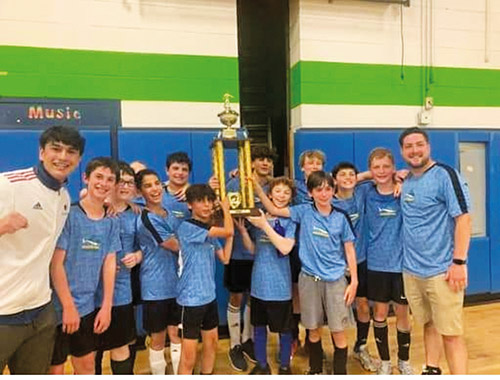 (Schechter Sports) The yeshiva middle school indoor soccer championships took place this week, and it was a feeding frenzy for Solomon Schechter Day School of Bergen County. The Schecter Sharks were represented in both the girls and boys divisions and were the underdogs entering both games.
The boys game kicked-off first, with the Schechter Sharks taking on the Ramaz Rams. Ramaz jumped on top early with a first quarter goal, adding a second goal early in the second quarter. The Schechter Sharks continued to play with incredible grit and were able to break through late in the second quarter. Goals by Eitan Davies and Or Bar-Oz helped the Sharks tie the game before the half. The game remained tied 2-2 through the second half bringing the game into overtime.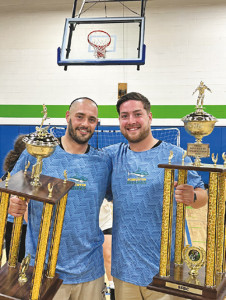 With only a minute left in the first overtime period, Ramaz scored the go-ahead goal and was just one period away from becoming the league champions. With only five minutes left in the game's final overtime period, coach Chris Diaz gathered the Sharks and reminded them that they have been in this position before, and that there was plenty of time left in the game. Inspired by his words, the Sharks went back on the court to score three unanswered goals in the second overtime, clinching the schools first indoor soccer championship.
Even with one league championship in their grasp, the Sharks were still hungry. The girls soccer championship concluded the night with the Schechter Sharks taking on the Moriah Mountaineers. Entering the game, Moriah was undefeated and heavy favorites to win the league championship.
The Schechter Sharks led Moriah in the opening minutes with a stellar goal from Dorothy Brie. Minutes later, co-captain Talia Picker extended the lead for the Sharks, shooting across her body and sneaking one past the Moriah goalkeeper. From there on out, it was all-out team defense for the Sharks. Goalkeeper Eliana Harcsztark led the defense and kept the Moriah offense in check all night. Co-captain Sophie Klarfeld put the game away for good, scoring the Sharks' third goal and giving the Sharks a 3-0 lead with only minutes to play. Moriah was able to get on the board with just under two minutes left, but the night belonged to Schechter Bergen as the Sharks defeated Moriah 3-1 to take home their second championship in one night.
It was an historic night for Schechter Bergen as they earned two league championships in the same night, and the first for both the girls and boys soccer programs. The future of Schechter Bergen soccer is bright, and the Sharks are ready to take a bite out of anyone in their path. Congratulations to both the girls and boys soccer teams.