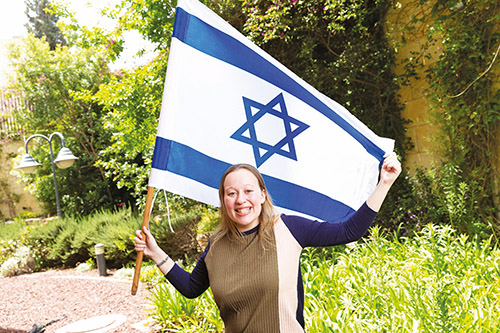 (Courtesy of Midreshet Lindenbaum) "It's so important for us to be there for our students," said Rabbanit Sally Mayer, rosh midrasha, Midreshet Lindenbaum, "listening, teaching, giving guidance and helping them in any way we can." It was out of this value of being there for students that Sherut Sheli was born—a new program launched at the Ohr Torah Stone seminary for young women this year to help students and alumnae of the Maria & Joel Finkle Overseas Program who decide to make aliyah.
"We noticed that more and more of our students were deciding to stay in Israel," Rosh Beit Midrash Rabbanit Nomi Berman explained. "Most are following the same path as the vast majority of Israeli young adults their age, who enlist in the Israel Defense Forces [IDF] or do a year or two as a National Service volunteer. Navigating the Israeli bureaucracy and finding the right placement can be complicated for anyone, especially for someone who doesn't have strong Hebrew and isn't familiar with the way things work in Israel. We wanted to help our students and alumnae have the smoothest process possible as they navigate their next steps in Israel."
Smoothing the process has involved everything from hiring a designated coordinator to help students navigate the bureaucracy and provide guidance, and organizing regular alumnae gatherings and shabbatonim where alumnae who have made aliyah can return to learn, reconnect with friends and teachers, and recharge their spiritual batteries.
Rebeccy Babitz from Silver Spring, Maryland learned for two years at Midreshet Lindenbaum's Overseas Program before making aliyah last year and beginning a year of national service at Yad Vashem. "I try to get back to Midreshet Lindenbaum whenever I can," she said. "Having the built-in support and network is crucial. Midreshet Lindenbaum is my home in Israel."
Babitz recently attended a shabbaton organized through Sherut Sheli for alumnae from her year who made aliyah. "It was wonderful to see my friends and reconnect with our teachers during a really beautiful Shabbat together."
Gabby Yohananoff from New York chose to attend the Overseas Program at Midreshet Lindenbaum in part because of the new Sherut Sheli program. "I've wanted to make aliyah since seventh grade," she said. "At Lindenbaum, not only are the teachers passionate and dedicated to learning and teaching Torah, I also knew I'd get support as I chart my path beyond this year. Rabbanit Nomi has been tremendously helpful every step of the way as I plan my next steps. As busy as she is, she makes me feel as if I'm her only student." Yohananoff will be enlisting in the IDF in August.
As hard as it is for young women to make such a big leap on their own, so far from their families, it's especially challenging for parents. They have shared that they find comfort in knowing their daughters are getting the guidance and support they need from people who can help them, every step of the way.
In a letter to express her gratitude as the parent of a daughter making aliyah, Jodi Schmeltz of Teaneck wrote: "We want to express our thanks for all of the time you have given to Avital. She's making very big decisions far away from us and it's so comforting to know that she has people there to listen and guide her. We appreciate everything you have done for her."