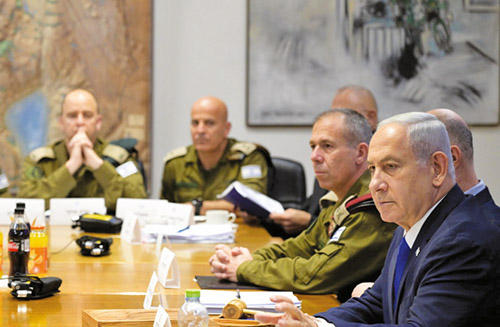 At press time, Israel reported it was ready to expand Operation Shield and Arrow to strike Gaza even harder, Prime Minister Benjamin Netanyahu said on Wednesday, May 10.
Netanyahu made the remarks in a phone call with mayors of towns in Israel's south, as terrorists shot hundreds of rockets from Gaza to Israeli civilian centers, mostly in the South.
"We're prepared for the possibility of broadening the campaign and for very severe blows, now and later as well," the prime minister said, adding, "I think we will have the upper hand but we are in this battle and I appreciate your support and your standing strong."
As of Wednesday afternoon, defense sources' assessment was that the rockets came from Palestinian Islamic Jihad, such that Israel has not expanded its pool of targets to include Hamas.
Israel sent messages to Hamas via Egypt on Tuesday that it should stay out of the fight or Israel will strike Hamas's leaders.
Earlier Wednesday, the prime minister received updates from his military secretary Brig.-Gen. Avi Gil and held a security assessment at the Defense Ministry in Tel Aviv.
Netanyahu briefed opposition leader Yair Lapid on the goals and details of Operation Shield and Arrow on Wednesday morning.
At 11:45 a.m. the IDF carried out its first attack of Wednesday on an Islamic Jihad crew that was getting ready to fire rockets near the southern Gaza city of Khan Yunis.
This incident came after a similar incident on Tuesday early evening.
Around 12:30 p.m., the IDF had initiated a widespread preemptive strike on a variety of Islamic Jihad rocket positions, including some concealed from the public eye, after seeing intelligence signs that the terror group was getting ready for a broad round of rocket attacks on Israel.
The IDF by Wednesday afternoon at 4:30 p.m. had struck over 40 targets of terror groups in Gaza, with a primary focus on Islamic Jihad.
After these incidents and along with other intelligence signs, IDf chief spokesman Brig. Gen. Daniel Hagri said that the IDF decided instead of only selectively attacking rocket crews on their way to their rocket firing positions, to preemptively attack a variety of concealed rocket positions that intelligence had previously found.
At that point, Hagari said that the IDF's rationale was that it was better to put the Jihad organization back on its heels again, rather than trying to track dozens of rocket crews once they are already out near their positions.
So far the IDF's analysis of why Islamic Jihad has not struck back more is a mix of the shock that the group went through from a surprise attack eliminating three of its top leaders and 10 key military positions, followed by the IDF successfully thwarting its initial attempts to strike back, said Hagari.
For example, the IDF's attack on an anti-tank missile crew on Tuesday evening thwarted an initial move to use one of its more advanced weapons against Israel, as opposed to many of its rockets, which are less precise.
Hagari rejected any conception that Islamic Jihad is successfully using psychological warfare against Israel by rolling out its counter strike slowly.
Rather, the IDF's view would be that it has been consistent about keeping Islamic Jihad on its heels, but without getting drawn into a longer fight or a larger fight with Hamas.
IDF chief-of-staff Lt. Gen. Herzi Halevi was visiting the South early Wednesday afternoon to personally ensure that Israel's missile defense and other defense elements remain on the highest levels of alert.
There were also other reports of such preemptive strikes against rocket crews on Tuesday and there have been some confirmed similar reports in recent years, but the trend of hitting rocket crews before they fire is still a relatively new one.
Despite the airstrikes, Israel is still expecting Gaza terror groups, especially Islamic Jihad to try to respond at some point following the IDF's overnight Monday-Tuesday strike of the three top Islamic Jihad commanders.
Since then, Israel has been walking on eggshells waiting for the expected response, and in particular, whether Hamas will join in.
Security Council to Meet, Address 'Concerning Developments'
At press time, the United Nations Security Council was set to hold a closed-door emergency council session on Gaza in New York, in what would be its ninth meeting this year on the Israeli-Palestinian conflict.
The United Arab Emirates said it had called for the meeting along with China and France in light of "concerning developments in Gaza."
The UNSC meets monthly on the Israeli-Palestinian conflict and has held four such gatherings this year, along with an additional four to deal with crises that have arisen in light of rising violence and Prime Minister Benjamin Netanyahu's new government.
In a letter to the UNSC Palestinian Authority's Ambassador Riyad Mansour wrote, "We condemn this murderous aggression against the Palestinian people and call for immediate action to hold responsible the criminal perpetrators, both government and military officials of Israel, the occupying power, who are planning and implementing this endless series of systematic human rights violations."
Israel's Ambassador to the UN Gilad Erdan wrote a letter to the UNSC explaining that the surgical strike called Shield and Arrow was in response to a barrage of over 100 rockets Palestinians in Gaza had launched at Southern Israel last week.
"Israel acted in a precise and limited manner against senior military officials in the Palestinian Islamic Jihad (PIJ) who were directly responsible for facilitating attacks and launching rockets and missiles against Israelis, in order to protect Israel's citizens and thwart the planned attacks," Erdan wrote. "In parallel, sites used to produce weapons and military compounds of the Palestinian Islamic Jihad in the Gaza Strip, as well as PIJ military compounds, were targeted," he explained. "These sites were munitions warehouses and provided logistical infrastructure for the terrorist organization.
"The PIJ organization uses the citizens of the Gaza Strip as human shields – they hide their rockets among the civilian population, use private houses as situation rooms and fire from dense urban areas.
"It is a designated terrorist organization by Australia, Canada, the EU, Japan, New Zealand, the UK, US, and Israel."
Erdan called on the UNSC to "condemn the indiscriminate rocket attacks on Israeli civilians launched from Gaza, and to support Israel in our legitimate right of self-defense."
Members of Congress in the US spoke out in support of Israel.
US Senator Ted Cruz (R-TX) said that "Israel has taken necessary action against terrorist leaders in the Gaza Strip to protect its citizens and maintain national security."
"Such Iran-controlled terrorists pose a direct threat not only to Israel but also to the safety and security of the American people" Cruz stated. "The government of Israel has the responsibility and obligation to defend its citizens, and I stand with our ally as it confronts those who seek chaos and destruction."
Rep. Ritchie Torres (D-NY) tweeted: "Imagine how high the death toll would be were it not for Iron Dome, which has intercepted almost all the missiles fired and saved lives. I will continue voting for missile defense systems that protect civilians from terrorism."
This is a developing story and was accurate at press time.
By JPost Staff