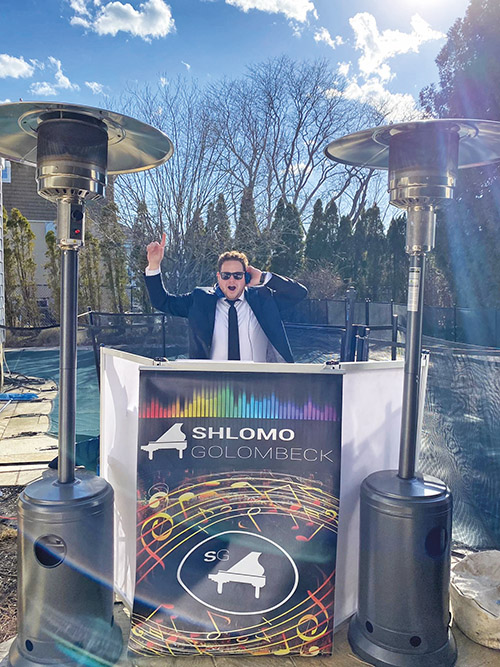 Shlomo Golombeck had a blast as a DJ in the Israel Day Parade on May 22. He floated down Fifth Avenue in the hot sun, playing popular Hebrew songs and wowing the crowd with his trademark energy and performance. He wasn't with the usual Jewish school or organization. He was on a float in front of Governor Kathy Hochul and several New York pols, like Letitia James, Jerry Nadler and Carolyn Maloney, telling the crowd at regular intervals that the governor supports the Jewish community here and in Israel.
"It was surreal and interesting to be in the political arena, where everything is extremely organized," he said. "I had a script and every minute or two I would need to say, 'Give it up for Governor Hochul, a true friend of Israel.'"
Anyone else would have gone home after the parade to take a well-deserved rest. Not Shlomo Golombeck; he was just getting started. From the parade, he drove to West Orange, where, pumped with adrenaline, he performed at a bat mitzvah, to an even more raucous and appreciative audience. It's all in a day's work for Shlomo Golombeck: DJ, musician and teacher.
Word of mouth brought Golombeck to the attention of the governor's office. A client who had hired Golombeck for a wedding recommended him to a friend who works with the governor. That's how he gets most of his jobs. Top Jewish music bands and party planners reach out to him after hearing someone they know rave about his uncanny ability to hype up a crowd and set the perfect vibe for their event.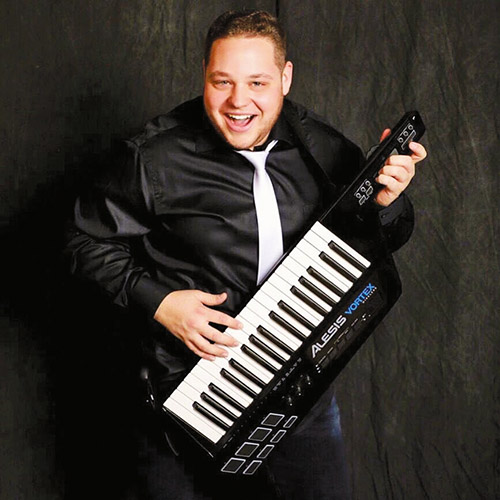 Golombeck's childhood was all about music, singing and performing. He sang with the Miami Boys Choir, at the same time as Mordechai Shapiro. "When I was in Miami, I got to go on tour and perform with Yaakov Shwekey, MBD and Avraham Fried—superstars—in front of thousands of people," he said. "That was definitely an iconic part of my life. It built up my confidence and shaped me to do my own performances." He had his first solo gig at 11 years old, performing for a neighbor's bat mitzvah.
He grew up in Passaic, attending Yeshiva Katana and Mesivta of Passaic. His parents were very supportive of his interest in music, but he had to step back in high school, only playing during bein hazmanim and summer vacations. He learned secular music from Jewish parody artists such as Shlock Rock and Six13—groups he now performs with.
When Golombeck returned to the states after three years in Israel, he started performing as a one-man-band keyboardist and DJ at weddings and bar/bat mitzvahs. Referrals snowballed, bringing more and more bookings and higher-end jobs. While he often works with other bands as a DJ and singer, he has formed his own company, Shlomo Golombeck Entertainment.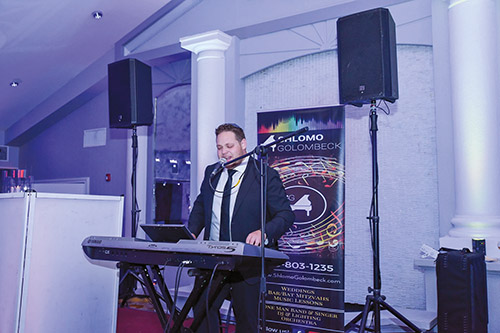 He performs locally for huge events in places like Times Square and American Dream Mall. Clients also fly him all over the country for gigs. He joked, "I rarely have to pay for vacations, I'll just spend an extra day or two wherever they fly me."
Golombeck teaches music at Yeshivat He'atid in Teaneck and at the Jewish Educational Center in Elizabeth. He teaches piano and guitar privately, with a curriculum he developed based on the way he learned to play by ear. "I teach students how to figure out songs on their own, how the melody goes up and down, how to listen to the song's timing and then how to add chords. It's a method that works and lets them play a song from their very first lesson. It's really exciting for them to see results so quickly." Some of his students over the past 10 years are now playing professionally, and some are giving music lessons. "It's nachas for me, seeing them advertise. Not every music teacher has grandstudents," he added.
What Golombeck likes most about playing and performing, is that it makes people happy. Whether it's a school function or simcha, he loves making people dance. "Being a DJ for me is not just 'pressing play.' There's a lot to it—reading the crowd, knowing what song to play next, and keeping people moving," he explained. "The more fun I have, the more fun they have."
By Bracha Schwartz