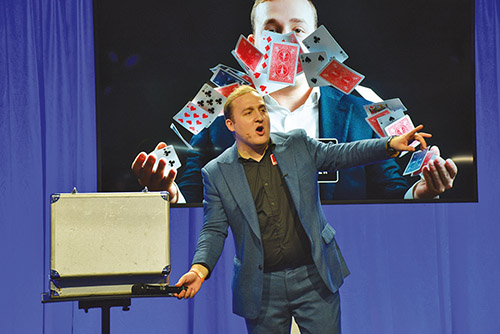 Twenty-five-year-old Shlomo Levinger watched the Los Angeles Angels play the New York Yankees at Angels Stadium in Anaheim, California in August 2021. His seat, enviably situated behind the Angels' dugout, offered a clear view of the action on the field. Levinger's phone buzzed, alerting him to an incoming message. It was a text from Angel centerfielder and baseball megastar Mike Trout.
"Couple of guys want to see some tricks after the game," the text read. "Can you make it happen?"
"Of course!" Levinger quickly replied.
After the game, Levinger and his brother, Dovid, headed to the players' parking lot. He was met by a beaming Trout who, at 6 foot 2 inches tall, towered over the magician. For the next 45 minutes, Levinger wowed Trout and fellow All Stars Anthony Rizzo, Justin Upton, Dexter Fowler and Alex Cobb with a series of sleight-of-hand card tricks, optical illusions and mentalist techniques. The looks on the players' faces shifted quickly from delight to astonishment and back again. At one point, Levinger instructed Rizzo, himself an amateur magician, to navigate to a random Wikipedia article and, without showing Levinger, pick any word seven letters or longer. Levinger studied Rizzo's face for a few moments.
"Is the word 'numerous'?"
Rizzo's mouth fell open. He appeared to struggle to verbalize a thought. "How?!" was all he could manage.
Even more remarkable than Levinger's ad hoc parking lot magic show was his unlikely journey from Queens yeshiva boy to magician to the stars. Levinger's interest in magic was first sparked as a high school student at Chofetz Chaim of Queens. He stumbled across an online video of a magician performing card tricks. "I could do this," he thought. He picked up a deck of cards and never put them down.
Levinger practiced magic during class, on breaks and after school while watching the Knicks on TV. A high school classmate confirms that Levinger was "obsessed." His skills progressed rapidly.
Levinger started doing street magic, wherein he would approach strangers throughout New York City and stump them with off-the-cuff magic tricks. He began posting videos of his exploits online. He soon developed a following. Magic fans loved the novelty of a fresh-faced teen rocking a kippah and tzitzit, amazing people he'd met moments before.
"Magic is the great leveler," Levinger explained, "regardless of background, economic status or education, everyone loves magic. It's a great way to connect with people."
Connecting with people, Levinger quickly discovered, was one of the aspects of magic he loved the most. He landed his first gig when a rabbi from his high school gave him $50 to perform at a family Chanukah party. The experience of performing proved far more valuable than the money. Levinger realized that he fed off the crowd—he had a knack for gauging their reactions and modifying his act accordingly. For a natural extrovert like Levinger, the energy was intoxicating.
"I always advise new magicians to accept as many gigs as possible," Levinger said. "The more crowd work you do, the better you get."
He had plenty of opportunities to hone his crowd work, as requests came in steadily. Levinger began booking small parties and summer shows at bungalow colonies for $200 a pop. Since he didn't yet have a driver's license, he hitchhiked around the Catskills to make his gigs.
Levinger kept working even when he graduated high school and enrolled in yeshiva in Israel. He cold-called Pesach hotel programs and bartered magic shows for flights to and from the United States. Upon his return to the U.S., he studied at the Yeshiva of Waterbury while traveling to New York twice weekly to perform at sheva brachot, bar mitzvahs and weekend retreats.
All the while, Levinger continued to post videos to his social media accounts, delighting people from all walks of life with sleight-of-hand and mind-reading techniques. His freely Jewish appearance and ready smile differentiated him from myriad other internet magicians, and he racked up followers. He knew his online reach was considerable when Mike Trout followed Levinger on Instagram and invited him to an Angels game. Levinger accepted, which is how he found himself performing for some of the world's biggest baseball stars in an Anaheim parking lot.
The impromptu Mike Trout show was posted to YouTube and amassed tens of thousands of views. The video cemented Levinger's reputation as a top-flight illusionist, and he found himself performing for celebrities like basketball star Donovan Mitchell, political commentator Ben Shapiro, the NHL's Nashville Predators and the MLB's Houston Astros.
Now a full-time magician about to celebrate his one-year anniversary with his wife, Shani, Levinger focuses most of his energy on the corporate circuit, having performed for companies like Sony and ABC Radio. He regularly flies from his home in Far Rockaway to gigs around the country. He estimates that his magic career is now 1,000 shows strong. He always wears his Judaism proudly, but feels it is important people realize it isn't a gimmick. "I wear my yarmulke and tzitzis because that's who I am—an Orthodox Jew." Consequently, authenticity has become an important component of Levinger's brand.
His most recent gig was at a convention in Las Vegas. Princeton Capital, one of the convention's corporate backers, flew Levinger for a private show for all the sponsors. As usual, Levinger enjoyed every moment. "Unreal" was how he described it.
Follow Shlomo on Instagram, YouTube, LinkedIn, TikTok, and Twitter @shlomolevinger.