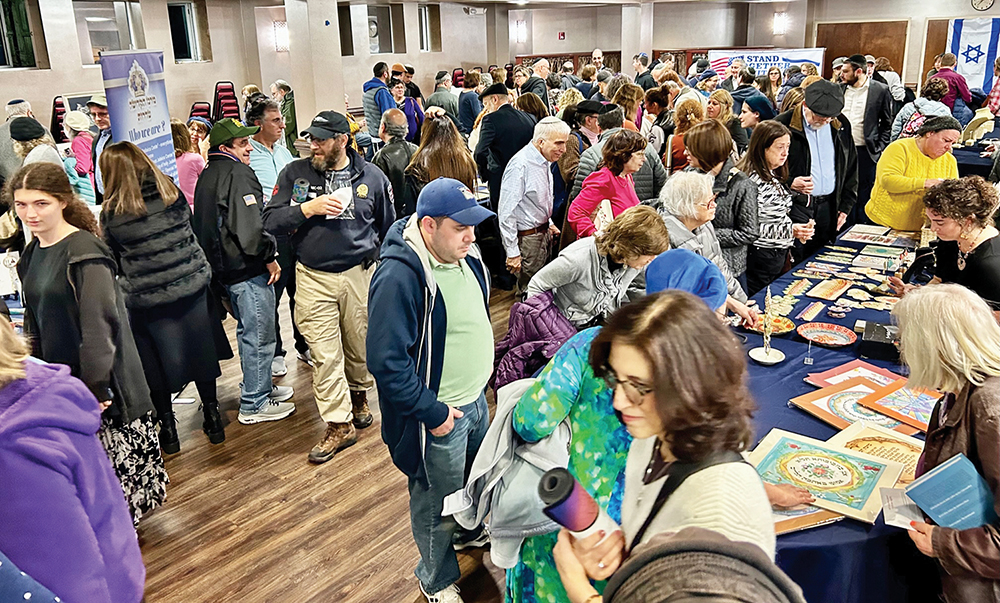 One of the casualties of Israel's war with Hamas, now in its second month, are the many businesses in Israel which have seen a sharp reduction in tourists and regular customers, with a significant drop in income as a result.
Two community leaders in the New York/New Jersey area saw this growing need and worked together with three well-regarded Jewish communal organizations they are involved in, to bring more income to dozens of Israeli businesses — by bringing them here.
The two leaders, Stuart Katz of Lynbrook, New York and Daniel Rothner of Teaneck, and their three organizations, Areyvut, TAL Tours and Mental Health First Aid Israel, worked seamlessly together. In less than three weeks they had enlisted 32 Israeli vendors and organized Israeli vendor fairs in nine cities in the metropolitan New York area, beginning on Nov. 9 and continuing through Nov 19.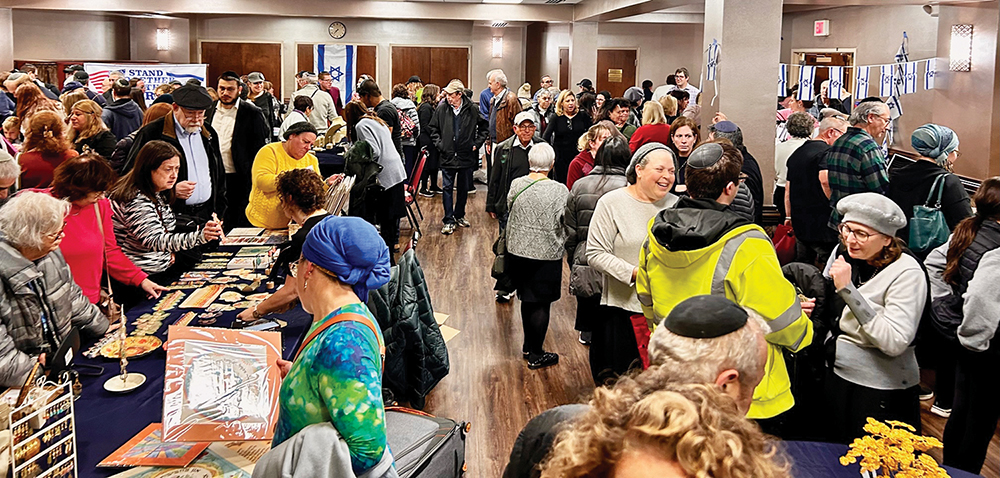 To be fair, they've had some practice.
As Katz explained to The Jewish Link, they had first organized Israeli vendor fairs in 2002 during the intifada, and did so again in 2014 during Operation Protective Edge.
Rothner added: "Areyvut, TAL Tours and Mental Health First Aid Israel have partnered in the past on other programs and emergency efforts. Whether it was in Hurricane Sandy recovery, the Israel Vendors Fairs we organized in 2014, actively encouraging shuls to proactively address Mental Health as part of their educational offerings and other programs, we've put our over 60 years of combined experience to best help the needs of the community and to do so with a sense of urgency, purpose and understanding."
Under the title "Shuk to the Core," the nine Israeli vendor fairs that Katz and Rothner and their organizations coordinated included the Joseph Kushner Hebrew Academy/Rae Kushner Yeshiva High School, Livingston; Congregation Ohr Torah, Edison; Yeshivat Frisch, Paramus; Lincoln Square Synagogue, New York City; Temple Israel Center, White Plains, New York; and the Kingsway Jewish Center and the Sephardic Community Center, both in Brooklyn.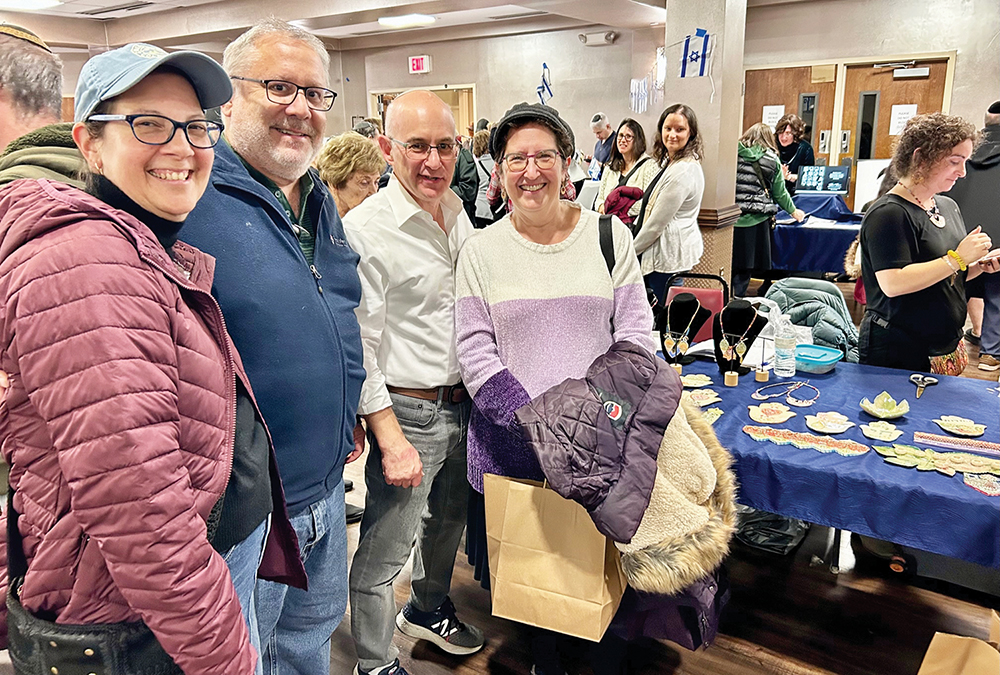 On Thursday, Nov. 16, from 5-9 p.m., the fair continues at the Mid-Island Y JCC in Plainview, New York, and on Motzei Shabbos, Nov. 18, from 7:30-11 p.m. On Sunday, Nov. 19, it will wrap up at the HAFTR Yeshiva in Lawrence, New York from 11 a.m.-4 p.m.
Vendors included Kisim handbags and purses; Ben Zion Fine Arts; Yaron Bob's Rockets into Roses (art, jewelry and Judaica crafted from the remains of rockets launched into Israel); Yogev Sagron, art jewelry designer; Noa Attias, paper cuts and artworks; Leah Silver, painter/ceramicist/tile designer; fantasy and sci-fi author Debbie Iancu-Haddad; and many more.
Speaking to The Jewish Link, two of the vendors praised the response to the fairs. Silver said, "It's been really good" and Iancu-Haddad reported that she's been "getting a good response" to her table.
As another sign of the impact of the fair, Milton Erdfarb of Highland Park held a table for Israel Bonds at the fair in Edison and reported that he'd spoken with at least two dozen people making inquiries about buying Israel Bonds.
Highland Park residents Karen and Michael Rabin said, "We're so excited the organizers gave us this opportunity, in our area, to support Israeli businesses. And we're proud that Highland Park/ Edison is supporting this effort so well." Yehudit and David Tawil of Highland Park spoke highly of the fair as well, with Yehudit adding that it was a pleasure to see friends from Israel (who are vendors) at the event.
Katz stated, "Beyond the economic support, these fairs serve a dual purpose: raising awareness and fostering connection. It provides a platform for Israelis to share firsthand experiences of the historical and ongoing challenges they face. This initiative is not only about commercial transactions but also about cultural exchange and building bridges of understanding.
"The fair's organization reflects a collaborative effort among several key players. Areyvut has taken charge of the intricate local logistics, ensuring the fair's operations run without a hitch. TAL Tours, having initiated the fair and continuing its legacy, plays a crucial role in rallying both Jewish and non-Jewish communities from all over to stand in solidarity with the Israeli vendors. Meanwhile, Mental Health First Aid Israel contributes significantly by offering essential mental health education — a service of particular importance at this juncture, aimed at equipping individuals with the knowledge to recognize and respond to mental health challenges," continued Katz.
Rothner added: "It really takes a village. We could not have done any of this without local hosts, volunteers and people passionately committed to helping Israel and in making this a great success."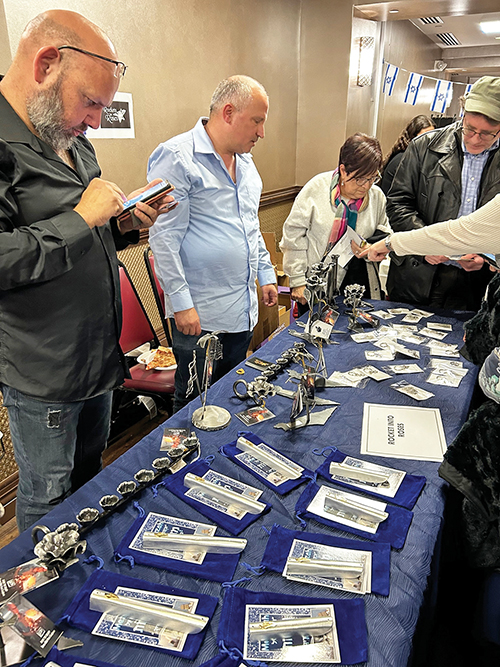 Lori Caplan of Edison, who organized the Israeli vendor fair at Ohr Torah with the help of her friend Linda Moed Cohen and a local committee, was delighted with the size of the crowd that gathered at the shul. She shared with The Jewish Link: "I saw an initial flier about these fairs being held in locations around New York and New Jersey. I asked myself, 'why not have an Israeli vendor fair in Central New Jersey too?' So I contacted Mr. Rothner and we discussed whether it would be feasible to do it here. Before long, the wheels were set in motion to have a vendor fair in the Edison/Highland Park area. Linda and I pulled this together in less than a week, thanks to great teamwork by many motivated community volunteers."
---
Harry Glazer is the Middlesex County Editor of The Jewish Link. He can be reached at [email protected].