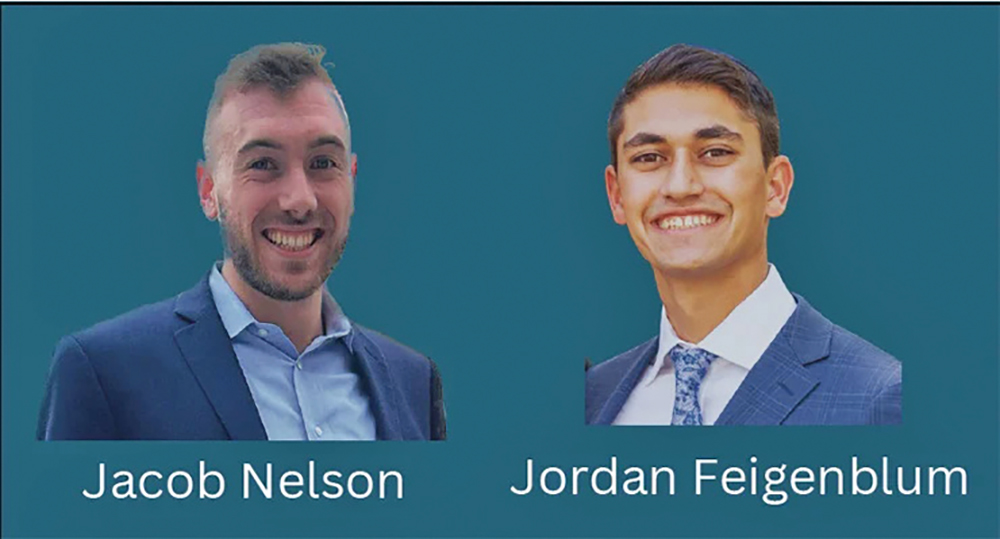 Some call it luck. Some call it serendipity. But it was nothing short of pure mazel when Teaneck native and Frisch graduate Jordan Feigenblum and Livingston native and RKYHS graduate Jacob Nelson became roommates at the University of Maryland. The two finance majors became fast friends, and later, after working in the securities and finance industry, became business partners.
They created a unique business model which became SmartBet Solutions, where they have so far helped over 700 clients put a little extra cash into their wallets. Described as sports-betting arbitrage, the company helps clients take advantage of sign-up promotions in the sports-betting world, while strategically avoiding the actual risks and pitfalls associated with gambling.
It was just about a year and half ago when online sports betting became legalized in the tri-state area and almost immediately, this burgeoning industry sprouted dozens of new companies offering online sports-betting platforms. With each company competing for a substantial market share, the only way that these companies could really differentiate themselves was through enticing marketing, offering large promotions and incentives to attract consumers to their platforms.
"Jordan and I figured out a way to leverage these promotions without gambling—but while still making a profit," Nelson explained. "We figured this out by ourselves. We signed up for these promotions—each one at a time—and slowly but surely we learned how to mathematically optimize these promos to automatically make some money. We do this by strategically betting on both sides of the same game, so that no matter the outcome we can make a profit."
Initially, they did this for themselves and shared it with friends and family. But before long, they found themselves doing this for so many others that they realized it was time to start their own company.
Today, SmartBet Solutions is an A-to-Z concierge consulting service that takes clients through the entire process to help them take advantage of those sports incentives. With the help of specially designed software, the company finds just the right promotions for their clients, helping them each score a few thousand dollars in profit. The entire process has a very quick turnaround—investors typically can take advantage of these sign-up offers in about two weeks. The company makes sure to customize the experience for each client, learning and understanding all about the client's particular financial needs.
The company makes sure to never violate any rules or terms of service, and because this industry is fully regulated, there are no questions regarding the legality of the process. From setting up accounts, to choosing the bets, to withdrawing funds, SmartBet Solutions is there helping each client every step of the way.
"We help them actually place the trades and we help them deposit and withdraw," explained Nelson. "It's a full white-glove service—very much a hand-holding service. And on top of it all, we guarantee the capital."
Clients also don't have to know anything about sports or betting. "Our job is literally to help you with all of your questions. It's a one-on-one service where we talk to each individual client and make sure that we help them every step of the way," explained Feigenblum.
"What we're doing is we're using math … and we know that it works. … It's not betting; it's just math," Nelson added.
"My favorite thing is hearing about how different people have used their earnings—this extra boost," Nelson continued. One client used the proceeds to fly her father in from Israel because she hadn't seen him in a long time. Another client used the earnings to help pay for an engagement ring. "People are not making the kind of money that will change their life forever, but they are making something that gives them a boost, and it's great to be a part of that and help the community that way."
SmartBet Solutions does not take any money upfront but rather charges a profit-based fee only once the process is completed. "Inherently, the way we operate is if you don't make money then neither do we," said Nelson. Except that they always make money. "We guarantee your money, and worse comes to worst, you will walk away with exactly what you put in because what we're doing is just math in the background. It's just our algorithm running," Feigenblum added.
SmartBet Solution's track record speaks for itself, and Jewish Link readers agree. "I saw the ad in The Jewish Link and was intrigued," one reader said. "Jordan and Jacob were consummate professionals and very detail-oriented in their process … I wish I could repeat the process with them—it is as close to a sure thing as you can find." Another New Jersey resident remarked: "My experience was phenomenal. I saw their ad in The Link, emailed them and we started right away. They made the experience very easy and stress-free. I highly recommend reaching out to them." And a subscriber from Teaneck said, "After just two weeks, I can honestly say that the team at SmartBet has mastered the perfect combination of securing my initial investment while maximizing my return."
To learn how you can participate in sports arbitrage and schedule your complimentary 15-minute call, visit www.smartbetsolutions.com or reach out at [email protected].