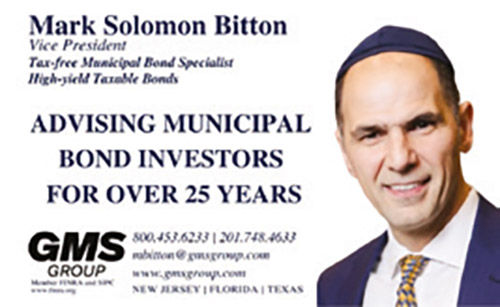 Solomon Bitton has championed the advantages of municipal bonds for over two and a half decades, making a particularly strong case for them in today's volatile economic environment. The Jewish Link spoke with him recently to learn about his background as well as to receive a primer in municipal bonds vs. various other investment classes.
Bitton was born and raised in Buffalo, New York. His involvement in NCSY while in his teens eventually led to his attendance at Yeshiva University. Unlike some who are sure of their career path before even setting foot in college, Bitton initially left his options open. However, with a brother who was a stockbroker and a future brother-in-law who worked in bonds, he began exploring the field of finance. His preference for the more conservative route of bonds led him to a full-time trainee position at the GMS Group – which specializes in tax-free municipal bonds – during his senior year at YU. During this time, he began studying for his Series 7 license to become a securities representative, and he became a registered broker shortly after graduation. His career has spanned over 25 years, all of which have been at the GMS Group, where he has moved through the ranks to his current role as vice president. You could say his career path of remaining at the same firm mirrors his investment approach of favoring investment vehicles that provide consistent and stable long-term returns.
Bitton has lived in Englewood for 29 years with his wife and children. During his off time, he enjoys being involved with the youth at the Benaroya Sephardic Center at Ahavath Torah and volunteering for Bergen Hatzalah. Bitton is also a founder and past president of Ben Porat Yosef. He noted that the school first began in 2001 with 27 students. Today, BPY has flourished into a school with over 500 students.
Summing up what he loves most about his job, Bitton said, "I enjoy helping clients build and maintain portfolios of municipal bonds and other fixed income vehicles that are stable and generate tax-free or tax-efficient income." When asked what the advantages are to bonds over other investments he noted that, although investing in municipal bonds involves a degree of risk, as a whole, muni bonds are second in safety to US Treasury bonds, and defaults are very rare. Furthermore, municipal bonds offer a safe and stable alternative to the volatility of the stock market.
When asked to compare municipals to other investment vehicles, he noted that municipal bonds are tools for the long term. Bonds offer a predictable and stable revenue stream. In addition, one of the most significant advantages of municipal bonds over other investment classes is their tax-free status from federal and often state and local taxes. Bitton provided an example. Port Authority of New York and New Jersey Municipal Bonds are rated AA- by Standard and Poor's and are tax free for both New York and New Jersey residents. Additionally, with yields at levels not seen in years, municipal bonds provide a compelling case in today's market.
Bitton offered that the primary target demographic for municipal bonds are high net worth individuals. He explained that the power of a tax-free investment vehicle for someone in a high-income tax bracket is very significant. For example, a 4.5% tax-free yield is equivalent to an 8% taxable return for an individual in the highest tax bracket. An investor would be hard-pressed to receive such a high rate of return with any other comparable low-risk investment. Owners of municipal bonds earn predictable, consistent semi-annual interest payments and receive their principal back when the bond matures. Bitton concluded by reiterating, "Municipal bonds are an efficient way to generate consistent tax-free income with relatively low risk."
Bitton cautions readers that all investments, including municipal bonds, involve some degree of risk, and one should work with a licensed broker for assistance in evaluating each investment alternative as they may not be suitable for all investors. Bitton can be reached at the 1-800-453-6233 ext. 4630
By Jewish Link Staff