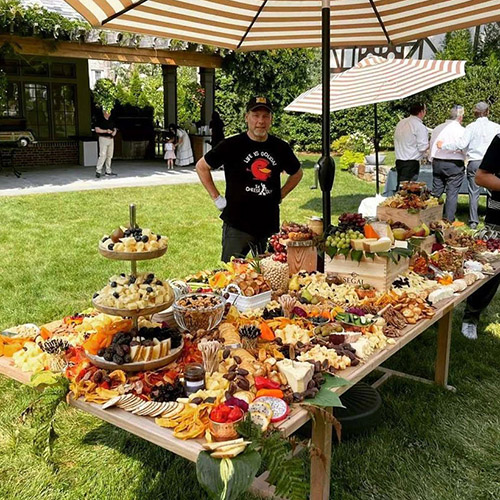 Thursday evening begins the festive holiday of Shavuot, which commemorates the giving of the Torah to the Israelites at Mount Sinai. Aside from staying up all night learning and studying text, Jews will consume dairy-based dishes from cheesecake to blintzes. This tradition originates from the idea that when the Israelites received the Torah, they did not have the laws of kashrut so they needed time to prepare kosher meat and opted to consume dairy products instead.
The holiday is also a harvest festival welcoming the spring, when cows, goats, and sheep give birth and it's the season for fresh milk. With fresh milk comes fresh cheese, so it's no surprise that Shavuot is the busiest time of year for Yonkers-based kosher cheesemaker, Brent Delman aka 'The Cheese Guy'.
If you're looking for cheese to serve at your Shavuot gathering, look no further – The Cheese Guy is the king of kosher cheese, and his all-natural, innovative vegetarian cheeses are sure to elevate any festive meal.
You may recognize Delman's branding carried at stores such as Whole Foods and Morton Williams, his logo bearing the figure of a man made out of Swiss cheese in mid-dance. But there's more to The Cheese Guy than a quirky, eye-catching logo and a variety of mouth-watering cheeses. Delman has been making small-batch artisanal cheeses for the past three decades out of pure love for the craft.
Delman's love of food and his business acumen blend seamlessly, just like the delightful pairing of his hint-of-lemon Plain Goat Cheese with a crisp glass of Sauvignon Blanc. Born and raised outside of Cleveland, he has always had an entrepreneurial spirit having grown up surrounded by hard-working business owners who took pride in what they did. He's been in the specialty food business since 1990, when he received his MBA from George Washington University. Shortly after, he started his career as a food importer for a large corporation. He then branched out independently to become one of the first to import and distribute specialty items like quinoa and sundried tomatoes to the U.S.
After spending some time in Israel, Delman was inspired to start keeping kosher, knowing he wanted to own an artisanal food company someday. While distributing non-kosher cheeses at one point in his career, he felt compelled to bring in new cutting-edge food products to the kosher world. Thus, "The Cheese Guy" was born.
Delman's mission to revolutionize the specialty kosher food market has taken him to dairy farms dotting Italian, Portuguese, and Peruvian countrysides, ancient pastures of Israel, and domestic farmland from Wisconsin to Vermont. Inspired by his Midwestern, tight-knit family/community upbringing, he supports small businesses through the concept of agripreneurship, partnering with many family-owned dairies.
Delighting palates worldwide with hard cheeses like Asiago and Manchego, to soft, melt-in-your-mouth Brie and beyond, Delman has mastered the art and science of kosher cheese that will satisfy any cheese lover regardless of dietary needs – from strictly kosher to the unabashed omnivore.
So, what makes a cheese kosher or not kosher? It all comes down to rennet, which is a key component in some cheese-making processes. Rennet is a complex of enzymes that causes milk proteins to coagulate and separate the milk into solid curds. Rennet is used to produce artisan cheeses in the U.S., while most European cheeses are typically derived from the stomach lining of a calf or lamb that has not been slaughtered according to kosher dietary laws, rendering the cheese non-kosher.
To ensure the cheese is considered kosher, it is ideal to use alternative rennet sources, such as microbial or vegetarian rennet. The Cheese Guy's cheeses are made with microbial rennet, an innovative technique that became commercially viable 25-30 years ago at a time when animal rennet reigned as the sole option on the market. And he's working on future vegetable rennet production derived from the thistle plant.
About 30 years ago, the kosher cheese market was limited to a mere handful of options, including basic cheddars, mozzarella, American, etc. However, the microbial rennet enabled Delman and his team to start producing robust and flavorful hard cheeses like Pecorino al Tartufo, an aged sheep's milk cheese dotted with specks of black truffles, hoppy Craft Beer Cheddar, and smooth Monterey Jack.
Some of The Cheese Guy's most popular products are sure to enhance your meals this Shavuot. Transport your Torah study to an Italian villa with his handcrafted, creamy, and indulgent Burrata, a recipe Delman himself traveled to Northern Italy to perfect. Spice up your all-night learning with one of The Cheese Guy's five kinds of spicy cheeses, like Habanero Pepper Jack or Chipotle Cheddar. The spiciest of his cheeses, the Ghost Pepper Jack, will definitely keep you awake. Hot tip (literally!): adding a small chunk of this cheese into a macaroni and cheese sauce gives it an irresistible fiery kick.
Another sought-after dairy delight is The Cheese Guy's Parmesan with Cheddar Notes, a four-year-aged parmesan that has the nuttiness and sweetness of a cheddar and the sharp saltiness of a parmesan.
You can purchase The Cheese Guy products at farmers markets in Westchester, Riverdale (Bronx), Long Island, Teaneck, and more; at supermarket chains, specialty stores, and kosher markets like Whole Foods, Morton Williams, Shoprites, Uncle Giuseppe's, Cedar Market, Seasons, Riverdale Kosher, Gourmet Glatt and others; or you can order them online at www.blockandwedge.com. For more information and to view all The Cheese Guy products, visit www.thecheeseguy.com. Chag Shavuot Sameach!