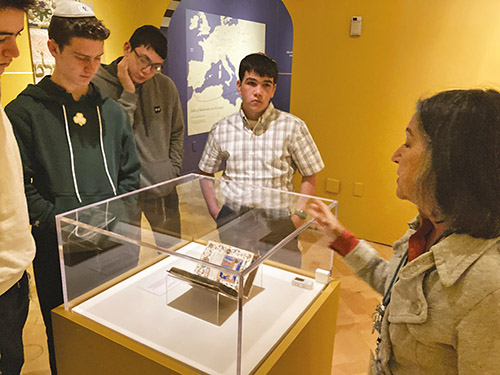 What's the best way to decipher a Rambam? Students in TABC's Scholars Program can now tell you! Last Tuesday, these students went on a triple-header trip to lower Manhattan, stopping at the YU Museum, Sushi Tokyo and the National Museum of Mathematics (MoMath). Their first stop was the recently released exhibit on the Rambam entitled, "The Golden Path: Maimonides Across Eight Centuries" at the YU Museum. The boys were fascinated to see the artifacts—including the Rambam's actual signature, the Rambam's pictures of the menorah and astronomical phenomenon, and a handwritten page from Isaac Newton's journal in which he mentions how he drew from Maimonides' work in developing his own theories—and left with a much greater appreciation of the Rambam's life, works and far reaching influence than they had before.
They then briefly stopped at Sushi Tokyo for a delicious sushi boat lunch before heading off to the National Museum of Mathematics for a presentation on modern cryptography. The scholars were intrigued by the complexity of modern day code making and the methods modern apps and websites use to encrypt information. They then got to explore the many interactive challenges, games and puzzles on the MoMath's museum's floors and had a lot of fun riding bicycles with square wheels, designing fractal patterned clothing and shooting hoops using exit velocity and angles from a basketball launcher. An amazing time was had by all!
Many thanks to Rabbi Shaya First and Cary Riker for organizing and chaperoning this enlightening trip. Under their guidance, students in the two-year TABC Scholars Program identify and master a field of intellectual study that appeals to them by researching and presenting an in-depth project in that discipline, with faculty guidance and outside mentorship.