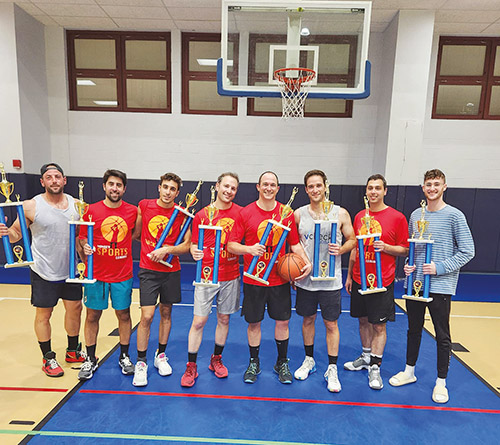 (Courtesy of MSL) The Monsey Sports Leagues (MSL) adult basketball championship took place on Tuesday night at the Joseph St. Lawrence Center in Suffern, New York.
The second place (7-3) Red team, co-captained by Dovid Katz and Shumy Reichman, squared off against the first place (9-1) Purple team.
After an exciting, competitive regular season, the Red and Purple teams both made easy work of their opponents in the semi-finals, setting the stage for the highly anticipated championship matchup everyone was hoping for.
The championship game was very intense from the start, with both teams exchanging contested baskets and playing tough lockdown defense, and the intensity carried on until the final buzzer sounded and the scoreboard showed a 69-62 win for the Red team.
The Red team was led by Teaneck locals Dovid Katz (32 points) and Akiva Blumenthal (21 points). Shalom Weisberg (19 points) and Mordy Rudinsky (11 points) were the high scorers for the Purple team.
The MSL adult basketball league has players from Teaneck, Englewood, Passaic, Queens and Monsey competing.