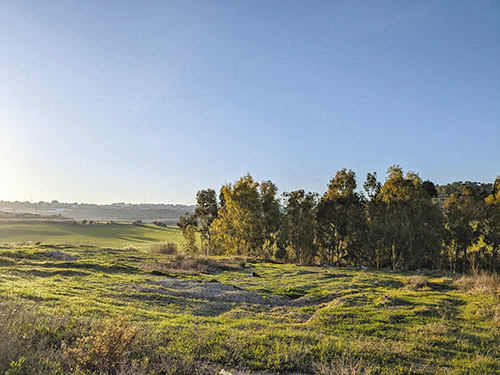 The State of Israel is one of the few countries in the world experiencing positive population growth. In 2022, Israel's population increased by over 1.5%, over four times the average of developed countries. In comparison, the US grew by.38%, China's population was flat at 0%, and Italy's population declined by.38%. Accordingly, Israel's population of over 9 million people is expected to double within the next 30 to 50 years, depending on which research report one reads.
Where will all these people live?
There are plans in the works to develop and populate the Negev and Galilee into major population and business centers. This would help spread the populace away from the center, which now accounts for over 80% of the population. Even if this ambitious plan succeeds, the Jerusalem-Tel Aviv-Haifa corridor will grow from presently 6.7 million to over 9 million residents, and probably much more. If this campaign does not gain traction, the center is expected, within the next few decades, to double in size to over 13 million people.
In order to address this expected population growth, various laws have been passed to increase development rights; consequently, residential towers in population centers across the country are replacing the traditional low-rise buildings. Case in point: Carmay Hanadiv, a lovely new neighborhood under construction on the border of Kiryat Malachi and Be'er Tuvia, is expected to have over 3,200 housing units. Despite the lack of high rise buildings in the vicinity, some of the towers in this community are rising up to 20+ stories, and only a smattering of low-rise buildings will be built.
This is not the exception, but rather the norm, and it makes sense: tiny Israel is smaller than the state of New Jersey and, since we don't want to lose all of our beautiful green lands and parks, we have no choice but to build up. My son bought a home "on paper" in a new neighborhood under construction in Lod. The plans are for thousands of apartments in towers, with the exception of only 72 semi-detached houses that will be built—and the only reason that there are any semi-detached houses at all is because they were grandfathered under the original plans from over a decade ago.
Understanding this new reality, the ability to purchase a semi-detached home in a new project is becoming a challenge. Options include moving to underpopulated areas—like the north, the south, and the Shomron—where low-rise housing is still being built, or to purchase in new projects whose plans were conceived prior to the new zoning rules. Three years ago, we were involved in pre-sales in Eden Hills near Ramat Beit Shemesh. This 300-house project was initially envisioned back in 1990, and thus the original housing plans consisting of mostly semi-attached houses were initiated. In addition, the project is surrounded by nature preserves, and the environmentalists have successfully fought for height restrictions in this community. The developer is busy completing this sold-out project, and another small project of 50 semi-attached and free-standing houses bordering Eden Hills is about to hit the market.
Another rare example of a project with many houses being built is in Nofei Hashemesh, the special Beit Shemesh community led by Rav Shalom and Rabanit Dr. Tamar Rosner. The original plans were filed twenty years ago, and today over 150 semi-attached homes, cottages, triplexes and duplexes are being developed, in addition to 100 condos in three apartment buildings. Were this project to be devised today and not two decades ago, the houses would be replaced with a few dozen residential towers and hundreds more apartments. Predictably, the market has taken notice, as 50 of the homes were snapped up in the first few weeks of sales.
For many of our Anglo clients, moving to an apartment in Israel is wonderful. Others, though, prefer the familiarity of a private house. Whether we make aliyah or just visit more often, whether we buy a home or stay in a short-term rental, may we all be privileged to reconnect with our thriving and growing Jewish homeland.
---
Gedaliah Borvick is the founder of My Israel Home (www.myisraelhome.com), a real estate agency focused on helping people from abroad buy and sell homes in Israel. To sign up for his monthly market updates, contact him at [email protected]