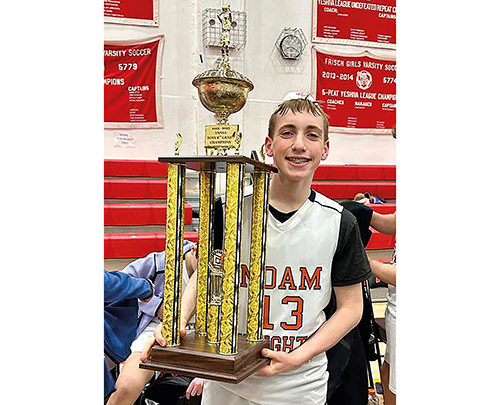 The Jewish Link and The Humble Toast would like to recognize David Kranzler as this week's Sportstar of the Week. Kranzler, an eighth grader at Yeshivat Noam is the Bo Jackson of the Yeshiva Middle School Sports Association. He was a seventh grade starter for the Noam Knights hockey team last year, and was awarded the David Beitler award at Camp Dovid last summer,  while finishing ninth in scoring for the middle school division. This past year (much to the Noam hockey fans dismay) Kranzler hung up his stick and helmet to help lead the Noam Knights basketball team to a win in the championship. When asked about Kranzler, Noam Knights hockey coach Allan Teller shared, "David is a joy to coach. He is always looking for ways to improve. No matter how well he plays, he is always asking for feedback and coaching on what he needs to work on to keep getting better. And he always does it with his trademark smile on his face. He is a top athlete that is always willing to sacrifice and do whatever the team needs him to do." Yeshivat Noam's Athletic Director Steve Gutlove added, "David is a true sportstar, he is a rare breed of player who realizes that there are multiple ways to help a team win. He can score, but he does all of the lesser-noticed things that a winning team requires. He locks down the other team's best player, looks to make the extra pass and can always be found crashing the boards."
David, congrats on being recognized as this week's Sportstar of the Week! Who is your role model and why?
Ryan Turell because he's Jewish and he inspires other Jewish kids to play ball. It is nice to see that he is able to compete with non-Jews.
Who is your favorite professional Athlete?
Julies Randle because he's on the Knicks and is so good but everyone hates on him.
What is your favorite sport?
It's a tie between basketball, football and hockey. I enjoy playing football and hockey more though.
What is your pregame routine?
Practicing stretching and focusing on the game.
What is your greatest sports accomplishment?
Winning the championship in an AAU basketball tournament.
What is your earliest sports memory?
Playing hockey in my backyard.
What is your favorite sports memory ?
Scoring the overtime winning goal in overtime in Camp Dovid.
What is the weirdest thing to happen to you while playing sports?
When I was playing hockey and someone on my team who was playing defense with me shot it at our goal. Luckily the goalie saw and saved it.
What is your favorite thing to do when you are not playing sports?
Play video games.
What is the best thing about being a Sportstar?
You get to be in the Jewish link and to see yourself in the newspaper.
---
The Humble Toast Sportstar of the week will receive a $25 gift card to The Humble Toast. Please send nominees for an upcoming The Humble Toast Jewish Link Stars of the Week to [email protected].