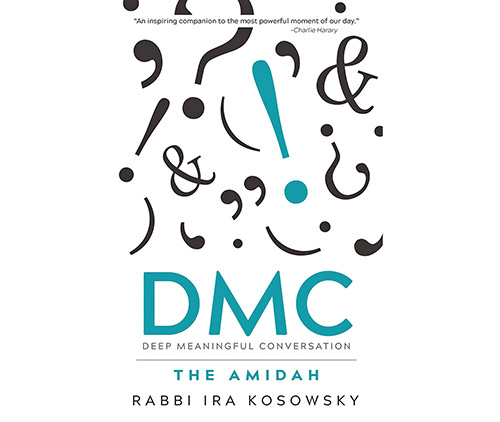 Reviewing: "DMC: The Amidah" by Rabbi Ira Kosowsky. Mosaica Press. 2023. English. Hardcover. 248 pages. ISBN-13: 978-1957579573.
Rabbi Ira Kosowsky provides a book in Deep Meaningful Conversation: The Amidah that allows a person to personalize the prayer experience. The author shares personal interactions, demonstrating his patience and listening ear. He explains the structure of each blessing of the weekday Shemoneh Esrei, elucidating themes and how each one promotes personalization. The author provides actionable items to develop the strategies he shares for every blessing. Each chapter ends with questions for readers to ponder. As the consummate educator that he is, Rabbi Kosowsky summarizes each chapter, allowing readers to crystalize what they just read.
The book starts with the author expressing a frustration that many of us have had—the lack of connection so often felt during times of prayer. As he puts it, "It happens to all of us. Did you ever start reciting the Amidah and all of sudden you are at this bracha, and you're wondering, 'How did I get here?'" (Page 181) The author's remedy is to personalize the prayer experience. He notes that he had hundreds of students share a personal request in each one of the brachot of the Shemoneh Esrei, "…and not one is the same. How is that possible? They are reading the same Hebrew words…" (Kosowsky XXIII).
Rabbi Kosowsky expands on each of the 19 blessings of the Shemoneh Esrei and provides contemporary ideas for the reader, allowing the reader to understand a new dimension to each one. For instance, in the blessing asking Hashem for knowledge, the author explains:
Our thoughts determine who we are, what we believe in, and ultimately what we achieve in life. The way you think about yourself can change your reality. If you draw inaccurate conclusions about who you are and what you are capable of achieving, you will limit your potential. Learning to use your thoughts the right way will elevate your life—personally and professionally. (Page 50)
This work is very influenced by Rav Shimon Schwab, Rabbi Akiva Tatz and Lord Rabbi Jonathan Sacks. Yet, the reader shouldn't be surprised to see quotes from Stephen Covey and Albert Einstein. It is with that in mind that the author shares certain overarching viewpoints that he believes will positively impact people's tefillah. For instance, Rabbi Kosowsky guides readers to develop a growth mindset page. Without it, people may feel they just aren't gaining anything by repeating the same thing every day. He explains, "If we begin to adopt a 'growth mindset,' and understand that our abilities, character, and intelligence are not carved in stone, then we will be able to confront challenges, develop a stronger sense of self, work toward success, and become the person we want to be."
Other big-picture mindsets the author provides include overall psychological benefits that are not limited to prayer. For example,, he shares the value of being grateful:
Research supports: What some researchers refer to as the "find, remind, and bind" function of gratitude. By attuning to the thoughtfulness of others, gratitude helps us "find" people we want to develop a relationship with; it reminds us of all the good things of our existing relationships and it solidifies the bonds we have with our friends and family. (Page 202)
Rabbi Kosowsky also explains the order of the brachot, explaining why one blessing should precede another,as shown in this excerpt:
"The prayer for health comes after the prayer for redemption. This is because it is only once we come to terms with the surface, depth, and internal crises in our lives, and begin to chart our path toward redemption, that we can begin our journey of surface, depth, and internal healing. (Page 99)
The author highlights the delicate balance that must exist in tefillah. We must constantly seek out the assistance of Hashem, but we likewise need to take proactive measures to utilize all the available resources we have. As such, he points out how prayer for health can incorporate connecting to God while simultaneously sharing how we can take our own steps to improve ourselves in those areas.
This book has other benefits aside from improving a person's tefillah. The author provides many examples from Tanach and from the Gemara, which provides the reader with an opportunity to learn about many different areas, thereby expanding the reader's Torah knowledge.
When considering the value this book adds to its genre, the best way to summarize the objective of its author is to look at his conclusion:
True power lies in our application of our thoughts, ideals, values, and essence…the Amidah invites us to become aware of our inner nature and be conscious that we have been created with purpose and intent. This awareness allows us to take responsibility for the direction of our lives. (Page 223)
Rabbi Kosowsky provides the reader with explanations of the blessings, guides each reader to personalize every element and develop a plan leading to accomplishment and he shows how these aspects can improve the whole person. If people are seeking to gain more from their tefillah, they will be able to make the long-lasting blessings in the Shemoneh Esrei apply to their individual lives with the aid of Deep Meaningful Conversation: The Amidah.
---
Rabbi Eliezer Barany is an editor and serves as a high school rebbe at Posnack Jewish Day School in south Florida.