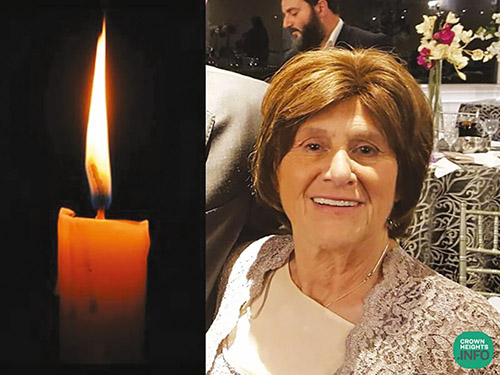 (Courtesy of Rabbinical Alliance of America) On Sunday, May 21, Rosh Chodesh Sivan, family and friends of Joar bat Yehuda, Mrs. Sylvia (Azoula) Ivry, z"l gathered together at Congregation Etz Chaim of Flatbush, where the renowned Rabbi Simcha Silverman serves as rabbi. This Rosh Chodesh Sivan conference of the Igud HaRabbonim marked the shloshim of this important member and stalwart of the Crown Heights community. The Igud HaRabbonim membership represents and serves a broad spectrum of the Orthodox Jewish community, including rabbis and congregations that are Modern Orthodox, Yeshivish, Chasidish, Sephardic and Chabad. Mrs. Ivry was a generous woman who gave to others with a constant smile. It didn't matter what kippa one wore, with which community one affiliates—she saw the tzelem Elokim, the divine image, within each person and was ready to help them in any way she could. While she was a longtime resident of Crown Heights, she spent many days in other parts of Brooklyn. Whether she was driving her kids to school at United Lubavitch Yeshiva on Ocean Pkwy or to Melave Malka events in Flatbush with the Abehsera family or, in her later years, visiting nursing homes and assisted living facilities, she felt part of all Jewish communities. Therefore, it was apropos that her life and legacy was commemorated with the Igud HaRabbonim in Flatbush, where attendees heard divrei Torah from a variety of rabbis who drew connections between her legacy to the Torah.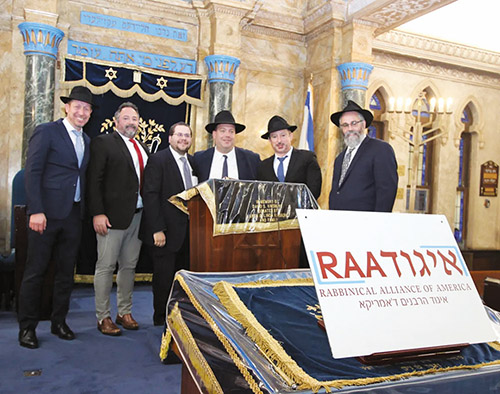 Mrs. Ivry loved Torah. Her shloshim was a real tribute to this passion. In addition to the divrei Torah delivered by different speakers in Mrs. Ivry's memory, her son, Rabbi Dr. Michael Ivry, made a siyum on the entire Mishna and her son-in-law, Rabbi Dr. Daniel Friedman, author of the Transformative Daf book series, made a siyum on Mesechta Sotah, all in Mrs. Ivry's honor. The siyum on Sotah was particularly significant this year. It is a Chabad custom to learn Sotah during the time period of the Sefirah, between Pesach and Shavuos. This year the Daf Yomi cycle completed Sotah just days prior to Rosh Chodesh Sivan, making that learning so much more of a precious and memorable event that truly honored the memory of Mrs. Ivry. In addition, her two other sons, Rabbis Ouri and Yochanan, shared the Hayom Yom and recited Tehillim 83, respectively.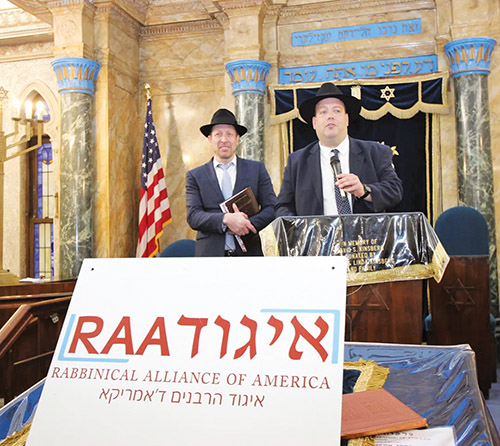 Rabbi Mendy Mirocznik, executive vice president of the Igud HaRabbonim, commented, "Why was the Torah given in the desert? What did we have around us? Fear. And what does that teach us? We have to rely on two things: First and foremost, Hashem—we could rely only on Hashem for answers. Second, this is to teach us how to be better people, to do chesed, to comfort each other in the bleak desert environment. Mrs. Ivry embodied both of those lessons—she had great emunah which she instilled in her family, friends and community. From the big issues (money matters) to little issues (finding a parking spot) she always called out to Hashem. 'Dieu est Grande (Hashem is large, as in larger than life),' she would often say.
"As was mentioned multiple times, Mrs. Ivry was bountiful in chesed, particularly to orphans and widows. She would often take the children out on day trips or even just let them hang out in the house. She had an open home to all and whoever walked in she made sure they were fed."
Mrs. Ivry was born in Orleansville, Algeria on 9th of Sivan, emigrated to the south of France after Algeria achieved independence, and came to America en route to Israel. Her dream was to move to Israel permanently. That was the plan. However, en route her husband Rabbi Yosef David Ivry wanted her to visit "le grand Rabin" in Brooklyn, the Lubavitcher Rebbe. They ended up getting "stuck" there for 53 years. You could imagine the culture shock moving from the Cote d'Azur to a Brooklyn basement. Mrs. Ivry accepted everything with grace and positivity, and embraced her new life which she often referred to as "full of meaning and excitement."
Mrs. Ivry and her husband, Rabbi Yosef David Ivry, sheyichye, raised their children in Crown Heights. The Chabad headquarters is quite hectic, especially during the month of Tishrei. When the Rebbe was alive, the neighborhood was overflowing with people from all over the world. Mrs. Ivry thrived on the special atmosphere and completely loved every part of it. She had an open home and fed so many, not only with her delicious food (which was in endless supply and which was provided at any time of day) but also with her spiritual love of Hashem and Judaism. She didn't have an easy life but you would have never known since she always said, "Everything is good." She loved people and people loved her. She was energized by helping others and bringing joy to people's lives. Her life's purpose was to make sure others were happy. Whenever anyone needed a lift she was there, whether it was an actual lift in a car or a spiritual lift, you could always count on her!
There are already quite a few projects being created to honor her memory. Her grandson Ari began a Shabbat Zemirot project in his yeshiva, honoring her love of singing. The learning of mishnayos was completed for her shloshim. The next volume of the Transformative Daf (Kiddushun) is being dedicated to her shining memory, along with the next 12 months of podcasts and videos. Savta Sylvia's kitchen in the future building of Torah Emes in Staten Island where she spent many Yomim Tovim and her last few months of her life is being dedicated to her love of providing food to many, especially children. A garden is being planted in front of her residence at 1365 Carroll St, which had a literal open-door policy. And "Sylvia's Food Forest"—that will embody her love for feeding people and especially making children happy—is being planted at The Harmonium, a retreat center/botanical sanctuary in Massachusetts.
Please reach out to @Aura Chaya Gispan on Facebook if you would like to contribute ANY AMOUNT, even $5, towards Sylvia's food forest. The cost per tree is $150 US with a goal to plant 36 trees this summer.
May her memory be for a blessing.