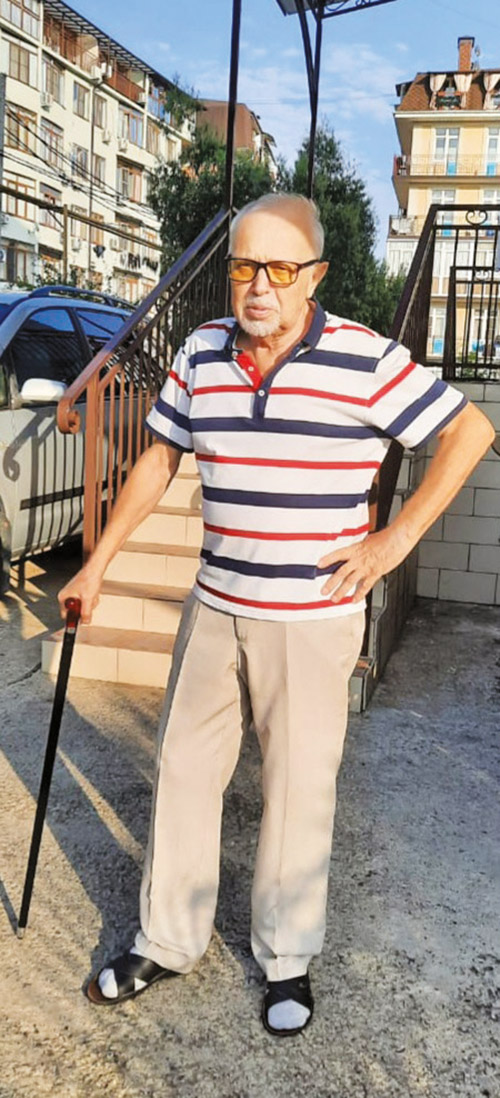 Leonid was my second cousin, but we never met. His father, Avrum, born in 1909 in Chudnov, Ukraine, was my father's first cousin. While our fathers may have met, and even played together as babies, sadly, they never had an opportunity to bond as a family. My father, born in 1911, left Chudnov with his family and came to live in the United States in 1912.
The only one of four brothers from his branch of our large family who survived military service in WWII, Cousin Avrum, according to his granddaughter, never spoke of his Jewish ancestry. Notably, Avrum's eldest son, Leonid, 82, passed away at his home in Russia on October 5, 2022, on the holiest day on the Jewish calendar, Yom Kippur.
Leonid's daughter Natalia, age 42 and living on the other side of the world, speaks English. We have become remarkably close over the past year, communicating only through email or WhatsApp. Her first pointed question to me, "Are you Jewish?" was answered without reserve.
With the help of one clue saved in my family tree files—namely that Natalia's great-grandmother, Eida, my grandfather's sister, died in a hospital in Leningrad—Natalia was able to locate that ancestor's grave in what is now St. Petersburg. That single crucial clue came from a cousin from Natalia's branch of the family who immigrated to the United States in 1991 from our ancestral Chudnov, Ukraine, and settled in Maryland.
Upon one of many visits to our cousin's home in Maryland, she told me that her mother brought her grandmother from Chudnov, the shtetl of my father's birth, to a hospital in Leningrad for the treatment of a problem with her legs, and she died there. That was in the 1930s, but our cousin was not positive about the year.
After her father's passing in October, Natalia wrote, "My uncle Yakov [Leonid's only living brother out of three younger brothers, age 70] visited Eida's grave and put things in order there. After 90 years, Eida is visited by her grandchildren and great-grandchildren. This event still stirs thoughts and feelings."
Customarily placing stones upon visiting the graves of my husband's great-grandparents in New York lends added meaning to my cousin's sentiments. Those sites had not been visited in many, many decades, probably also 90 years, where the deceased were interred as early as 1918.
My grand-aunt's polished tombstone in Russia, cleared and made legible by Natalia's uncle, adds valuable information to our family tree files. I immediately sent a copy to our cousins in Chudnov, Ukraine; Israel and Germany. All over the world, there are cousins keeping files of our family history.
Eida and her husband were descended from Jewish ancestry as far back as can be traced. Living in central Ukraine, not all their children took Jewish spouses around WWII. Their descendants are now seeking and embracing their sometimes-untold Jewish ancestry.
Today, cousins in Ukraine and Russia care for the graves of our Jewish ancestors. Their watch over these monuments is not only a good deed but monumental indeed, and at the time of Leonid's demise was a great New Year blessing.
Sadly, just as with our fathers, chances are that my cousin, Natalia, and I will never meet. No matter what, we hope to continue communicating, sharing and caring for years to come.
We can take solace in the fact that we have recorded our family history back to 1765 and have a photo history to match many of our records. As for Leonid's legacy, Natalia wrote: "The story about the father is in the process. I selected the photos. I will tell you about the siege of Leningrad, his injury and many other things from his life. The sketches have already been made."
While we've never met, we're kindred spirits. In reference to my family tree research, Natalia, living in Sochi, Russia, pleads: "Sharon, I continue to admire and wonder at your articles. How did you put everything together? How much effort and time? … How much of your soul is invested? … And after all, you communicate with everyone, you know everything about everyone. It's such a wealth. Not everyone is given to be as rich as you. I'm glad to be a part of this story. Sharon, take care of yourself and your health."
After researching for so many years, I was thrilled to find a wonderful contingent of well-educated, self-sufficient cousins living happy family lives in Russia.
When Leonid died on October 5, 2022, at his home in Kingisepp, Leningrad region of Russia, at age 82, I yearned to throw my arms around his grieving daughter, Natalia. Her father, Leonid, my second cousin, was born to my father's first cousin, Avrum, and his wife.
Avrum, one of eight children, was a son of my father's Aunt Eida. Charted here, Eida, one of seven children, was an older sister of my paternal grandfather, Nathan. Grand-aunt Eida never ventured to the States.
Miraculously, Eida's descendants and I are in close virtual contact through all the modern communication mechanisms offered by social media. Natalia and I are determined to work together across the miles to share the legacies of our beloved ancestors.
Siblings: Eida, Nathan (Nachman)
First cousins: Avrum, Benjamin
Second cousins: Leonid, *Sharon
Second cousin, first removed: *Natalia
By Sharon Mark Cohen