Editor's note: This is the time of year when we share ideas for gifts large and small for family members, friends, colleagues, employees, children, grandchildren and service providers. We hope you find the pages ahead useful.
As always, we are happy to highlight gifts from advertisers who are well known for their best-loved standards, most useful or trendy gifts. While material items are certainly not the most important part of the Chanukah season, we hope that the gifts identified here will serve as great ideas for birthdays, anniversaries and host presents the whole year through.
---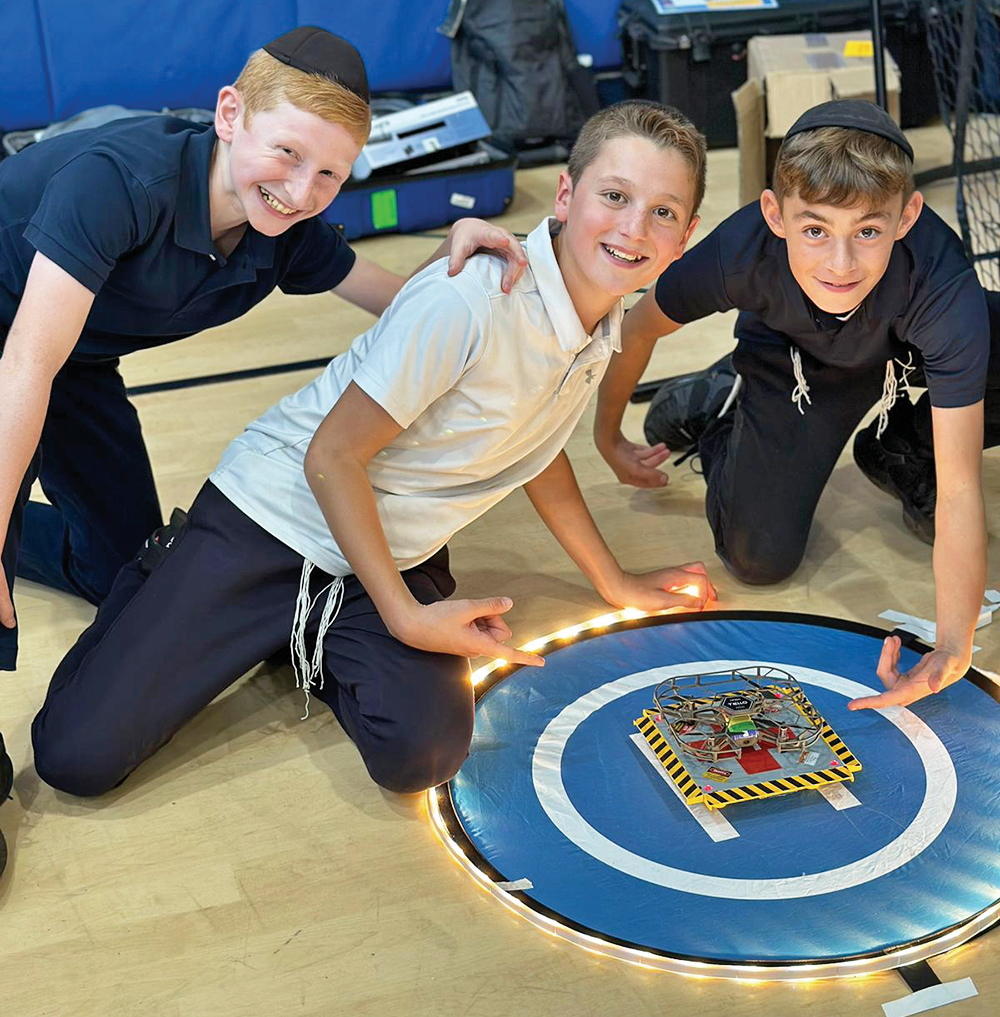 CIJE
This Chanukah, give a meaningful gift: Join the Center for Initiatives in Jewish Education (CIJE) in shaping brighter futures for Jewish students.
At CIJE, we believe that every Jewish day school graduate should not just navigate the future but shape it. Since 2001, CIJE has worked to revolutionize Jewish students' educational journeys in the United States through innovation and hands-on STEAM education. When you give the gift of STEAM education this Chanukah, you are bringing quality, hands-on learning to more than 205 Jewish day schools and yeshivot spanning 18 states.
Because of your support, tens of thousands of Jewish students will graduate ready to enter the ever-changing workforce. Choose gifts for Jewish students at CIJE.org/Chanukah and personalize a card about your meaningful gift, to be delivered to your loved one's mailbox.
Robert A. Cumins, Photographer
"Ahava." Don't delay the opportunity to order this beautiful, unique acrylic on metal photographic print of the glorious sunset interposed with the Ahava (love) sculpture (created by the renowned artist Robert Indiana) that stands at the entrance to Jerusalem's Israel Museum.
Award-winning documentary still photographer Robert A. Cumins, who has been traveling to and photographing Israel since 1973, made this photograph 40 years ago and is now offering it to you in three different sizes.
Cumins has visited Israel well over 200 times during his career. His photographs have graced the covers and inside pages of magazines and other media around the world. He has covered humanitarian issues, politics and major events of the Jewish world throughout his career.
The photograph he made on September 11, 2001 (People Magazine) was said to be one of the most iconic images of that tragic day for America.
Ahava means love. What a heartwarming welcome this print would make hanging in the entrance foyer of your home.
Inquiries are welcome at [email protected]
Bergen County Sports Cards—
For the Kids, and the Kids at Heart!
A pre-Chanukah visit to our store or newly designed website will make your gift-buying so much easier. We are now official Fanatics/Topps distributors, which means our prices are better than ever before.
Victor Wembanyama. Anthony Volpe. Garrett Wilson. Francisco Alvarez. Jack Hughes. Do you know these names? Prizm, Mosaic, Optic, Sterling, Tier One, Chrome Update … Do you know these products?
Your children do, and our gifts will put a great big smile on many faces. As for the adults—Sandy Koufax, Mickey Mantle, Willie Mays, Derek Jeter, Mike Piazza and many others are all here—waiting to go to a loving new home. Between cards, autographs, jerseys, tickets and more, we have well over 1,000 items in stock.
We are the area's most trusted name in sports memorabilia, and as hundreds of customers will attest, we are proud to serve the community, having lived here ourselves since 1988. We're three minutes down the road from Grand and Essex, and we'd love to welcome you to our store.
Call us at 201-385-1585, or DM us with questions. Can't make it in? Visit us online at bergencountysportscards.com
Carly'z Craze
Carly'z Craze is a fashion-filled clothing store for girls, teens and women. The selections range from everyday basics to seasonal trendy styles with a modest twist. There is a steady flow of new merchandise and great accessories.
Come in and have fun browsing or let the staff help you shop. They strive to give customers an enjoyable shopping experience.
Visit Carly'z Craze at 472 Cedar Lane, Teaneck, or reach them at 201-342-3398, [email protected] or www.carlyzcraze.com
Judaica House
The Judaica House Black Friday extravaganza starts Friday, November 24 and runs through Chanukah. Visit to get: 25% off all Artscroll Hebrew/English translated books; 25% off all sterling silver (kiddush cups, candlesticks, etc); 25% off Jerusalem Monopoly; 30% off all hanging pictures (excludes Ben Ari arts); 30% off all Kosher Cook houseware items; 25% off hanging chamsas. Come look at the widest selection of menorahs from top Israeli artists, the newest books, games and jewelry, all especially for Channukah. Use code: Judaica House5%
478 Cedar Lane
Teaneck, NJ  07666
201-801-9001
Aryeh & Co.
Aryeh and Co. is a leading bespoke jewelry company offering the finest selection of precious gems and diamonds. The Aryeh and Co. team of award-winning jewelers, has gained notoriety for their magnificent bridal line and custom-designed Jewelry.
Founded by Aryeh Rephun in 2018, Aryeh and Co. has steadily developed into one of of the most reputable and reliable high jewelry brands in the United States today.
Aryeh and Co.'s commitment to uncompromising quality and the premium customer experience has earned Aryeh and Co. an extremely loyal following. Most importantly, the Aryeh and Co. brand is built on core values of trust, transparency, and integrity. At Aryeh and Co., we believe in celebrating love, and we express that through the impeccable quality of our services and products.
The Aryeh and Co. team works closely with each one of our clients to ensure they feel confident and excited throughout the design process, as we craft exquisite, unique pieces suited to make every occasion truly unforgettable.
Passaic-Clifton Chanukah Boutique
The Passaic-Clifton community will host the third annual Passaic-Clifton Chanukah Boutique on Sunday, November 19, 4:30 – 9:00 p.m. at YBH of Passaic, 270 Passaic Ave.
A portion of the proceeds will benefit United Hatzalah.
There will be over 30 amazing vendors with assorted jewelry, headwear, toys, accessories, wigs, books, layette items, artwork, games, personalized gifts, coats, Judaica, resin art, ladies and children's clothing, tableware, home decor, makeup, men's accessories, serving pieces, tablecloths, skin care products and assorted Chanukah items.
The event will also feature complimentary tastings from BedSty Bake Shop, Yoni's Pretzel Babka, The Cheese Guy, PlantRaw and more.
Bagels & Sox
Bagels & Sox, LLC, is a Jewish-themed novelty sock company. We aspire to promote joy in the celebration of Jewish holidays, celebrations and customs. Made from high-quality materials, our socks are designed to last for years to come. Bagels & Sox designs are sure to be fun and inspirational for the whole family.
Visit our website at bagelsandsox.com. Contact [email protected]
Sari's Wigs
This year, let's focus on bringing the Chanukah light to those families who have lost our true heroes. While gifting yourself or daughter-in-law a beautiful sheitel or kippah fall purchased at Sari's Wigs, you will be supporting the families of our fallen heroes. The donations sent from Sari's Wigs will be doubly beneficial. Food, care packages and Chanukah gifts will be purchased from Israeli businesses whose livelihood have been affected by the war and given to grieving families. May we all be zoche to a Chanukah miracle!
Instagram: @sariswigs or text to book: 201-694-5319
Zen & Go
Zen & Go makes a great Chanukah gift. The healing center offers acupuncture, massage, energy healing, Reiki, yoga, cupping, gua sha, and tui na. For real indulgence, experience couple's acupuncture and feel relaxed and refreshed this holiday season.
Get a free 20-25% extra with any gift card on for any service, product or tip:
Spend $100 Get $120 (1 service: acupuncture, massage, energy healing, etc.)
Spend $200 Get $240 (2 services: massage, acupuncture, couple's acupuncture)
Spend $400 Get $500 (several services)
Happy Chanukah! From Zen & Go.
Contact Holly Mamiye, L.A.c at Zen & Go Acupuncture & Healing Center; 189 Elm St, Westfield, NJ 07090; 1-877-YO-ZEN-GO (1-877-969-3646); Book online: https://www.zenandgo.org
Yonatees
Yonatees offers custom design and print apparel—anything from tees to sweatshirts to hats, magnets and stickers—with a higher purpose. Yonatees has numerous collections of ready-to-go merchandise and they also accommodate custom orders.
Visit yonayees.com or contact [email protected] for more information.
Tech Staff Toys
The Local Orthodox 18 Ball makes a great Chanukah gift—and can help you decide on all your gift-giving decisions. The toy, a play on the Magic 8 Ball, has an answer for everything, and if not … ask again later.
The Local Orthodox 18 Ball was created by friends Ari Schaffer and Aharon and Zack Schrieber, the founders of Tech Staff Toys. The company name reflects the work the three did together on various NCSY shabbatons during their time in college. Get yours at techstafftoys.com.