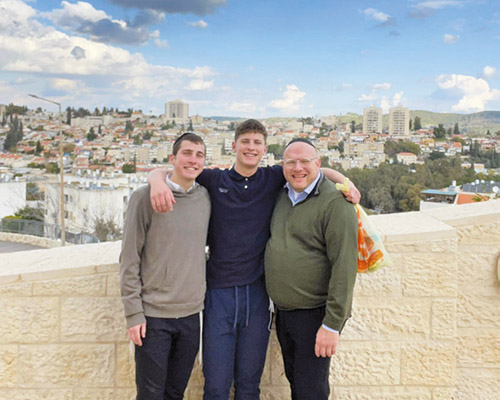 I normally write my publisher pieces late at night but upon my return from a very special winter/yeshiva break trip to Israel this past Sunday morning, I have simply been unable to stay awake past 9/10 p.m. and have just not fully adjusted back to our local time zone. Hopefully, I will fully adjust by the weekend. So I write this now on our deadline day, Wednesday, with my editors breathing down my back for me to submit it.
It's been more than four years since my last trip to Israel. I had originally planned to go in the fall of 2021 to visit my son Noam, who was learning there in Reishit Yerushalayim in Beit Shemesh, but unfortunately we had to cancel due in part to the passing of my father-in-law, Rabbi Dr. Mordechai Glick, and also due to the COVID travel restrictions still ongoing in Israel in late 2021. So I never made it last year and didn't reschedule until the big winter break vacation last week.
With Pesach only a few short months away and the fact that hardly any of the Shana Bet talmidim stay at Reishit after Pesach, I realized that if I ever wanted to see and experience the yeshiva first hand, where my son has grown so much over the past year and a half, I would need to go visit him over the break. I also decided to take my 10th grade son, Eyal, to Israel for his first-ever trip to the Holy Land as a makeup bar mitzvah present. Eyal was among the many boys worldwide who had his bar mitzvah mostly canceled or significantly curtailed by Covid in 2020, so I decided that it made perfect sense for me to bring him along. This would be a good chance to show Eyal a small slice of Israel and it would be a good "boys'' trip for me and my sons. And as a good brother, Eyal was also happy to spend a full day with me at Reishit while I participated in the learning seder and shiurim with his older brother.
Our son, Noam, who I haven't really written much about in this space over the years but have always been very proud of, went to Israel last year for Shana Aleph with a strong commitment and intense zeal to grow on the Torah and learning side and he has certainly done so. It's really quite amazing to see how much he, along with many of his friends, have grown and matured in the year or two between 12th grade graduation and shana aleph and/or bet. Noam is learning more Torah now than he had been prior to high school graduation and is just generally far more serious about nearly every aspect of his Yiddishkeit. It's really impressive to see. Like many parents, I sometimes have to stop and pinch myself and say to myself, "Is this really my child?" The answer is, of course, "yes," but the answer is also partially a "no," because he is not a child anymore.
In addition to the day spent at the yeshiva with my sons, Noam also convinced me that I should return to the yeshiva for the big mussar shiur/shmooze from Rav Elie Marcus on Thursday night. I was happy to do so and was glad I did. It was a pretty powerful "shmuess" which started with a vort from the weekly parsha but went into raising children and the need to be a model for them…and it's always good to hear and be reminded about these kinds of inyanim.
Overall, it was really powerful and emotional, even, for me to speak with and meet some of Noam's rebbeim and positive influences at Reishit, many of whom are also old friends or chavrusas of mine from my high school, college, semicha/RIETS and HASC staff days. I was also happy to see how they are doing and, of course, got a little jealous of them over the fact that they are all now living in Israel and in professions where they are teaching Torah on a daily basis. Both goals had once been my dream as well and perhaps I will achieve both one day…maybe.
Aside from the Reishit visits, we had a great trip in general, with two beautiful Shabbosim in Jerusalem with both boys, and did a tremendous amount of walking throughout so many Jerusalem neighborhoods ranging from Baka to Shaare Chesed to Ramat Eshkol to the Old City/Kotel. We also did a wonderful Machane Yehuda shuk tour with Joel Haber (funjoelsisrael.com/) and after learning so much about the cuisines and the different vendors in the shuk, I will never look at the famous shuk and its many offerings the same way again.
I also spent a day on Jewish Link business visiting three Jerusalem-area wineries with our editor Elizabeth Kratz, and talking about both wine and The Jewish Link Wine Guide which we are now working on and will be out a few weeks before Pesach. While Elizabeth made it to a whopping 15 wineries during her time there (and also made a double bat mitzvah), we visited the Teperberg, Domaine Du Castel and Tzuba wineries and each had its own charms. At Castel, we met and spent time with its founder Eli Ben-Zaken, who gave us a personal and pride-filled tour of all that he has built and where I learned that he was the main owner of the famous Mama Mia's dairy restaurant that anyone who visited Jerusalem in the 70s/80s/90s will remember. Small world. At Teperberg, one of Israel's largest wineries, we had a chance to see their plant and the chance to be the first-ever guests of Dani Friedenberg in their brand-new visitor center, which is opening soon. It was quite impressive and befitting for Israel's third largest winery. At Tzuba, we enjoyed the incredible views of this boutique winery on a Judean mountaintop and had a great conversation with the manager there.
For me, nearly every trip to Israel is memorable, and this one was no different. It was so nice being there with my sons and I hope to do something similar when my 10th grader son goes to Israel post-high school. For my 10th grade son, the trip was his first time at the Kotel and it was special to be there with him while he visited so many places that he has been hearing about and learning about for many years.
One major revelation for me—although I am not sure why I never fully noticed this prior—is the fact that while in Israel, I did not have to answer a single email or barely look at my phone until about 3 p.m. in the afternoon when the U.S. woke up. How much more time would I have to learn, run, write, think, breathe, you name it, etc., if I didn't have to worry about falling behind on emails/texts until late afternoon? This completely changed my whole outlook on the workday in Israel.
Apropos to this, my old friend and managing director of NCSY International headquarters in Israel, Rabbi Moshe Benovitz, told me on this trip that the only way he is able to teach and be a successful rebbe at Reishit is because of the time difference with the U.S. that allows him to have the morning to learn and teach. I understand him completely.
Of course, the naysayers and cynics will then say that you will have to work until late in the evenings in Israel…but guess what, I already work until quite late in the evenings now, so I really don't see this as a bad thing. Perhaps I really should look into spending more time in Israel, even though I don't think it will be easy or ideal running a growing community paper from Israel.
Last but not least, yashar koach to Digital Editor Channa Fischer and our sales rep and assistant Meir Popowitz who worked hard and really made sure the paper came together last week with so many of our other staff out for the break!
By Moshe Kinderlehrer/
Co-Publisher, The Jewish Link