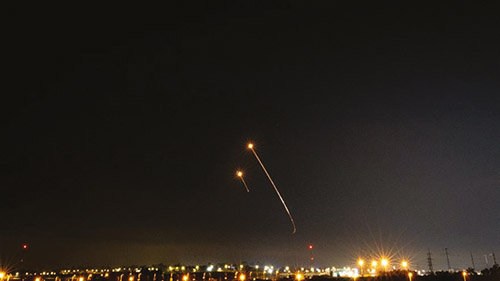 Hamas and Islamic Jihad fired more than 100 rockets at the Jewish state in less than 24 hours.
Israel and Palestinian terror groups in the Gaza Strip reached a ceasefire agreement in the early hours of Wednesday, May 3, following a major conflagration in which more than 100 rockets were launched towards the Jewish state in under 24 hours.
The agreement, which took effect just before dawn, was mediated by Egypt, Qatar and the United Nations.
The military exchange erupted on early Tuesday morning when senior Palestinian Islamic Jihad operative Khader Adnan died in prison after an 87-day hunger strike.
Reuters cited Israeli prison authorities who said Adnan, 45, "refused to undergo medical tests and receive medical treatment" and "was found unconscious in his cell" at Nitzan Prison in Ramle.
Thereafter, terrorists in Gaza fired four projectiles at Israel, which responded later in the afternoon by shelling targets in the Palestinian enclave.
Following the IDF strikes, barrage after barrage of rockets were fired from Gaza into southern Israel, setting off warning sirens in numerous communities for the remainder of the day and overnight.
One of the rockets hit a construction site in Sderot, with the shrapnel moderately wounding a 25-year-old foreign national and lightly wounding two other foreign workers.
A 75-year-old man and a 49-year-old woman were slightly injured when they tripped on their way to a protected area. Also, several people were treated for anxiety.
"The security system will act with determination and strength against anyone who tries to harm the citizens of Israel," said IDF Defense Minister Yoav Gallant after completing a security assessment with IDF Chief of Staff Lt. Gen. Herzi Halevi.
Amid the ongoing rocket fire, the IDF began striking terror assets in Gaza, including military compounds, weapons manufacturing sites and depots, a subterranean attack tunnel and training grounds.
Both Hamas and Islamic Jihad took responsibility for the rocket fire, the worst such instance since a conflict from August 5-7 of last year.
By JNS Staff