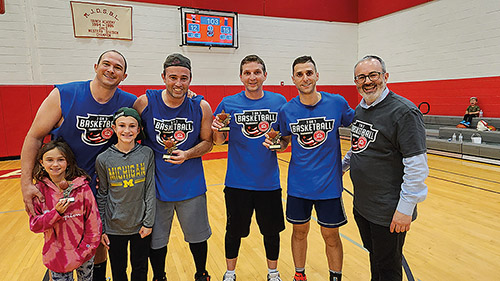 (Yavneh academy) In a mesmerizing display of skills, teamwork and sheer determination, Yavneh Academy's first 3-on-3 basketball tournament took place on Sunday, April 30 and captivated fans and players alike. The event, organized by a committee of Yavneh parents, alumni and staff, showcased intense competition, breathtaking performances and a celebration of the fast-paced and dynamic nature of the sport.
The tournament featured 20 teams, ranging from amateur enthusiasts to seasoned athletes, all eager to test their mettle on the court. With three to four players per team, each team having at least one Yavneh connection (staff, parent, alumni, uncle and nephew) and players as young as seniors in high school. The smaller lineup created a frenetic pace, highlighting individual talent while emphasizing the importance of collaboration and strategy.
Beyond the enthralling on-court action, the tournament created an atmosphere that united fans, players, and the community. Spectators filled the stands, cheering for their favorite teams and players, creating an electric atmosphere that reverberated throughout the venue. The event also featured a halftime shootout competition and exciting raffle prizes.
Congratulations to the winning team: Moshe Kelsen, Noam Block, Alex Kelsen and Dovid Katz.
Thank you to our planning committee, Moshe Kanarfogel, Dov Weinberger, Moshe Kelsen, Noam Block, Ushie Selevan, Danny Weinberger, Max Zakheim, Akiva Feit, Tyler Hod, Jason David, Coach Aliza Hiller and Director of Development Ariella Shaffren. Planning has already begun for next year's tournament so get your teams ready!