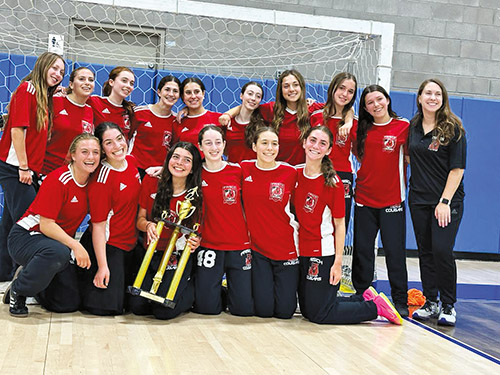 Yeshivat Frisch began the game with its starting five—Bria Toledando, Tamar Feldman, Maayan Gellis, Kelly Habor and Ahava Bak—in goal. The Ma'ayanot starting five were Irene Lipstein, Liana Kahan, Teffert Ross, Avigayil Green and Ayelet Sason. Both teams had an incredible season, with Ma'ayanot going 6-2 and Frisch, 7-0-1, in the regular season.
In the first quarter, Frisch came out strong, with Adi Bieler scoring the first goal with eight minutes left. Tamar Feldman then passed to captain Toledano for a great shot right to the top corner. However, Ma'ayanot was not giving up as Kahan made a quick touch around defense and took advantage of a wide-open shot with two minutes left of the first quarter. The score at the end of the first quarter was 2-1, Frisch.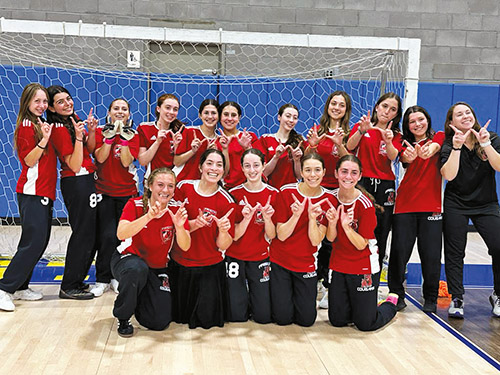 The second quarter began very back-and-forth, with both teams testing out each other's goalies. Then out of nowhere, Gellis kicked a corner kick and found an opening for Toledano. Once again, she scored a perfect shot to the top left corner ending the quarter 3-2 Frisch.
After halftime, both teams came out to fight for the trophy. The third quarter saw both teams have trouble getting their shot to the back of the goal. Then Ma'ayaot scored to tie the game and their fans went wild. Frisch started to get sloppy, and Ma'ayonot took advantage and scored again (4-3). Frisch got spooked—especially since they beat Ma'ayanot twice in the regular season. Then Ma'ayanot scored again, making the score 5-3, Ma'ayanot. Frisch's Feldman scored with four minutes and eight seconds left, cutting Ma'ayanot's lead to 5-4.
As the game approached the end of the fourth, Bieler scored with six minutes left—tie game! Feldman managed a crazy shot and scored with two minutes and thirty seconds left, making the Frisch stands go crazy! Frisch didn't let any goals through for the last two minutes and ended their undefeated season with a big championship win!
By Maayan Gellis