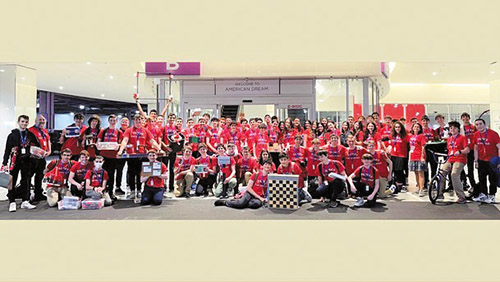 Yeshivat Frisch engineering students took their capstone projects on the road on Tuesday, May 23, to American Dream Mall for CIJE Innovation Day! Over 400 projects from Jewish day schools across the Northeast were on display. After an incredible year of dedication, inspiration, tremendous skill and hard work, Frisch walked away with numerous prestigious awards.
Two projects won first place in their respective categories. "Left Turn Assist" by Avery Moskowitz, Marc Dweck and Jacob Fenster won first place in the Transportation and Automotive category. The device calculates the speed of oncoming traffic, informing drivers when it is safe to make a left turn. Meanwhile, "Solar Seeker" by Alon Stein, Dan Turok and Steven Stein won first place in the Environmental Engineering category as well as a "best room pitch" award. The "Solar Seeker" is a solar panel designed to track the sun's movement in order to capture the largest quantity of solar energy to convert to electricity.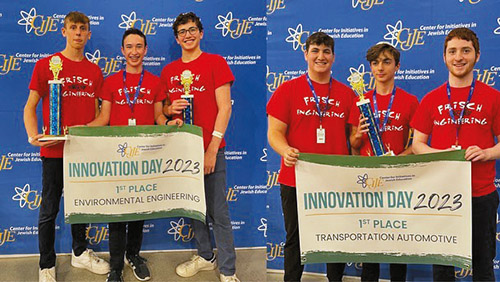 Three projects won second place awards. "The Gyro Tray" by Jude Shankman, Oran S. Goodman and Benjamin Wolf won second in the Engineering for Older Adults category for its ability to help patients with Parkinson's. "Hearo" by Eliana Wolf, Liana Goldberger and Josh Davis, which helps deaf people drive safely by alerting them to siren sounds, won second in the Engineering for Mobility category. Finally, "Pet Life" by Rae Herschmann, Rebecca Haberman and Eliana Weinstein won second in the Engineering for Pets category for a device that serves as a diagnostic for monitoring a pet's vital signs. In addition, "The Auto—Rocket" by Gedaliah Dimbert won third place in the Aeronautical Engineering category. The invention in an arduino fitted with a gyroscope which senses a rocket's altitude during flight and helps correct it if it veers off course.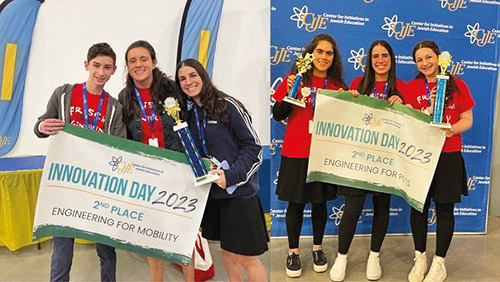 Other impressive Frisch projects won "best room pitch" awards. "Brainy Board" by Max Stober, Henry Yellin and Kovi Ressler, won this award for creating a chess board that instructs kids how to play chess (the board tells them the allowable squares for each piece moved). "SeatBelt Secure" by Barbara Sasson, Etan Mincer and Jeffrey Jacobs won "best pitch" for a project that detects whether a child has been properly secured in their car seat.
Students gained a tremendous amount of engineering and coding knowledge over the course of developing their projects. Jacob Fenster, Avery Moskowitz and Marc Dweck spoke about how the project taught them how to integrate microcontrollers besides Arduino, the challenges of setting up the AI to integrate with the rest of the project, and the problem solving skills that were essential to making their "Left Turn Assist" function optimally.
"There's so much to be gained from seeing other projects and bringing them on the road," said Frisch Engineering Program Director Rifkie Silverman. "Our students have worked so hard and can be so proud of the sophisticated, fantastic projects they came with."