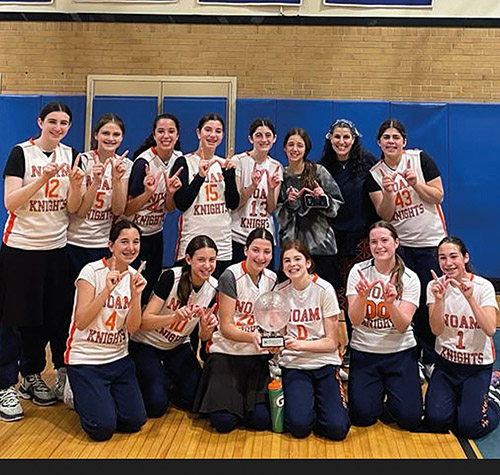 (Hustle and Heart Sports) This past Sunday was a fun and busy day for eighth grade girls Yeshiva League basketball. HALB, with the help of Hustle & Heart Sports, hosted five schools from across the three leagues for an all day tournament. Participating schools were teams who played in each of their league finals: HALB, Noam, North Shore Hebrew Academy, Shulamith and Yavneh. After two seeding games, to bring home the championship trophy, a school needed to win a minimum of two more games, all in one day.
Most of the seeding games were close (around 3-4 points differential) and competitive. In the play-in playoff round, #4 HALB beat #5 Shulamith by three points. The first semi-finals game was the YMSSA champions #2 seed Noam Knights against the MJDSBL A league champions North Shore Lions. Noam was able to take the win. The other semi-finals game had #1 Yavneh Redhawks defeat the MJDSBL women only league champions HALB Lions.
The finals was a rematch of the championship game in the YMSSA league. Yavneh came out with the lead and was leading most of the game and was almost able to avenge their finals loss, but in the fourth quarter, Noam was able to come back and take the lead and never backed down. The Noam Knights were able to secure the victory, with a final score 41-35 over the Yavneh Redhawks.
Congratulations to tournament all-stars Gabriella Butler (Yavneh) and Leeba Weiss (Noam) and tournament MVP Elisheva Dresdner (Noam).
Thank you HALB and Hustle & Heart Sports for a wonderful day of girls basketball!
---
Hustle & Heart Sports runs end of summer intense four day boys (8/20-23) and five day girls sleepaway basketball camps (8/24-28) for kids entering grades 5-12! Use special discount code for Jewish Link readers JL50 to get $50 off! To register and learn more: https://hustleheartsports.leagueapps.com/camps