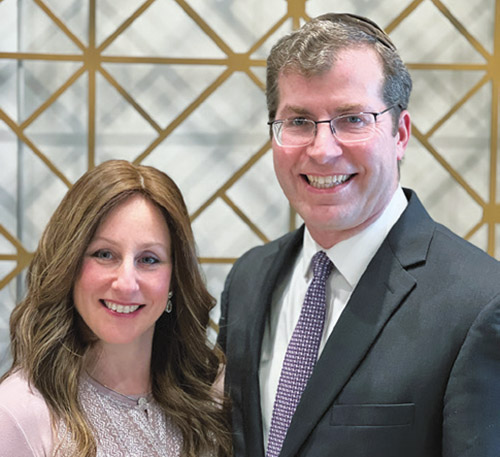 Whether setting the Shabbos elevator, checking the HVAC system or hustling to set up additional chairs for a shiur, Ammiel Bachrach is often the watchful eye, making sure everything at the Young Israel of Passaic-Clifton is in proper working order.
Equally mindful, his wife, Ilana, brings creative detail to the shul, having run the women's book club for many years, helping the dinner committee and journal campaign and planning other events.
"I grew up in a Young Israel, and shul played a central role both religiously and socially in my family's life," said Ammiel, who was raised in Brookline, Massachusetts."As I raised my own children, I wanted them to have a similar experience."
"I appreciate the diverse membership at YIPC," added Ilana, who was raised in Edison, New Jersey. "It is great that YIPC encourages involvement at all ages and levels. Our four kids have actively participated in the youth programs over the years."
Residents of the Passaic-Clifton community since 2005, Ammiel and Ilana joined YIPC three years later. Soon after, the couple forged an indelible impression on the shul.
Ammiel assumed the role of sponsorships coordinator, before springboarding to VP of finance and then shul president for 6 ½ years, including during the COVID-19 pandemic when the shul earned praise for striking a balance between safety and engagement as it added more services while maintaining strict standards.
"We strove to make everyone comfortable and to be sensitive to everyone's particular needs, while at the same time making sure our shul was open for davening and shiurim," said Ammiel.
In addition to leading the shul through the challenges of the pandemic, Ammiel also oversaw the enhancement of the shul's security to meet the challenges of our current reality.
Spirit of Volunteerism
Auto mechanics talk about peeking into the hood to ascertain the vitality of a car. A peek into Ilana and Ammiel's respective backgrounds underscores a couple devoted to family and committed to community.
Raised in Central New Jersey, Ilana attended Bruriah High School, followed by a year of learning in Israel at Midreshet Moriah. From there, she attended Stern College and later earned a master's degree in library service at Rutgers University.
While raising the couple's four children, Ilana has devoted many years as an elementary school librarian and media specialist in both public and private schools. She currently works as a media specialist at Academy360, a private special education school for children and young adults on the Autism spectrum in Verona, New Jersey.
Like Ilana, Ammiel's background is steeped in a strong Jewish education, having graduated high school from Yeshiva Beth Moshe in Scranton, Pennsylvania, followed by years of continued learning both in Scranton and at Yeshivat Kerem B'Yavneh in Israel.
Ammiel pursued his undergraduate studies at Yeshiva College and Columbia University School of Engineering and Applied Science, earning a degree in chemical engineering. He also attended Northwestern University's prestigious Kellogg School of Management, where he earned his MBA.
After working as a chemical engineer, Ammiel shifted careers, working as a consultant and engagement manager at a global management consulting firm focusing on operational strategy in the biopharmaceutical industry. He has held a number of management positions and is currently senior director of strategy and planning at Eisai, Inc., a Japanese pharmaceutical company located in Nutley, New Jersey.
"We both feel that it is important to contribute to the community and to the advancement of our shul. It has been very rewarding to apply my professional skills and experience to help lead the shul, both as VP of finance and as president, for so many years," said Ammiel.
"YIPC has a clear mission and purpose in Passaic and Clifton focusing not only on Torah, tefillah and chesed, but also commitment to Israel and Religious Zionism. This has been very important for our family." Ilana added. "Rabbi and Rebbetzin Glasser bring a great balance of humor and inspiration to the shul and have been very inspiring for our family and helped our religious growth over the years."
The rav of YIPC for 18 years, Rabbi Yaakov Glasser spoke highly of the Bachrach's and Ammiel as just the second shul president since the Glassers moved to Passaic. "Ammiel and Ilana embody the values of YIPC on every level," he said. "They are standing role models in how they honor their parents, raise their children, and serve our community with unparalleled loyalty.
"Working so closely with Ammiel, especially during such challenging times, was an inspiring and growing experience for me," Rabbi Glasser continued.. "His thoughtfulness, integrity and perseverance were an incredible foundation of leadership for our shul."
YIPC is honoring the Bachrachs at its annual dinner on Tuesday, June 13 at the shul. Visit https://www.yipc.org/ for more information.
By Mitch Morrison