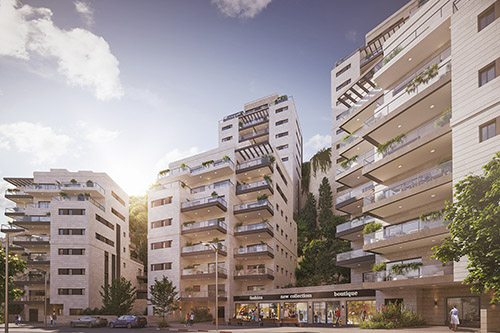 An opportunity not to be missed.
Tivuch Shelly has been privileged to be heavily engaged in building up the city of Jerusalem and Arnona for the past 35-plus years and is continuing to develop Arnona with a large, beautiful new housing project.
As Jerusalem is the most sought-after location to live in, needless to say, it is very much in demand. To that end, Shelly Levine is constantly sourcing new, affordable developments. After much success housing many Anglos in Arnona, Tivuch Shelly is now working on a new development being built on land that is currently zoned for a new, large housing complex.
Jerusalem is made up of distinct neighborhoods. Over the last five years, Arnona has become a very Anglo community, and after selling a successful Arnona project, we are privileged to be representing this new neighborhood. This new project is located in the southeastern corner of the city, bordering Kibbutz Ramat Rachel and adjacent to the new American existing community. With its rural setting and upscale housing, Arnona is slated to become the center of the local diplomatic community. It currently houses the United States Embassy, and other embassies are expected to follow suit.
This beautiful, big new housing project in the hills of Arnona will encompass 1,800 housing units and public buildings such as schools, libraries, cultural venues and sports facilities. It will have wide streets and expansive parks with bicycle paths and jogging trails. This is the Arnona of the future.
The project is being planned meticulously to ensure that every apartment meets with the buyer's complete approval. The apartments are extra-large compared to what is generally on offer in Jerusalem and will be equipped with the most up-to-date technologies. The best materials and accessories are being used in the building process. Arnona Hills will consist of 21 nine-story buildings containing a total of 452 apartments, ranging from two- to five-room apartments, plus spacious penthouses with large open-air terraces, as well as garden apartments with their own adjacent private gardens. One of the many selling points is the magnificent panoramic views that include the Old City and a vista of the verdant Judean Hills and the Dead Sea in the distance.
Since Arnona Hills is being built on practically the last areas of open building land in Jerusalem, you can be sure prices will rise in the future. So, buy now before prices go up. Arnona Hills is scheduled to be completed by July 2026 and we are offering apartments at pre-sale prices. Dont miss this early opportunity!
For more information, contact Shelly Levine in Israel (Whatsapp) at +972 50-7264376 * [email protected] or Yoni in the USA at 516-737-3180 * [email protected] Web: https://tivuchshelly.com