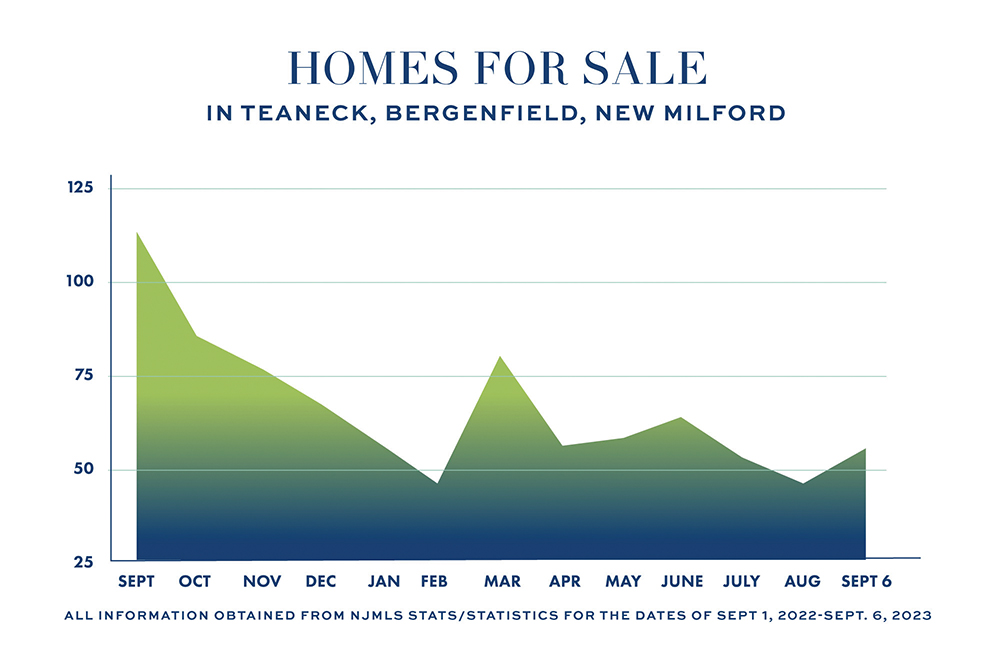 At the beginning of this year there was much speculation as to how the prior six months of interest rate hikes would affect the housing market and, in particular, how it would impact the coveted, traditionally strong, spring market. At that time the number of listings in our area were at all time lows and, incredibly, still dropping. By the time February came around we had the lowest ever number of listings for the Teaneck, Bergenfield, New Milford area with only 48 homes on the market. The spring market arrived and with it an uptick of homes coming to market, which we reported in this column, hoping that this was the light at the end of the tunnel. Perhaps those homeowners sitting on the sidelines through the pandemic were transitioning to a more normal routine. Upon reflection, with the summer behind us and fall around the corner, a clearer picture is now emerging. No increase in housing stocks ever materialized beyond a slight seasonal uptick and the striking truth is that all indications point to this being the new normal.
Legendary investor Warren Buffett of Berkshire Hathaway recently disclosed that he was investing heavily in three new home building companies around the United States. Reading through the commentary regarding this investment you get a sense of a strategy rooted in the belief that existing single family homes will remain unavailable for the time being with the only game in town vis a vis real estate will be those homes unencumbered by an existing low mortgage rate or a seller that simply needs to find a new home. This would largely leave new home construction as the best option for home buyers that have had very little luck in existing neighborhoods where homeowners, enjoying their very low interest rates, are just not moving.This is not referring to the new home construction that we are familiar with locally, where an older home is torn down to make way for a new home. We are referring to wide tracks of land where single family homes never existed. I tried reaching out to Buffett for a discussion on the Teaneck market but I have not heard back from him yet.
---
Nechama Polak is the broker of record and owner of V&N Group LLC located at 1401 Palisade Avenue in Teaneck, New Jersey. Send your thoughts and comments to [email protected] or call 201 826 8809.