Rosh Hashanah is just a few days away and Ember by Smokey Joe Smokey's Joseph Godin wants to make things easy for you so that you can focus on your family and the Yamim Noraim. With a sumptuous menu that features the delectable classics you know and love, along with the delicious new favorites, Ember by Smokey Joe has got you covered.
"We're doing what we've always done, which is taking care of people by catering for them and delivering our amazing food all over the tri-state area and even Philadelphia," said owner Joseph Godin. All you have to do is get online and browse through a selection of dishes, from sides to mains, appetizers and desserts and make your selection. Your Yom Tov preparations could not get any easier than that.
"We make really great, original fresh food. We've got something for everyone including gluten-free items, vegetarian dishes, dishes that the kids will love, and food that everyone will be talking about long after Yom Tov is over," Godin added.
For starters, Ember's "New Year's Salad" is the perfect way to set the tone for the first night of Rosh Hashanah. With a blend of mixed greens, apples and dates topped with a honey-pomegranate dressing, you'll wonder how you went so long without ever trying a salad like this.
On the first night you might want to start with a classic, Ember's gefilte fish served with your choice of hand-grated red or white horseradish, or its premium chopped liver which is hand-made with copious amounts of caramelized onions and just the right amount of black pepper. But since there are two nights of Yom Tov, the salmon cakes, which are mixed with bread crumbs and scallions and then delicately fried and eaten with a zesty horseradish sauce, is an excellent way to kick up a traditional meal as well. But you should also make sure to order some of Ember's Deli Roll, which puts a new spin on an old favorite by adding house-cured beef bacon to its juicy turkey and flavorful salami and of course, with a hint of mustard.
"We make our chicken soup in-house, from scratch, with real chicken. A properly made chicken soup should be a wonderful, deep, golden yellow color, sweetened with carrots, and should have a deep and robust flavor, without being salty," Godin said. That means you're getting a soup, that has not only been cooked slowly and authentically, but is also free of artificial flavors, colors and MSG.
For a perennial crowd pleaser that is slightly less traditional, the Butternut Squash Soup with Apple and Poblano Cream is definitely the way to go. According to Ember's website, there is "No other way to eat butternut squash soup!" I'm inclined to agree. "We are the only ones who make butternut squash soup like this," Godin explained, with the poblano cream on the side to help cut the sweetness of the soup.
Chicken with Apples, Cranberries and Beef Bacon, which Goldin called "both tart and smokey sweet at the same time," is a really special dish to make your Rosh Hashanah meal that much more festive, while Ember's Chicken Marsala, made with two types of mushrooms and real Marsala wine, might just be one of the its most popular menu items ever. But, Godin admitted, his favorite is the Chicken with Leeks, Onions, Parsley and Lemon, which Ember only makes twice a year—for Rosh Hashanah and Passover.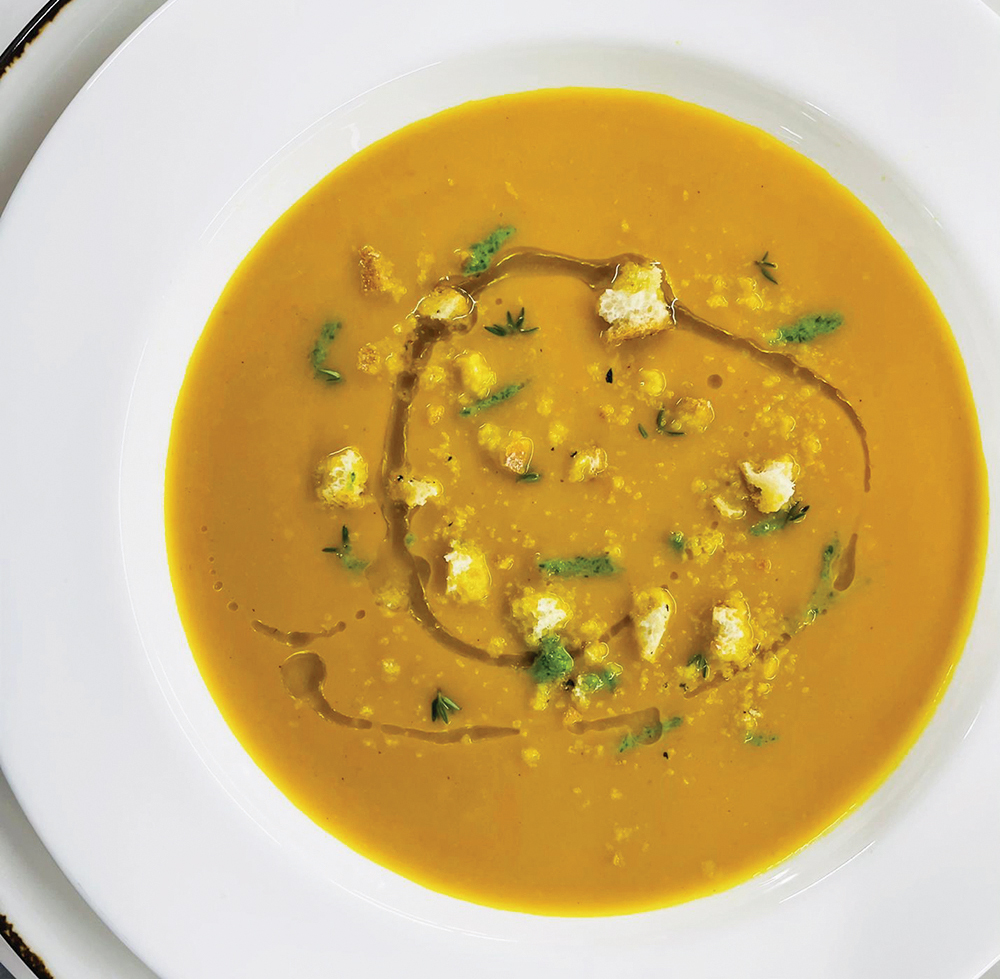 If you were eyeing the Grilled Herb Chicken Breast, rest assured it's vacuum-sealed to retain its freshness and moisture and keep it juicy until the very last bite. You can also never go wrong with the Smoked BBQ Chicken rubbed with Ember's signature Special Rub #88 that is slow-smoked over hardwood for four solid hours.
You also can't go wrong with the Smoked BBQ Meatloaf, yet another dish that can best be described as extraordinary. Oh, but the Lamb Meatballs and Cipollini Onions will become the dish you never knew you needed in your life. Then there's the Prime Rib Au Jus that will make you feel like you're enjoying your meal at the finest restaurant, while Ember's Brisket will remind you of your favorite, cherished family recipes.
If you want to venture on the lighter side, Ember's seared Mahi Mahi with Pineapple Salsa, which is amazing when served at room temperature, will have your taste buds screaming for more. The Sole Florentine served with a bechamel "cream" sauce is sure to be an instant hit at your dining room table and might just be the ideal dish for that second day of Yom Tov.
For sides, Ember's Portobello Mushrooms Aux Duxelle is excellent as both a main dish and a side. A veritable banquet for your senses, these mushrooms are packed with a heavenly mixture of even more mushrooms, onions and garlic that were carefully cooked in white wine. Don't forget to order a nice helping of Swiss Chard with Beef Bacon and Onions. It's a side dish that will pleasantly surprise you and make you wonder how you went all this time without it.
For dessert, make sure to add the "The Honey Bee Honey Cake" to your list. Godin called it a "showstopper" that it will dazzle your guests with its magnificent presentation. But unlike other honey cakes, which can sometimes end up on the drier side, the chefs at Ember make sure to add plenty of honey for a moist and tasty treat that will have everyone running back for seconds.
For Ember by Smokey Joe's complete and delectable menu visit www.embernyc.com or call (201) 220-6460. Be sure to place your orders by Monday, Sept. 11 to get them on time for Rosh Hashanah.