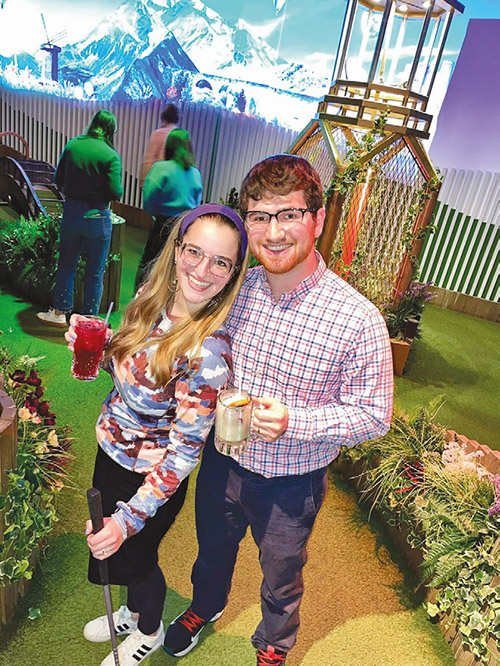 What happens when you combine a 1920s-style party with mini golf? You get Swingers Mini Golf Club in New York City! This crazy golf course combines the classic mini-golf sport with cocktails, a bygone atmosphere and a live DJ to create one of the most lively and fun golf experiences my wife, Ahuva, and I have ever had.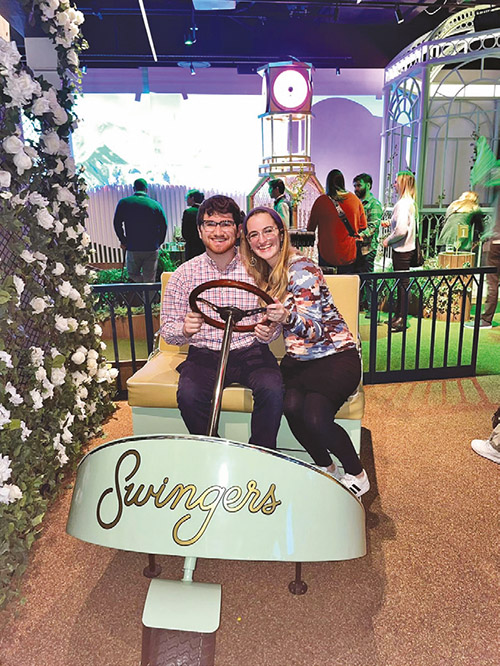 At the entrance of Swingers, there is a fancy blue-and-white striped canopy adorned with the club's logo, elegantly drawn in gold script. Positioned behind a velvet rope, security guards directed us through metal detectors and conducted thorough pat-downs. In a weird way, this added to the atmosphere by making the place feel more posh and exclusive. Once we passed through security, we entered the entrance area of Swingers, which was dimly lit and compact. From a distance, we caught the faint strains of music that exuded a lively and inviting vibe.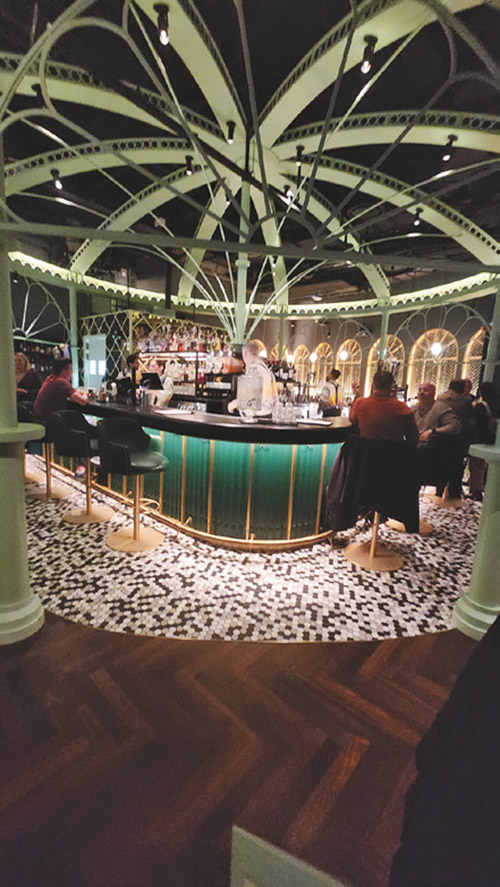 Humorous paintings portraying celebrities like Brad Pitt, Oprah Winfrey and Arnold Schwarzenegger engaged in golfing escapades decorate the walls. The faces didn't match the bodies, and the paintings appeared to be photoshopped, almost like giant memes. We saw a stairwell leading downstairs and followed it underground.
As we descended the stairwell, the scene before us transformed into a vibrant, bright party. In the center was a ginormous white gazebo with lights alongside each of the posts. In the middle was a green bar where bartenders skillfully concocted fancy cocktails and drinks for the enthusiastic customers. The barstools and surrounding walls are also green, and the bar itself has glowing green lights underneath the table, reminiscent of the Emerald City of Oz.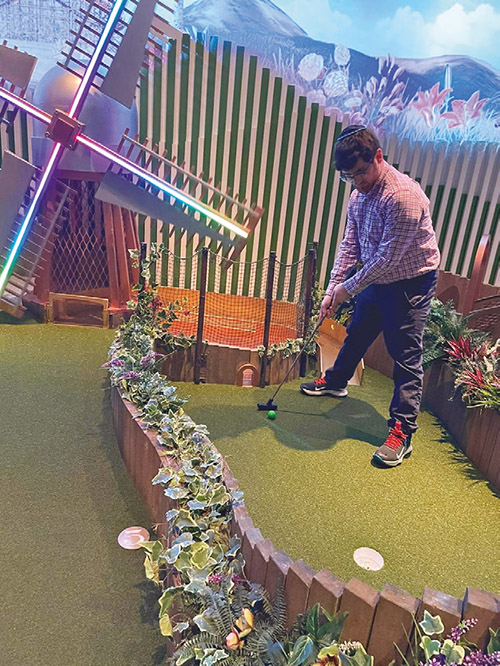 Before we were allowed to play, we were required to check in. Luckily, having purchased our tickets in advance, we were able to bypass the line. We swiftly registered our names, selected our preferred course, and chose the relatively easier nine-hole option known as the "Waterwheel course." We then checked in our jackets and received virtual tickets for their return, ensuring a seamless and convenient experience.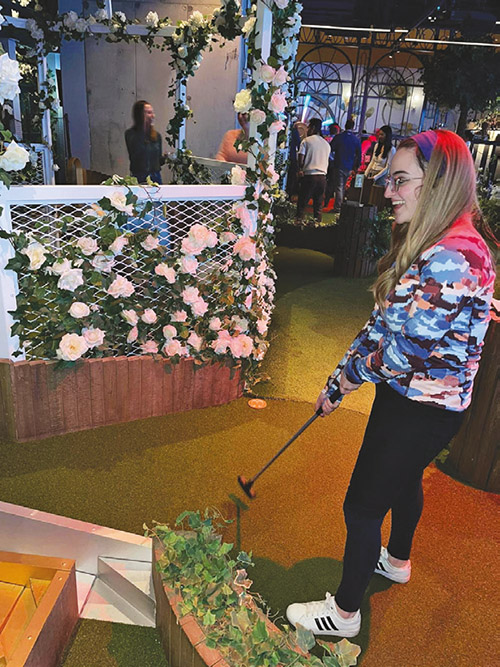 Once we checked in, I decided to order a piña colada from the bar, while Ahuva opted for cranberry juice. With our refreshing beverages in hand, we eagerly ventured onto the course, where a caddie stood ready to assist us. He kindly provided us with our balls, clubs and scorecard, taking a moment to explain the rules, informing us that there were often three lanes available to navigate the ball: bronze, silver and gold. Hitting the ball through the gold lane would lead us directly to the hole, while the silver lane offered a slightly longer path, and the bronze lane posed the farthest challenge. With the rules understood, we made our way to the first hole.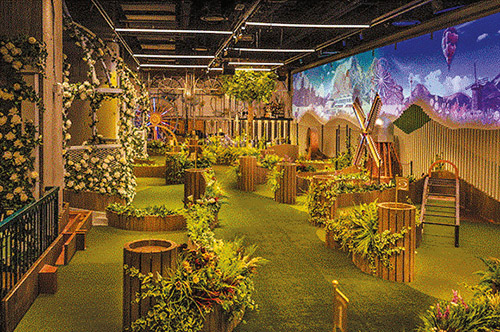 Like most mini golf courses, each of the holes at Swingers utilizes different traps and barriers to impede your path to scoring. The novelty of Swingers is the attention to detail in the design of each hole and the vibrant background behind each hole. The entire course wall is covered with a virtual backdrop, featuring captivating elements such as a moving train, a thrilling roller coaster, fluttering butterflies, a spinning windmill and a floating hot air balloon.
One of the reasons Swingers lives up to its name is its top-notch music selection, which includes some of my favorite retro classics such as "Boogie Wonderland," "Super Freak" and "You're the First, the Last, My Everything." Accompanying the music were dazzling multi-colored strobe lights, creating a disco-party atmosphere as we played our way through the course. Also, at each hole, there were convenient wooden podiums to put down drinks whenever it was our turn to swing.
Each hole presented its own unique challenge, adding to the excitement of our mini-golf experience. The first hole featured a giant clock with a swinging pendulum, demanding precise timing to navigate the shot successfully. Another hole required us to skillfully hit the ball over a bridge that led directly to the hole. One really cool hole, which Ahuva and I replayed multiple times, first required us to hit the ball up a ramp; then the ball on its own went down a maze into one of three gold, silver or bronze slides, where it ricocheted around the hole, reminding us of a Rube Goldberg machine. A different hole was like a skeeball game, which required us to hit the ball into one of three different colored targets. At around the seventh hole, there was another mini bar located where we could have purchased another beverage.
The last hole was the most challenging, and with that challenge came the opportunity for a great reward. Hole 9 showcased a colossal water wheel adorned with numerous spires, effectively obstructing the path to victory. If you could get through the wheel, down the ramp, and perfectly land a hole-in-one, you would get to spin the wheel for a prize, such as a drink, ice cream, souvenir or another free play. Unfortunately, Ahuva and I both hit the wheel, which disrupted our shots, and we did not get the coveted hole-in-ones. That didn't stop us from posing on the free podium photo shoot, which used a camera on the ceiling to capture a moving picture of ourselves that was then sent directly to our emails. It was a great way to take home a nice victorious keepsake from our fun-filled evening.
Swingers is a triple play on the word "swing" relating to golf (swinging a golf club), drinks (swingers representing lively people) and music (swinging music). These three elements converge harmoniously at Swingers, creating an all-encompassing entertainment experience that I thoroughly enjoyed. It was by far the most upbeat, groovy and fun mini-golf experience I've ever had.
Don't be deterred by the fact that there are only nine holes instead of the conventional 18. Ahuva and I simply played each hole twice, combining our scores to determine the winner. As long as no one is waiting behind you, take your time and fully immerse yourself in the experience of each hole. If there happens to be someone waiting, kindly allow them to go ahead of you.
The staff was exceptionally friendly, and our designated caddie went above and beyond, frequently checking in to see if we needed anything, whether it was drinks or a different putter. I particularly appreciated the presence of the wooden podiums, providing a convenient spot to place our drinks. Very often at mini-golf courses, I have a water bottle and have no clue what to do with it. The podium addresses that issue and also seamlessly blends with the decorum, appearing as a natural decoration that is in no way out of place.
Prior to my visit to Swingers, several friends had highly recommended it, raving about their incredible experiences. I can confidently say that it lived up to the hype and exceeded my expectations. Whether you're looking for a fantastic hangout spot, an enjoyable date night or a memorable family outing, Swingers ticks all the boxes. I recommend including Swingers in your itinerary when planning a day out in the city.
Swingers is located at 35 W. 29th Street, New York, NY 10001. Visit https://swingers.club/us/locations/nyc/venues/nyc to book.
---
Zachary Greenberg is a consultant at Semler Brossy and the TABC track coach. Zack recently coached the TABC track team, which won first place at the track championships. Additionally, he recently watched the new action film Fast X in theaters. If you have any recommendations of fun places for Zachary to cover, email him at [email protected].