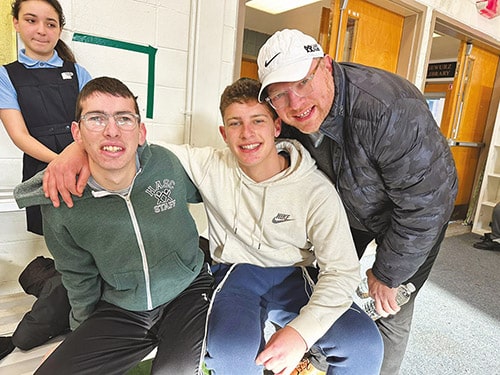 Some may be shocked to hear that I traveled with my wife and eldest and youngest sons this past weekend—the coldest weekend of the year—not to some warm resort, but rather to far-more-frigid-than-NJ Montreal, where the temperature was -20. This was considered cold even by Montreal's lower (or higher, depending on your perspective) standards for what is truly cold. Yet despite the cold air and a crazy, nearly unending amount of snow, it was a very special and heartwarming trip for our family.
Our primary reason for going north was to be there for our 10th grade son Eyal's basketball tournament. Eyal is currently on the league-leading TABC JV basketball team and his team was invited by Montreal's Hebrew Academy to participate in the Oren Grunbaum Memorial Tournament featuring teams from Jewish schools in Montreal, Boston, Toronto and the NYC area. My wife and I decided to be a bit adventurous and take our eldest son Zev along with us for the drive north so he could enjoy his brother's games and support his team and teammates.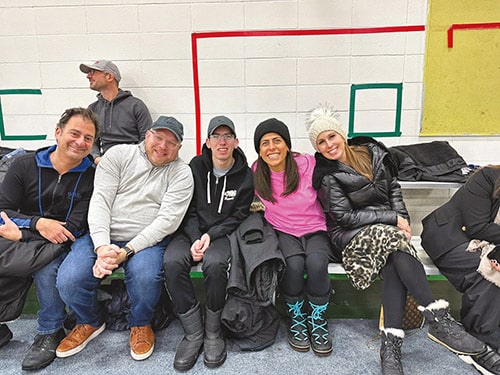 As all who drive to Montreal on a regular basis know, one needs to be constantly checking the winter weather in the upstate NY/Adirondack areas quite regularly before making the drive as it can get quite hazardous and downright scary. We were checking the reports religiously in the days prior and it seemed like we would be able to make it to Montreal without the snow getting too bad, so we decided to start driving late last Wednesday night and made it by Thursday morning in time for the first tournament game. Our son and his team flew earlier on Wednesday and we met them there.
The tournament was a positive experience for my son, although he and his previously undefeated team lost in a tough and hard-fought championship game with still-undefeated Magen David Yeshiva of Brooklyn (MDY). He and his teammates had the chance to meet players from all over the Northeast and spend a nice Shabbat together. I also had the chance to daven and speak a bit with the boys and coaches and enjoyed interacting with all of them over the course of the weekend. For my son and his team, losing in the championship was a tough thing but I know they are resilient and are looking forward to a possible rematch with MDY. Hopefully, they will get their chance.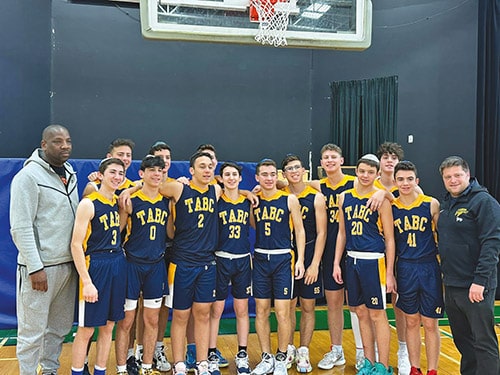 Although my wife has been to Montreal for very short visits over the past decade, both I and our eldest son Zev have not been to Montreal for over a decade. Although I didn't miss the cold, I found that I had missed the city and its warm Jewish community tremendously. You see, for the first 15-16 years of our marriage, Montreal was practically our second home (my wife grew up there) and we used to drive there three or four times a year minimum to visit my in-laws and spend part of the Yom Tovim (Sukkot and Pesach), and a week in the summer also. Our kids loved to visit with their Bubbie and Zaidy Glick and do all sorts of touristy and fun things. We would also always come to visit my sister-in-law Naama, who lives in the first group home of the organization started by my in-laws, Maison Shalom.
Driving on the snow filled streets, and visiting places like Adar Bakery, Cavendish Mall, Pizza Pita, and seeing Dena's old friends and former teachers, all brought back so many good memories from when our family was much younger. (We weren't sure our kids would even remember where their grandparents' house was but Zev remembered it exactly as we drove past it without telling him where we were. Dena and I were pretty proud of him for remembering this.) We also remembered the many places where my father-in-law Rabbi Dr. Mordechai Glick a"h took us and our kids. For my wife, being back in Montreal for so many days was a bit harder for her as there were many good memories of her growing up in Montreal and with her late father.
All in all, it was good to be back in Montreal, despite the cold. On the long six-hour drive back to NJ, we discussed and committed to returning to Montreal at least once a year in the future (although I advocated that we don't do it in the winter again) both to see Naama and to reconnect with the city where Dena grew up and still loves. We definitely don't need a basketball tournament to be the main reason to return in the future. Looking forward to returning!
By Moshe Kinderlehrer/
Co-Publisher, The Jewish Link