TVAC draws a dedicated group of volunteers from the Tenafly community looking to make a difference.
If you drive by the town of Tenafly at any hour of the day, you may see a distinctive orange ambulance pass by. However, unlike most ambulances, Tenafly's are entirely operated by volunteers.
The Tenafly Volunteer Ambulance Corporation (TVAC) was founded in 1992 by a group of volunteers who aimed to make the Tenafly community safer through first aid services and community engagement. A nonprofit organization, it is currently one of the only ambulance corps in Bergen County that is entirely volunteer run, complete with around 50 total volunteers. These volunteers offer round-the-clock care 365 days a year to all of the 15,000 Tenafly residences.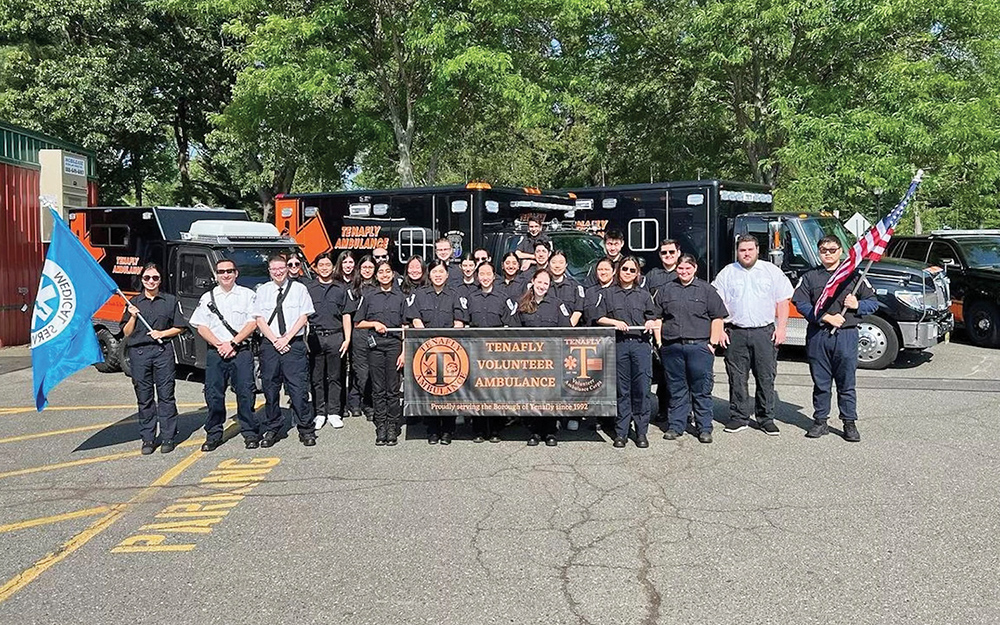 In addition to treating and transporting patients, TVAC aims to educate the Tenafly community on wellness by providing health information and leading CPR courses and blood drives. TVAC also provides standby for every town event such as the Tenafly fireworks, the JCC Rubin Run, and the 5K. Current TVAC captain, JP Pedoto, has been with the organization for the past nine years, and he said he has "tried to make [their engagement] as interactive as possible. We have a presence so that people know that they're safe, and if God forbid anything happens, we're there." TVAC also writes articles in the town newsletter, tables for community events, and maintains a strong social media presence. Pedoto said, "We try to do positive things for the community. We try to be as 'there' as possible."
Pedoto, a licensed social worker, believes that TVAC is necessary for the Tenafly community as their work is "entirely for this town. In this country, it is not easy to get health care, let alone affordable health care. Because we are volunteers, all of our services are completely free of charge. The last thing you want to think about when you're in an emergency is 'How am I going to afford this?' [We want to] holistically help the community."
As captain, Pedoto oversees scheduling. He also makes sure that members are all properly trained for their distinct roles by making sure they are up to date on their certifications and making sure that they understand the protocol. He said, "[I teach] how to respond to calls [and] how to deal with patients."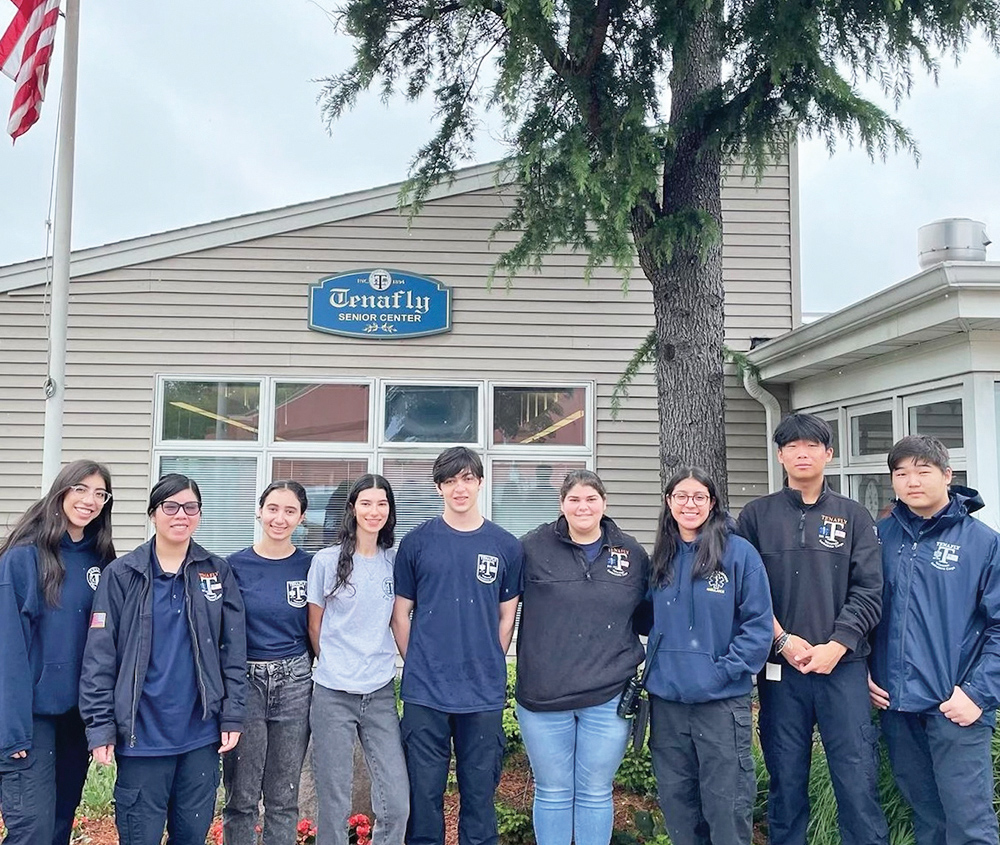 Pedoto has been involved with TVAC since 2014, and he wants to make the organization as welcoming as possible. He said, "I've grown up here, and it's become a huge passion project of mine to make this place very affirming and very safe. [I want] everyone to know that they are welcome. We have many policies and procedures in place to make sure that everyone knows that there is a zero tolerance for bullying and harassment."
A large number of TVAC EMTs are high school students. Pedoto says he loves helping these students "grow as medical providers and people." Through late night and early morning calls, the teens get to know each other well.
One such high school student, Mira Shah, is a probationary EMT at TVAC. To become an EMT, she had to take a five-month class, complete with a slew of tests that she had to pass before taking the National Registry of Emergency Medical Technicians (NREMT) exam. Shah is going into her senior year at Tenafly High School and is currently training to become a senior member, where she will be allowed to ride in the ambulance solo and lead calls. She said that currently, she "address[es] what the patients' concerns are on scene and help[s] transport them safely."
Shah described TVAC as "a really good community. We're all really good friends. We're doing a very high pressure [job], and doing it with people who you enjoy spending time with just makes the whole thing a lot easier. I'm a big talker. I love the communication aspect of [TVAC]." In addition, she said that TVAC has helped her learn to trust herself and her instincts. But most importantly, although Shah described TVAC as a "huge commitment," it allowed her to see that she'd "like to be a doctor. I want to help people. I want to communicate with people and do something that involves doctor-patient contact."
The lessons learned from TVAC have been incredibly valuable to Shah. She said, "[TVAC has] taught me to look at things from different perspectives. Not everything has to be so black-and-white all the time. Real life doesn't work that way. Medicine doesn't exactly work that way. You have to learn how to draw conclusions from various factors, and you have to be confident in what you're doing. There are shades of gray that you have to pay attention to as well." Shah plans to use these lessons that TVAC has taught her in her future medical career.
Pedoto is also credited with bringing the emergency medical responder (EMR) program to TVAC. Although still rigorous, the training for this role is considerably less than EMT training and there is no minimum age requirement, making it more accessible for people — especially high school students — who'd like to try out first responding. EMRs, however, play an important role by acting as facilitators during emergency calls.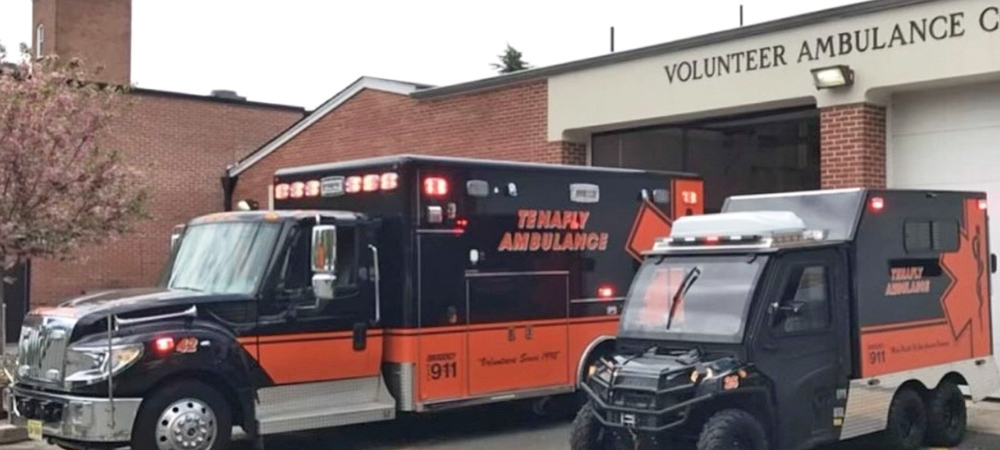 Shayna Elgart is an EMR and a recent graduate of Tenafly High School, where she was an active member of the Tenafly High School Emergency Medical Services (EMS) club. At TVAC, she rides in the ambulance and helps treat patients with her fellow volunteers, often working six-hour shifts and working 12-hour shifts once a week. She decided to take the EMR route as she was initially too young to become an EMT but still wanted to help out. When she attends Binghamton University in the fall, she plans to get her EMT certification and volunteer at the Harpur's Ferry Student Volunteer Ambulance Corporation.
Elgart said there are often difficult parts of the job, such as caring for patients who are in altered mental states or those who are violently ill. However, on some calls, she gets into lovely conversations with the patients. "It's nice to connect with people and see that you're actually helping them feel better. It's nice to be a part of relieving that pain and fear."
Elgart also enjoys being a part of the TVAC community. She said, "I trust the people I work with a lot. I've enjoyed creating relationships with them. They're more than co-workers; I feel like I've really become close with them. It's boosted my self-confidence. Being responsible for the safety of someone else is a lot to take on. [TVAC] has helped me become more sure of myself, and [I've learned] to think simultaneously about the safety of myself and the safety of another person. It's made me think differently."
Although Elgart will be leaving for college this fall, she hopes to continue being an active TVAC member during her school breaks and is hoping to pursue a medical field, a career that she said she feels more prepared to take on due to her experiences in TVAC.
All TVAC members are passionate about helping those around them. Pedoto wants teens who share this passion to know that "you're never too young to start." If you would like to join or further support TVAC, sign up for medical training and/or donate online at tenaflyambulance.com.
---
Dina Shlufman of Tenafly is a summer intern at The Jewish Link and a rising freshman at Cornell University.