Nestled near the entrance to the city of Jerusalem, the 5-star Ramada Hotel is offering an exceptional dining experience: an exquisite barbecue night that pays homage to the city's rich culinary heritage and embraces the finest elements of luxury hospitality. From the moment guests step into the enchanting poolside courtyard, the tantalizing aromas of sizzling meat and fragrant spices beckon them to embark on a memorable gastronomic journey.
The outdoor courtyard, adorned with formal seating (tables with tablecloths, cloth napkins, etc) and ambient and candle lighting, creates a warm and inviting atmosphere for guests to unwind and enjoy their evening.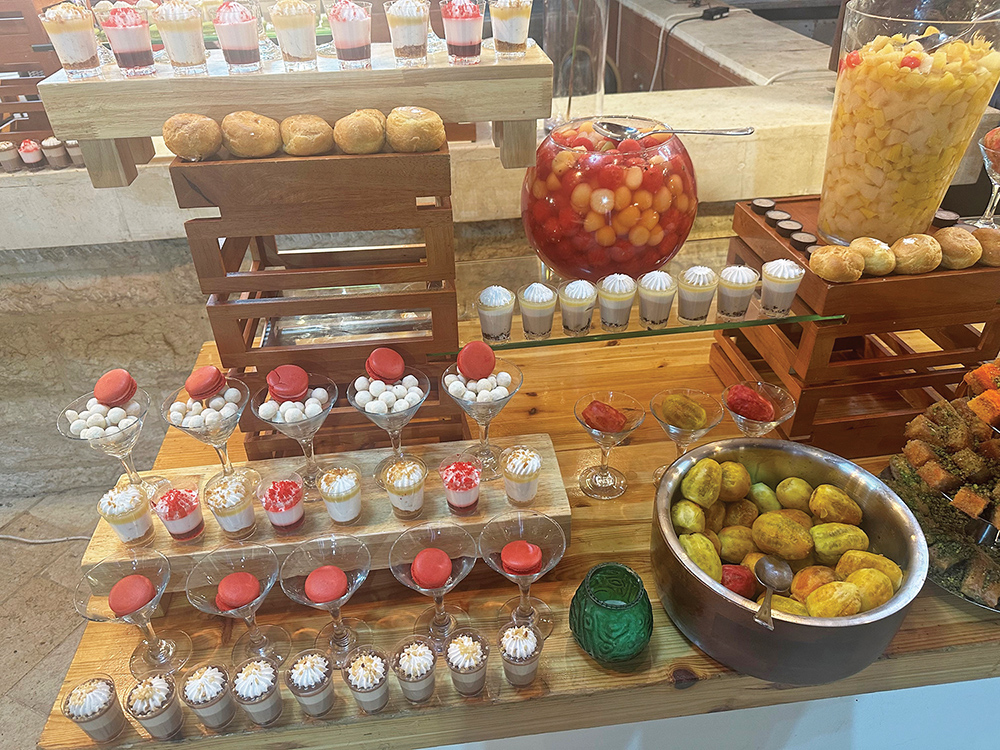 At the heart of the event stands the barbecue station, manned by talented chefs renowned for their expertise in grilling perfection. The selection of meats is a masterwork of variety, encompassing steaks, chicken, burgers, merguez and more, with aromatic Middle Eastern spices. Each cut is meticulously chosen to ensure the highest quality and flavor, reflecting the culinary prowess for which the Ramada Hotel is known.
Accompanying the mouthwatering meats are a full array of delectable side dishes and salads (including a salad bar) that celebrate the vibrant flavors of Jerusalem's local produce. Guests are treated to traditional Middle Eastern salads like tabbouleh, fattoush, baba ganoush and various kinds of hummus, all crafted with fresh, locally sourced ingredients. Grilled seasonal vegetables, fragrant couscous with perfectly flavored veggies on top, and fluffy pita and other breads further complement the barbecue spread, elevating the dining experience to new heights.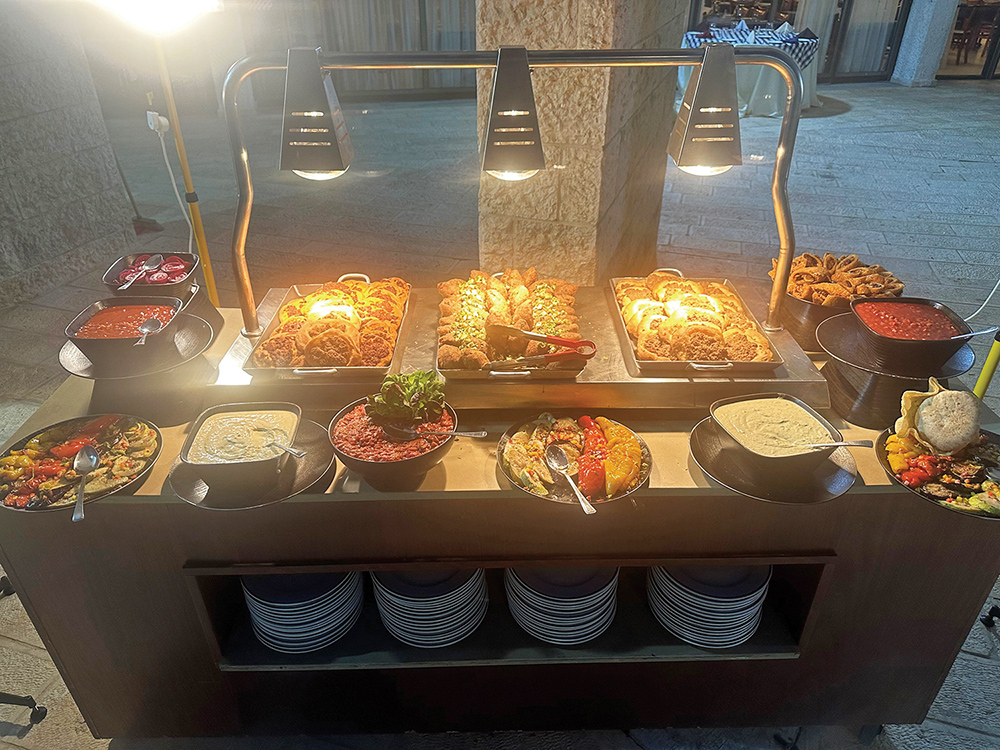 To cater to the diverse palates of its esteemed guests, the Ramada Hotel Jerusalem takes great pride in offering a selection of delicacies–for those who prefer a more plain version to people who enjoy the full complement of Middle Eastern spices (and even a couple of items with traditional harif–spicy sauces). Vegetarians are very welcome and will find more to eat than just the sides, including two kinds of falafel (one stuffed with onions), a vegetable roulade and more. This thoughtful touch ensures that everyone can indulge in the culinary splendor that unfolds before them, fostering a sense of inclusivity and delight for all.
The culinary journey reaches its crescendo with the delectable dessert selection. A fusion of traditional Middle Eastern sweets and modern creations awaits, from honey-drenched baklava to k'nafeh to velvety parve ice cream. Fresh fruit (including sabras) and a variety of bite-size chocolate balls and chocolate pops is available as well. Each dessert is a testament to the skilled pastry chefs, whose artistry shines through in every sumptuous bite.
Throughout the evening, the very attentive and gracious staff at the Ramada Hotel Jerusalem cater to every guest's need, ensuring a seamless and unforgettable dining experience. Their dedication to providing the highest level of service adds a touch of personalized luxury to the already exceptional affair.
Guests leave the barbecue event at the Ramada Hotel Jerusalem with cherished memories of a truly exquisite culinary experience, one that combines the best of Jerusalem's rich heritage with the sophistication of 5-star hospitality. Whether guests are visiting from afar or are local residents seeking a culinary adventure, the Ramada Hotel's barbecue night is an absolute delight for all who partake of its splendor.
The writer was a guest of the Ramada.
---
Arnie Draiman is a philanthropic consultant helping people and foundations give their tzedakah money away wisely, efficiently and effectively. He is also a very experienced social media and website guru, and enjoys reviewing restaurants, hotels and tourist attractions. He can be reached at [email protected] or www.draimanconsulting.com