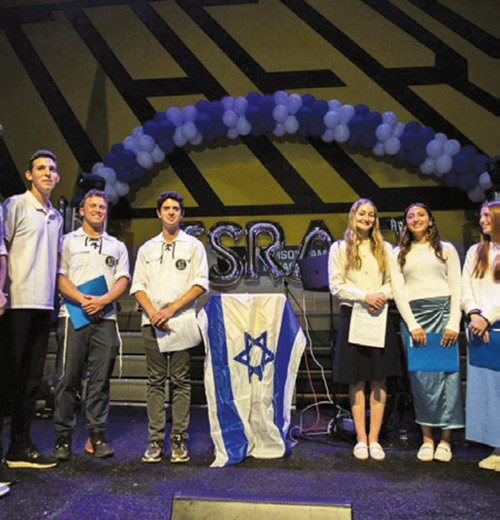 Last Tuesday evening, Bnei Akiva of the US & Canada celebrated Israel's 75 birthday throughout the United States, Canada and Israel. From Cleveland to New Jersey, from Chicago to Houston, from Detroit to Toronto, our entire movement came together in each respective community to celebrate Israel and her independence. Bnei Akiva's BAbayit (young professionals) on the Upper West Side put on their annual Tekes Maavar, the transitional ceremony from Yom HaZikaron to Yom Ha'atzmaut, in conjunction with the West Side Institutional Synagogue (WSIS). The ceremony included moving performances from chazanim all across the Upper West Side, inspirational words from WSIS's Rabbi Daniel Sherman, a keynote delivery about the fallen and wounded soldiers I served with — Sgt. Yosef Cohen, Sgt. Yovel Mor Yosef, and Sgt. Netanel Felber — and a moving address from Bnei Akiva's Executive Director Rav Shaul Feldman, who spoke about his father, who is a survivor of the Shoah, and his visit to the Dee family's shiva. The Yom HaZikaron memorial program was incredibly moving and powerful, and was a beautiful tribute to the fallen soldiers and victims of terror who have stood to protect our homeland. We then transitioned into a celebratory Tefillah Chagigit led by the talented Joseph Quintas, which finished with a concert led by Eitan Katz — a perfect way to celebrate Israel in her 75th year.
The concert by Eitan Katz launched a series of concerts Bnei Akiva is putting on to celebrate Israel's 75th throughout the year. This coming year we have Joey Newcomb, who will be conducting a summer tour visiting our Moshava Ba'Ir day camps throughout the US & Canada, including a concert for Moshava Ba'ir New Jersey and Moshava Ba'ir MetroWest. The highlight of Bnei Akiva's concert series will take place at Madison Square Garden with Ishay Ribo's Elul Concert on September 3.
We chose to do a concert series to celebrate Israel's 75th year for the simple reason that we believe that song is one of the best ways to connect with our past, celebrate our present, and look to our future. It is song that brings us closer to Hashem. It is song that unites us as a nation. Throughout Tanach, celebration and triumph, and sorrow and rebuke are expressed through poetry, through song. When Bnei Yisrael crosses the Yam Suf, it is through song that they express their gratitude; when Devorah and Barak defeat Sisra in battle, their triumph is recorded in song; when Yirmiyahu oversees the decay of Jerusalem, he expresses his rebuke and his pain through song; when Yeshayahu prophetizes of the pain Jerusalem is in, but the ultimate return to her grandeur and splendor, he does it through song. When we want to connect most to HaKadosh Baruch Hu, we do it through song: Whether a medieval piytan writing our liturgy for Yom Kippur, or closing off a shabbaton with a classic Bnei Akiva slow shira.
As we look back at the 75 years of Israel's independence, we acknowledge those who paid the ultimate price for us to stand here today. We acknowledge the miracles that have taken place for us, for our homeland to continue to exist and flourish. We acknowledge our ancestral connection to the land and the promise Hashem made to Avraham 4,000 years ago. We acknowledge the bright future we have ahead of us, and there is no better way to give thanks, to mourn, to connect, to grow than through song.
As the anonymous medieval poet writes in the famous zemer, Tzur Mishelo, "[When] He rebuilds the Temple/ [when] the City of Zion is restored/ there, we will sing a new song/ and in joy ascend."
---
Nathaniel Faber is mazkir artzi of Bnei Akiva U.S. and Canada.