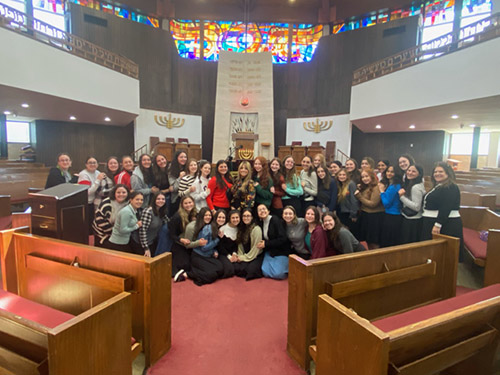 As their four years at Bruriah High School come to an end, the Bruriah seniors spend their final weeks together as a grade learning important practical life skills and lessons, gaining inspiration and solidifying their futures as frum Jewish women. As such, they spend several days immersed in enriching programming and seminars dedicated to these goals. Dr. Bethany Strulowitz, principal, shared, "Our senior seminars showcase the very best of a Bruriah education: engaging educational experiences that enable our students to confront an ever-changing world with confidence and Torah values."
Last Tuesday and Wednesday, the seniors spent their mornings engrossed in financial planning seminars. These seminars are designed to empower them to make smart financial choices in the years ahead and learn concepts of fiscal responsibility. On Thursday, they departed for the Five Towns for a day of inspiration. They met with famed speaker and influencer Charlene Aminoff, founder of Gali Wigs, who spoke about her incredible and miraculous journey to taking on the important mitzvah of kisui rosh, hair covering. Charlene's passion and words of inspiration left a memorable impression on the students and really imparted the significance that kisui rosh has on Jewish women.
The exciting programming continued this past Tuesday with a Bruriah alumnae panel. The seniors had the opportunity to hear from four Bruriah graduates, who have all graduated within the past few years, as they shared their post high school experiences. They gave invaluable advice and pointers on topics ranging from seminary, college, dating and more. Finally, on Wednesday, the girls culminated their senior programming with a visit to the Teaneck Mikvah, followed by a Q&A with renowned speaker and 12th Grade Advisor Shuli Fuchs.
Special thanks to Bracha Avraham, 12th Grade advisor, for coordinating this year's Senior Seminars that provide students with the skills, concepts and insight they can take with them on their post-high school journey.