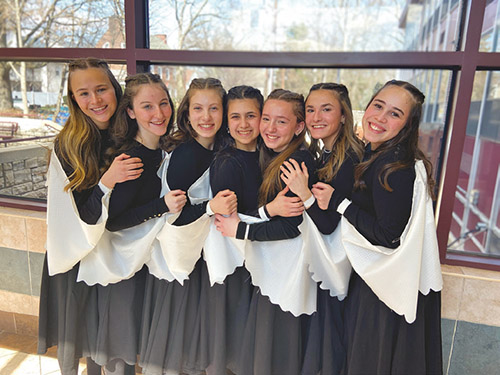 On Sunday, Bruriah students starred in their annual production, "Timebends." In a truly stunning display of student talent, collaboration and leadership, Bruriah students delighted the audiences of two show-stopping performances celebrating female leadership as seen through the eyes of Bruriah students as they traveled back in time to learn about modern Jewish leaders Sarah Schenirer, Dona Gracia and Gluckel of Hameln. The poignant script was written by Production Director Jillian Moss, in collaboration with Margueya Poupko, Bruriah's director of Academic Enrichment, who originated the concept. "We don't always recognize the achievements of women of the past, and this was really special to celebrate. The theme of this year's 'Timebends' is one of connection to our past as a means of building a future in that we recognize the role that we play. We are riding on the shoulders of the successes of people of the past," shared Poupko.
Bruriah's annual production enables students to showcase their talents in on-stage capacities like drama, choir, and dance as well as behind-the-scenes in costume design, scenery, stage management and production. Each role helps foster student leadership as students learn to work together with their peers. Senior Maayan Schlissel explained that she overcame her fear of public speaking as one of the heads of the production, learning how to direct, delegate and communicate her vision to her peers. Freshman Daniella Gluck expressed that, through her participation in drama, "Production taught me how to be bolder and better bring out my personality in the role."

Production also affords students an opportunity to demonstrate their artistic talents. Junior Hindy Koenig explained how her jaw dropped when she realized that her volleyball teammate is actually an incredible singer. "I really gained appreciation for other girls' talents as I began to see them in a whole new way." In addition to enabling students to shine outside of a classroom setting, production also forges even stronger student bonds. "I became closer with students from all other grades as we celebrated our accomplishments together," continued Gluck.
Creating a student-led production to honor incredible women from the past seemed most apropos as students are empowered to become leaders in the present and future.