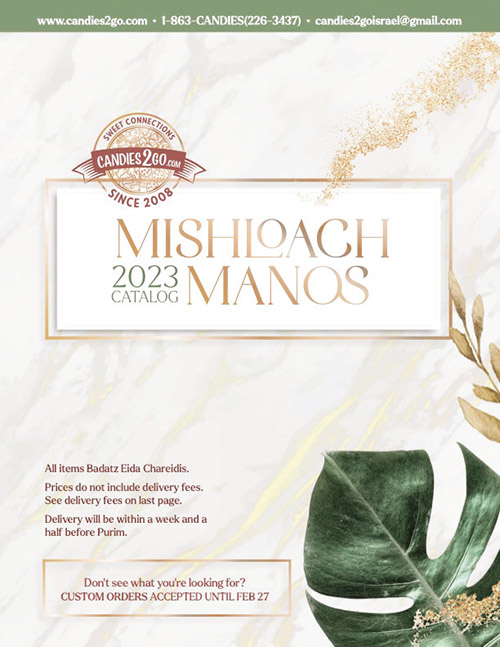 If you're looking to send some Purim cheer to a loved one in Israel, then Candies2Go has got you covered. Stocked with an unbelievable assortment of candies, chocolates, baked goods and so much more, Candies2Go has plenty of options from which to choose or you can even customize a platter, gift basket or package with whatever your imagination dreams up. Call them up and ask them to email you a copy of their 2023 mishloach manot catalog.
Just in time for Purim, Candies2Go is also offering a special 40 % discount off their standard delivery fees. Just make sure to get your order in by Tuesday, Feb. 28 for the standard options and by Monday, Feb. 27 if you want to customize a mishloach manot package.
It was just over 10 years ago when Chaya Scherman and her husband Eli of Neve Yaakov, decided to take over Candies2Go. They had just gotten married and made aliyah. Chaya was in school studying to become an ultrasound technician while Eli was learning in yeshiva. Since then, their family has grown and the family-friendly Candies2Go, with its warm business atmosphere, has become the go-to choice for thousands of customers outside of Israel who want to send yummy gifts and treats to family and friends in Israel.
In addition to Purim, Candies2Go has the perfect platters for any occasion or simcha you can think of: whether for birthdays, siyums, kiddushes, or just to say "thank you." Need something to send over to a shalom zachor? There's a platter for that. Want to send something special for an engagement party? Check out their gluten-free "Basket Elegance" and then add on a mylar balloon that says "Mazel Tov." Know someone making a bar mitzvah? Why not send a "Sweet-Six with Cookies" and some colorful balloons to go with it?
But it's not just Candies2Go's massive selection of platters and gift baskets loaded with delicious chocolates, sweets and baked goods that have customers ordering at all hours of the day. For those wanting to send their loved ones something a bit more nutritious, Candies2Go even has a whole line of healthier alternatives and gluten-free options.
"Our healthy array is very popular. It's a platter with dried fruit and nuts, along with fresh vegetables and hummus and customers can choose from several different sizes." Chaya said people really love that option and often like to add on cookies or cakes to the order as well, just for some extra fun. "We have something for everyone — baked goods, sweets, healthy foods, packaged items, and even gifts."
Using only Badatz Eida Chareidis items, the most accepted kashrut organization in Israel, Candies2Go packages are all hand delivered and extra care is taken to ensure that each and every recipient receives their package on time. "Baruch Hashem, we have a lot of satisfied customers," said Chaya.
So what are you waiting for? Check out https://candies2go.com/ or call 1-863-CANDIES (226-3437) and ask them to send you their 2023 mishloach manot catalog. If you're in Israel call +972-54-846-7336.
By Jewish Link Staff