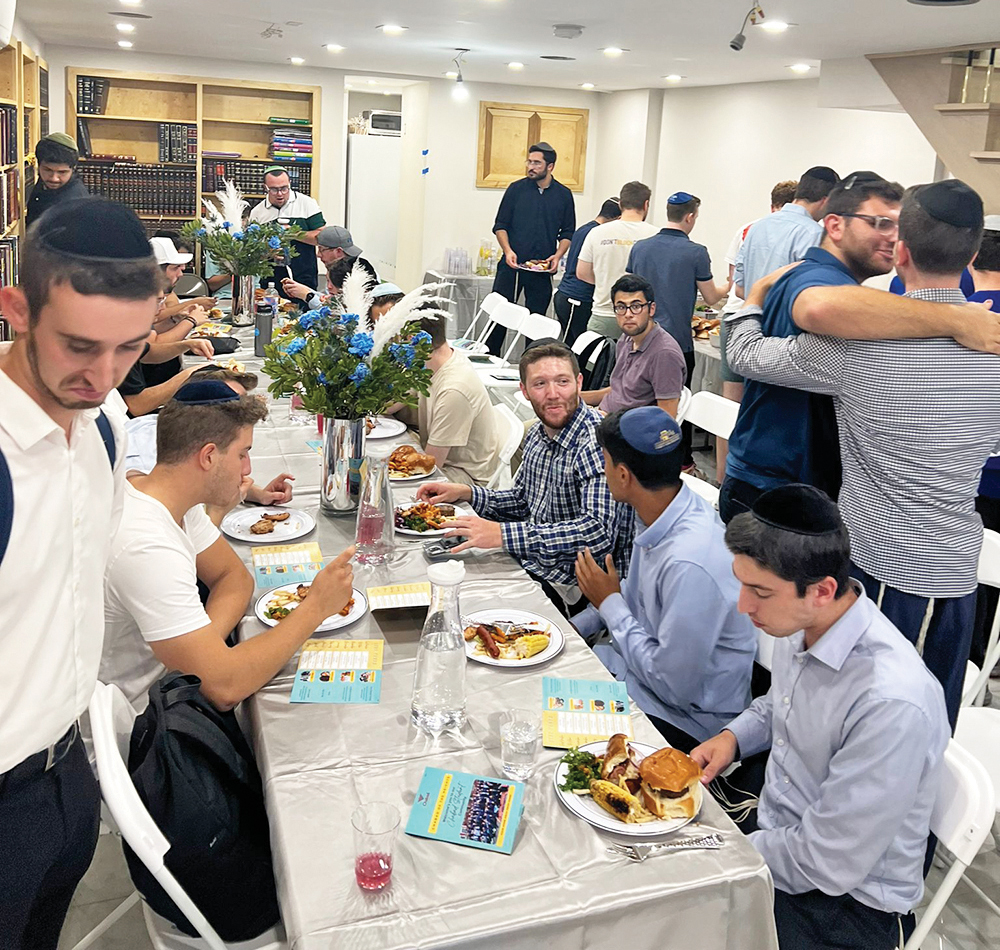 The yellow three-story townhouse on Audubon Avenue is instantly recognizable to many who have lived in Washington Heights over the years—once a residential home, it is now the site of the new Chabad of the Heights. And on a warm Thursday evening, September 7, the recently remodeled building was packed with people celebrating the grand opening of Chabad of the Heights.
Led by Rabbi Levi and Leah Sputz, Chabad of the Heights, located on the east side of the neighborhood, is catered toward its built-in community at Yeshiva University; although like any Chabad house, it is designed for anyone who wants to attend. "There are a lot of Chabad-affiliated students on campus," Rabbi Sputz shared with The Jewish Link. "There are also a lot of young professionals in the neighborhood here, whether they are graduates from YU or other schools, and they all share excitement about our presence here."
Attendees of the grand opening celebration streamed in through the ground floor entrance of the building, which is a freshly renovated sanctuary space designed for services and events. Long, decorated tables were set for a barbecue dinner and a Chai Elul farbrengen to follow, in true Chabad form. The staircase along the wall leads to Rabbi Sputz's apartment, where he resides with his wife and children. The upstairs space, also newly renovated, is intentionally designed for hosting as well, with an open kitchen and dining area. During the grand opening, the rabbi's apartment was set with an immaculate dessert spread, complete with Chabad of the Heights branded cookies and decorations.
"We've been working on this building for a year and a half," explained Rabbi Sputz. "We recognized right away we couldn't operate out of an apartment, and we needed to have a space that was entirely ours. We purchased this property, and Baruch Hashem, we've created a great space for students and graduates to come use."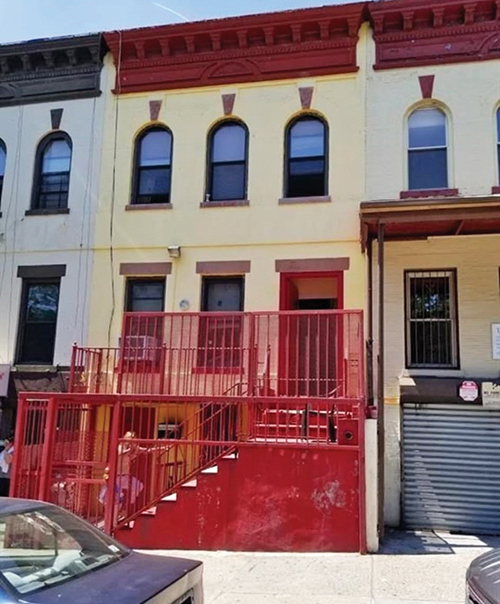 Rabbi Sputz is familiar with the student landscape, arriving in Washington Heights from nearby Columbia Medical School, where he and his wife led plenty of programming. Over the years, many of the Columbia and YU students expressed a need for a Chabad in the neighborhood, and Rabbi Sputz knew he had to pursue the establishment of a permanent space.
"There is a major Chabad club on campus at YU. They've been requesting a place from Chabad headquarters … we didn't want them to miss out on all that Chabad offers."
Though Thursday's event was a grand opening, Chabad of the Heights actually began hosting events as soon as the remodel was finished, around the end of the spring semester. Its first event, Rabbi Sputz
recounted, was a celebration of Lag B'Omer, which attracted 60 or so students from across YU's campuses—including students from Stern College for Women.
"That was like our pre-grand opening," said Rabbi Sputz. "All of the students were gone for the summer, but now that they're back, there's really excitement in the air. It's unbelievable."
That excitement filled the room as the clock neared 6 p.m., and attendees filled their plates with food and sat down to listen to remarks from Rabbi Shlomo Kugel of Chabad of the West Side, Rabbi Yakov Kirshenbaum from Chabad of Washington Heights and Rabbi Sputz. Following shared words of wisdom, the celebration continued with a spiritually uplifting farbrengen in honor of Chai Elul, which commemorates the birthdays of the Baal Shem Tov and the Baal HaTanya.
"Us being here in the Heights fills a big need for the students [of YU] as well as many others in the community," Rabbi Sputz shared. "I am so excited. There are many good things to come."
Chabad of the Heights is located at 390 Audubon Avenue. Rabbi Levi Sputz can be reached at [email protected].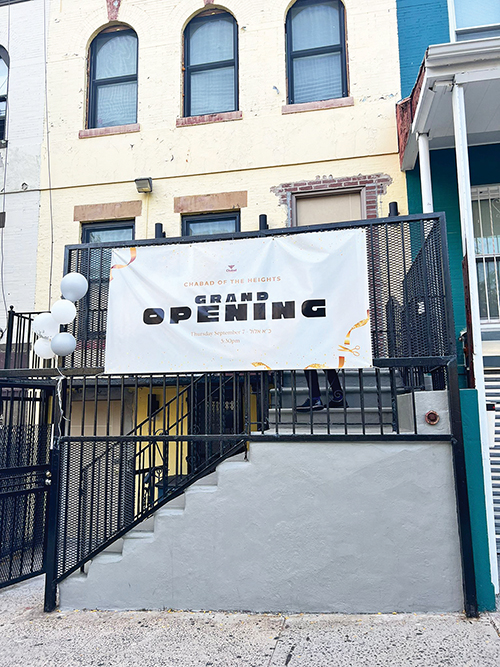 ---
Channa Fischer is the digital editor of The Jewish Link and is the resident 20-something in the office. She resides in Washington Heights.