Rabbi Moshe Azman and Chaim Klimovitsky discuss their organization, Mitzvah for Ukraine.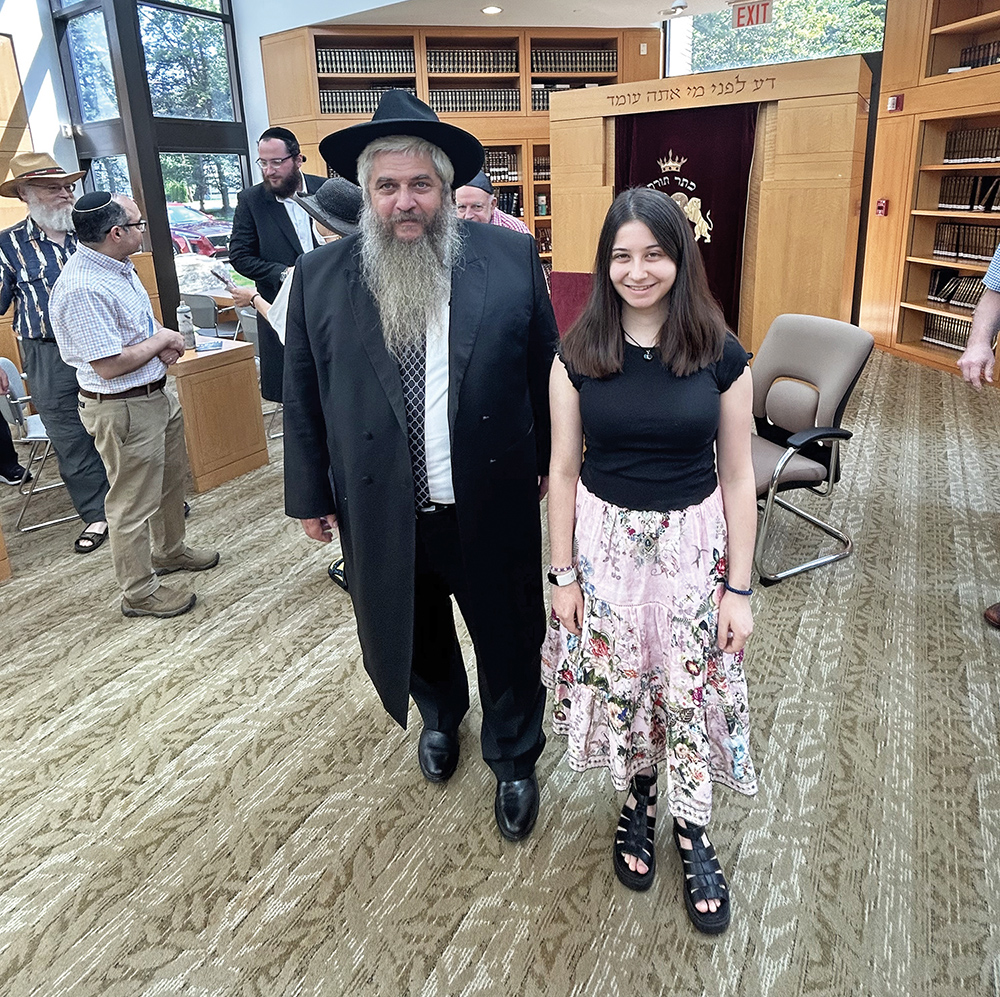 On Sunday, July 23, the Chief Rabbi of Ukraine, Rabbi Moshe Reuven Azman, addressed the greater Teaneck community at Congregation Keter Torah. He and one of his sons-in-law, Chaim Klimovitsky, briefed the community on the ongoing, dire situation for Jews in Ukraine.
The two discussed their organization, Mitzvah for Ukraine, which aims to help the 100,000 Jews currently in the country. They have provided food, housing, education, medical clinics, toys, trauma treatment programs and more to the families affected by the Russo-Ukrainian War. Many of these people have family members who are either Holocaust survivors or fighting on the frontlines.
While there are many resources available that help large Ukrainian cities and towns, Mitzvah for Ukraine aims to help those areas that are more isolated and therefore often receive less aid.
Rabbi Azman was born in Leningrad, Russia in 1966. At 16 years old, he was declared an enemy of the state due to his desire to emigrate to Israel, which he eventually did, ultimately studying in a Chabad yeshiva. He was active in the 1991 Russian aliyah movement, helping Russian Jews acclimate to life in Israel. Rabbi Azman also served in the IDF, where two of his 11 children serve today. He played a key role in revitalizing the Jewish community of Kiev, Ukraine when he moved there in 1995. Notably, he reinstalled Brodsky Synagogue in Kiev as a place of worship. The synagogue (which was built over a century ago) had previously been converted into a horse stable as well as a puppet theater due to the area being under the control of both the USSR and Nazi Germany. Rabbi Azman still works in this same synagogue today. He has also led countless efforts to help foster relationships between the Israeli and Ukrainian governments. In 2005, the All-Ukrainian Jewish Congress appointed him Chief Rabbi of Ukraine.
Born in Brooklyn to USSR refuseniks (Jews who were denied USSR emigration access before the Let My People Go movement), Klimovitsky later attended the Sy Syms School of Business at Yeshiva University, and eventually served in the IDF. In 2015, during the onset of the Eastern Ukraine Conflict, Klimovitsky volunteered in Ukraine for two years. Since his move to Ukraine in 2020, he has seen how the severity of the Russo-Ukrainian War has increased. Currently, he is the executive director of Mitzvah for Ukraine. Klimovitsky has helped save over 40,000 people who were evacuated from Ukraine.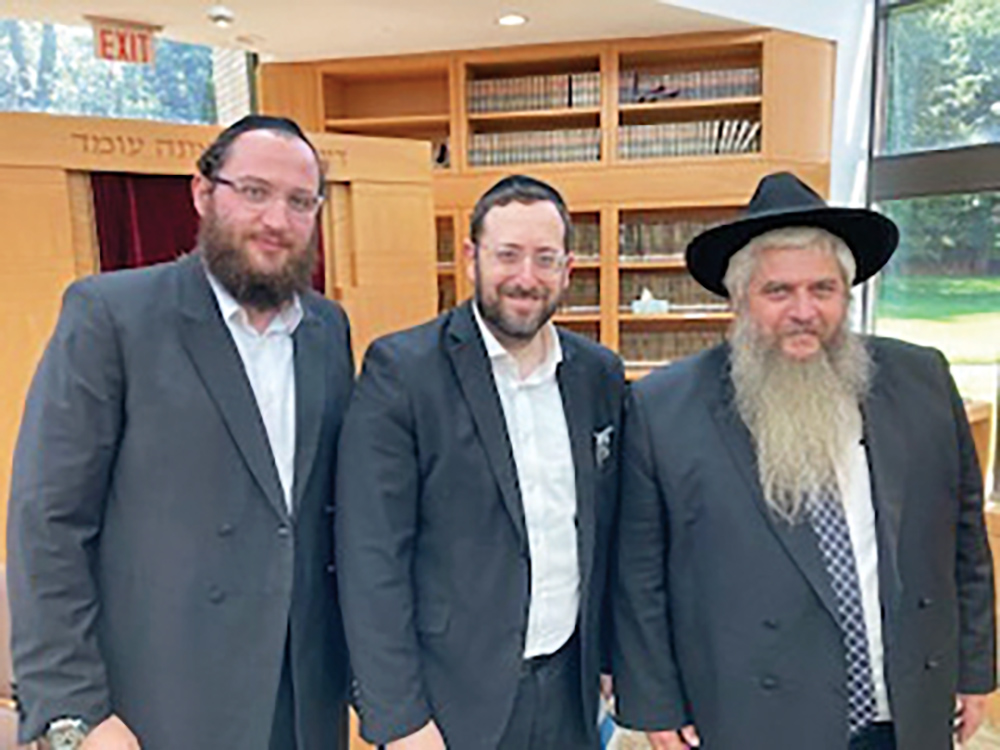 Rabbi Azman and Klimovitsky spoke about the Anatevka Refugee Village, a Ukrainian refugee village located near Kiev. Its namesake was inspired by the shtetl from the Broadway musical Fiddler on the Roof. It was founded by Rabbi Azman and Klimovitsky in 2014 when the Russo-Ukrainian War began. This conflict created over 200,000 Jewish refugees.
Before the onset of the 2022 Russian invasion, the village began preparing to service more people. Today, the village is home to over 1,000 refugees and has homes, schools, a kosher hotel, synagogue, mikvah, soccer field, playground, water filtration system and a community center. It provides its citizens with food, clothing and medical supplies. Since the village is located away from key Russian bombing targets, since 2022 it has acted as a pitstop for families before evacuating from Ukraine.
During the event, Klimovitsky shared a heartwarming anecdote about Rabbi Azman. When Rabbi Azman was in Anatevka trying to save the citizens from attacks coming from Belarus, Klimovitsky called him and told him that a new wave of attacks would be coming his way the next day. Klimovistsky said that he told Rabbi Azman to "please leave." In response, Rabbi Azman said, "I won't leave until we take out every Jew."
In another anecdote, Klimovitsky explained that when the Russians attacked Babi Yar, an infamous Nazi massacre site, Rabbi Azman posted a video online imploring the Russians to stop the attacks. The video received millions of views, helping to spread the message around the world.
Klimovitsky said the video "switched my father-in-law from being just a leader of the Jewish community to being a spiritual leader of all Ukrainians." Today, Klimovitsky said that Rabbi Azman continues to post videos of "hope and light."
According to Klimovitsky, Ukrainians are "very proud of President Zelensky…They see the struggle as a struggle of light versus dark, of good versus evil, a fight against tyranny, a fight for freedom, a fight for their nationality, a fight for their own country. That resonates a lot with Jews." The Jews who still remain in Ukraine are those who truly want to be there and fight for their country, he shared.
Rabbi Azman and Klimovitsky aim to build bridges between Ukrainian people, organizations and government with foreign people, organizations and governments in an effort to meet and properly understand everyone's needs via the pooling of resources from all groups.
Klimovitsky said that advocacy is an incredibly important tool for helping these people. He encourages everyone to spread the word about this ongoing situation and to tell others about Mitzvah for Ukraine so they can receive more donations for their cause. If you would like to donate to support the efforts of Mitzvah for Ukraine, visit https://www.officeofchiefrabbi.org/mitzvah-for-ukraine
---
Dina Shlufman of Tenafly is a Jewish Link summer intern and is a rising freshman at Cornell University.