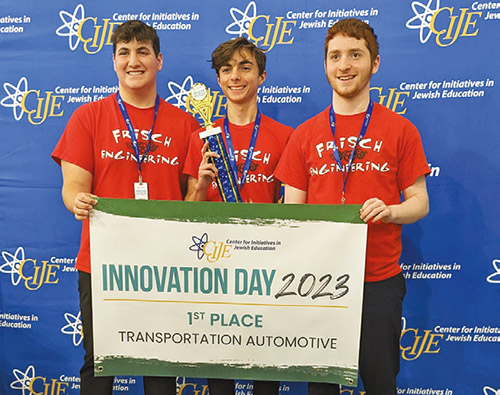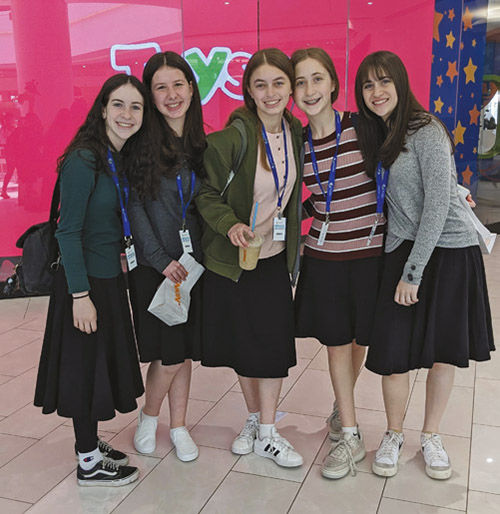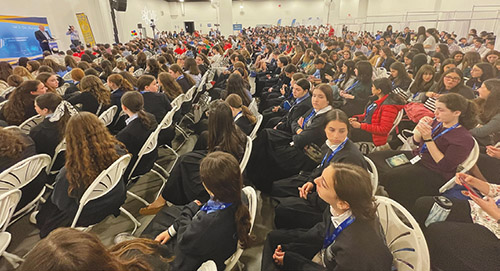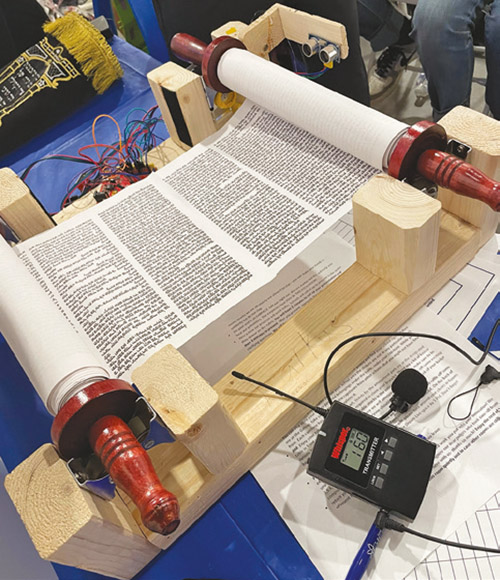 A crowd of over 1,100 Jewish teenagers gathered on May 23 to present projects that they have been working on all year as part of a STEAM (science, technology, engineering, arts and math) curriculum. The Center for Initiatives in Jewish Education (CIJE) coordinated this year-long endeavor and the event that culminated in an amazing display of what Jewish education has to offer in 2023.
CIJE held its annual Innovation Day at Dream Live, the newly opened event space inside American Dream in East Rutherford. The setup featured many breakout rooms for the multitude of presentations, along with a large central area for the awards ceremony at the end of the day.
"Innovation Day celebrates students' ingenuity and places them in the public arena to pitch both their product and their process in only three minutes," said Orly Nadler, CIJE's director of innovation. "We have come to realize that it is not enough to master the ability to engineer a technical capstone, it must be fabricated aesthetically and communicated convincingly. Students are honing in on skills that position them to succeed and lead in the workforce."
Nadler continued, "Perhaps one of the most successful aspects that CIJE has been able to accomplish is welcoming every denomination of Jewish day school and yeshiva and giving them a comfortable arena in which to compete and unite. Innovation Day features coed, all girls and all boys sections, all under the same roof. The students get to showcase the synthesis of a year's worth of engineering into a novel open-ended endeavor."
The goal of the event was to celebrate the innovative endeavors of high school students around the country toward the goal of presenting their engineering projects for review by their peers and a judging panel. The event was attended by more than 400 teams from 35 schools across eight states.
"The event didn't just inspire the kids, it turned them into engineers," said Josh Blachman, a senior software engineer at Google who helped judge the event. "Every part of the engineering process was accounted for and I was continuously amazed at the caliber of the projects."
The students were invited to demonstrate their inventions in a "Shark Tank" style competition where they were graded on different aspects from their presentation to how well their product fit a need in society. During the year, CIJE provides mentors, specialized equipment and materials for the students. The goal is to maximize student development by making education a hands-on experience by utilizing project-based learning.
"It's really amazing to be able to see what everyone has been working on throughout the year and to see how my project and process compares to theirs," said Charlotte Filer (SAR '25) of Riverdale, New York.
The day was split into morning and afternoon sessions as students presented their projects in breakout rooms equipped with audio and visual setups. This allowed the students to focus on having to bring only their projects with them. Competitors were given a few minutes to present their product, address the different areas of the scoring rubric, and take questions from the rest of the teams in attendance. Every student was armed with a clipboard in order to grade their peers' presentations. A winner was declared for each session in each room based on the scores given by the judges and the other teams.
Hosting the event at American Dream provided plenty of activities for the students to do during the session in which they were not presenting. CIJE provided each person with free admission to Nickelodeon Universe Theme Park, which is located inside American Dream. This allowed the students to see what engineering can accomplish while also providing them with some fun to relieve the possible stress of presenting their projects.
"Innovation Day was a very fun get-together where I was able to see what other kids were capable of while also showing off what I'm capable of," said Eddie Saff (Flatbush '25) of Midwood, New York.
According to the organization, CIJE's goal is to prepare the next generation for innovation by funding programs with advanced technology, developing engaging curricula, and providing ongoing teacher training, mentorship and school visits by engineers.
At the end of the day, all the students gathered for the awards ceremony that was streamed live. Awards were distributed in the following categories: Assistive Technology, Engineering for Children, Engineering for Entertainment and the Arts, Engineering for Household Solutions, Engineering for Jewish Life, Engineering for Mobility, Engineering for Older Adults, Engineering for Personal Care, Engineering for Pets, Engineering for School, Engineering for Workplace Solutions, Environmental Engineering, Transportation Aeronautical, and Transportation Automotive.
With categories ranging far and wide, the hundreds of projects were extremely diverse in nature. From automatic pill dispensers to a machine that rolls a sefer Torah faster and more efficiently than the local gabbai, there was a lot to see.
Some students were just as focused on watching other presentations as they were with presenting their own.
Another component that has been gaining ground is the apparel involved. Many schools arrived sporting some version of school STEM uniform, something that was fairly rare last year. But the event surely had the students as excited as they might be at a sporting event, so team apparel would seem to follow. Even so, there was certainly an academic feel in the presentation rooms for students that were trying to show their products' worth.
"This was my seventh year of guiding students through development of capstone projects for CIJE Innovation Day," said Aryeh Tiefenbrunn, TABC's STEM coordinator. "What I love most about it is watching students grow and become more confident as they realize that with hard work their ideas can become reality and impact the world around them."
For many students, the development of their project meant a daily elective period on their schedule. That's a lot of time devoted to one thing, yet most participants felt good about doing their best and weren't that disappointed about heading home without hardware. With a competition that big, winning any sort of prize is a huge accomplishment.
All in all, the day was a great experience for everyone involved. The hard work paid off and the students were treated to the type of amazing day that wouldn't have been imaginable even 10 years ago.
"This was a really inspiring event that shows how much young people can change the future using technology," said Aaron Lichtenstein (Frisch '26) of Riverdale, New York.
Who knows? The next great inventor might just have been one of the students in attendance.
| | | | | |
| --- | --- | --- | --- | --- |
| School | Team | Members | Place | Category |
| Bi-Cultural Hebrew Academy | SIFT | Erez Fass, Dvir Frish, Ben Steiner | 1st | Engineering for Workplace Solutions |
| Bruriah | Chantari | Ariella Dantowitz, Esti Hess, Hindy Koenig | 2nd | Transportation Aeronautical |
| Frisch | Left Turn Assist | Marc Dweck, Jacob Fenster, Ben Wolf | 1st | Transportation Automotive |
| Frisch | Solar Seeker | Alon Stein, Steven Stein, Daniel Turok | 1st | Environmental Engineering |
| Frisch | The Gyro Tray | Oran Goodman, Jude Shankman, Ben Wolf | 2nd | Engineering for Older Adults |
| Frisch | Hearo | Josh Davis, Liana Goldberger, Eliana Wolf | 2nd | Engineering for Mobility |
| Frisch | Pet Life | Rebecca Haberman, Rae Herschmann, Eliana Weinstein | 2nd | Engineering for Pets |
| Frisch | Auto Rocket | Gedaliah Dimbert | 3rd | Transportation Automotive |
| The Idea School | ClockCube | Noam Forman-Vindaver, Joe Rubin | 1st | Engineering for Entertainment and the Arts |
| JEC | Dista-Lock | Zvi Kesselman, Jake Levine, Netanel Samet, Yedidya Sheinson | 2nd | Engineering for Household Solutions |
| JEC | RPM | Adin Dantowitz, Joshua Lanskroner | 3rd | Transportation Automotive |
| The Leffell School | Startup Companies | Clara Gorenstein, Etti Greenspan, Leah Raich, Donny Warkol | 1st | Engineering for Household Solutions |
| SAR | HairHoover | Leora Blechner, Charlotte Filer | 1st | Engineering for Pets |
| SAR | Touch Vault | Jordanna Gottlieb, Abby Stein | 1st | Engineering for School |
| SAR | PeanutButterCutter | Jed Oliner, Noah Weiss | 2nd | Engineering for Workplace Solutions |
| SAR | Tri To Recycle | Aryeh Hirshaut, Jonah Papernik | 2nd | Environmental Engineering |
| TABC | LOCI | Netanel Lipshitz, Azi Simpson | 1st | Engineering for Mobility |
| TABC | Torollah | Yonatan Farkas, Yehuda Harris | 1st | Engineering for Jewish Life |
| TABC | Quorin | Ohr Avishur, Ilan Nissel | 3rd | Engineering for Entertainment and the Arts |
| TABC | Rep Reminder | Noah Baitner, Jared Gutlove, Mati Sanders | 3rd | Engineering for Personal Care |
---
Nati Burnside is a freelance writer living in Fair Lawn and a man of many interests. He can be reached at [email protected].