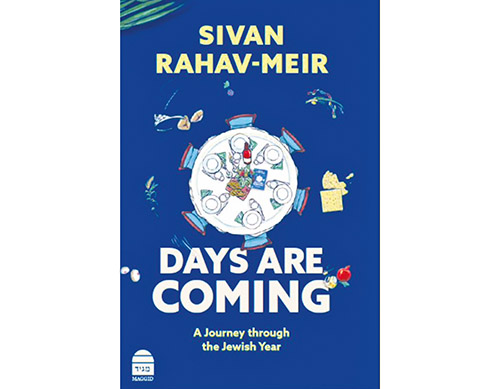 Israeli media personality Sivan Rahav-Meir has been bringing stories to the public eye since she was a child. At the age of 6 she began writing for two children's magazines, and by the time she was a teenager she was already interviewing high-profile figures, including then Prime Minister Yitzhak Rabin and Foreign Minister Shimon Peres. Today, she is an anchor for Israel's Channel 12 news, writes a weekly column for the Yediot Aharonot newspaper and hosts a weekly radio show on Galei Zahal with her husband. In addition to the stories she breaks in the media, Rahav-Meir has a penchant for telling stories about the Jewish world, infusing current events with Torah-inspired wisdom. Her work 'Days are Coming' is one of her latest pieces of storytelling that she hopes will inspire Jewish people of all backgrounds to appreciate their journey through the Jewish calendar more deeply.
The seeds for 'Days are Coming' were planted over a decade ago when Rahav-Meir was covering the trials of Ehud Olmert and Moshe Katzav. "I was there every day and I felt frustrated everything I do is covering investigations and testimonies and witnesses. I didn't feel meaning," she explained. "I was dealing with the negative parts of our life in an extreme and intense way. So I decided to change." Her husband, Yedidya, suggested that she use her abilities to cover the news to deliver "news" about the weekly Torah portion and holidays. She questioned whether she could make these Jewish themes appealing to a wide audience, and she quickly understood that the answer was yes.
Rahav-Meir's first attempt was a Facebook post she wrote in 2007 on the Torah portion of Shemot. After a Facebook notification informed her that this was her most popular post, she decided to send a short "Daily Thought" of inspiration on the weekly Torah portion and Jewish calendar via WhatsApp, combining current events and insights from modern-day thinkers and artists with traditional texts and words of wisdom from Judaism's great sages of past generations. She was careful to also incorporate into her messages inspiring stories and photos submitted by her subscribers from around the globe. Her following quickly grew and today her Daily Thought is translated into 17 languages and reaches 150,000 subscribers of all backgrounds and levels of observance.
'Days are Coming' is a compilation of dozens of what Rahav-Meir calls the best paragraphs about the holidays and the Jewish year from the Daily Thought. "People wanted it printed. They want to hold it, especially on Shabbat. They need it, not just on WhatsApp. WhatsApp is not enough especially for the people of the book—'am hasefer.'" Rahav-Meir also added many new insights and paragraphs. The English edition of the book, which was published by Koren Publishers Jerusalem last year, also contains many adaptations for a non-Israeli audience, including stories she gathered when she and her family spent a year on shlichut in America and themes that are more relevant to the American reader, such as questions on Jewish identity, campus life and more.
The work opens with the first of Elul and the theme of new beginnings. Rahav-Meir introduces a story told by former Chief Rabbi of Israel Yisrael Meir Lau of the first time he heard the shofar blown during the month of Elul, after he arrived in Israel as an 8-year-old survivor of the Holocaust who could not read or write and did not know the meaning of shofar blowing. "This story shows us that it is possible to bridge the gaps we feel may be hindering us and to make great progress in our lives," Rahav-Meir writes. "A child who, at the age of 8, did not know what a shofar was and did not understand a word of Hebrew eventually became the chief rabbi of Israel and one of the most prominent Jewish speakers in the world."
The work continues through the Jewish cycle, bringing insights and stories related to other holidays and significant milestones, some more widely observed and others less known. Some of the dates that readers may be less familiar with include the anniversary of the death of former Chief Rabbi of Israel Ovadia Yosef (the third of Heshvan), the Ethiopian Sigd holiday (the 29th of Heshvan), the blessing over fruit trees in Israel (the month of Nissan) and others.
Rahav-Meir hopes that 'Days are Coming' will serve as a reader for Jewish people of all ages and backgrounds, from those who are well-versed in scripture to those who are not observant, that will accompany their holiday tables and enrich the meaning of these dates.
Recognized in 2017 by Globes magazine as the most popular female media personality in Israel, Rahav-Meir knows what a good story is and during her 30 years of covering Israeli news, she has broken many headlines. Yet she insists that "the real headline" can be found in the Jewish calendar and in our daily lives.
To sign up for the Daily Thought via email or WhatsApp visit https://www.sivanrahavmeir.com/the-daily-thought/.
---
Alisa Bodner is a Fair Lawn native who immigrated to Israel a decade ago. She is a nonprofit management professional who enjoys writing in her free time.